The Buffalo Sabres have very little to fear when it comes to the 2017 NHL Expansion Draft, which will take place on June 21.
Yes, the Sabres are going to lose a player — most likely Zemgus Girgensons or Linus Ullmark. For a team that lacks the sort of depth that successful playoff teams have, losing a player to the Las Vegas Golden Knights would appear to hurt the Sabres more than other teams.
All things considered, though, the Sabres will escape from the expansion draft relatively unscathed. Losing a bottom six forward or a backup goaltender would not be the worst-case scenario for this Sabres squad, as Girgensons and Ullmark can be replaced. Even though losing either of these players is not a crushing scenario, it certainly is not the best-case scenario, either. There is a scenario that would actually greatly benefit the Buffalo Sabres, but it is going to cost them.
Enjoy a Moulson, on the House!
Before discussing why losing Matt Moulson to the expansion draft would be the best-case scenario for the Sabres, credit should be given where credit is due.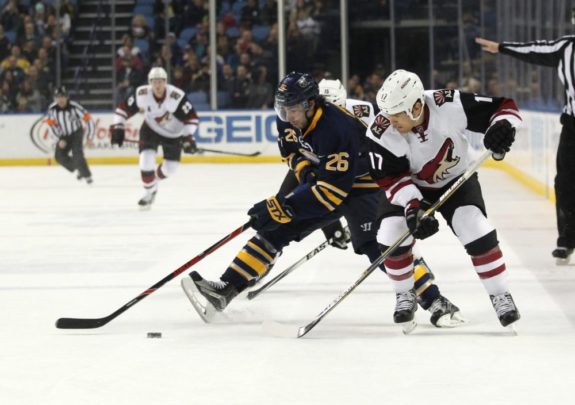 Moulson was originally traded to the Sabres by the New York Islanders back in October 2013 and was subsequently traded to the Minnesota Wild later that season. Following the 2013-14 season, Moulson decided to return to the team that had just traded him, signing a five-year contract that has become something of an albatross around the team's neck.
Even though Moulson has done very little to justify his $5 million-per-year price tag, fans should appreciate his willingness to return to a team that was in rebuild mode. It is also worth noting that he worked hard last summer in order to rebound his career-low 21 point effort from 2015-16  — hopefully, his determination and work ethic effort rubbed off on some of Buffalo's younger players.
Having said that, it is time for the Sabres to part ways with Moulson. It is true that the team can opt to buyout his contract this offseason, and if general manager Jason Botterill is unable to convince the Las Vegas Golden Knights to use their pick on Moulson (or Plan B, which I will detail shortly), it is quite possible that the Sabres will do just that.
The problem with buying out Moulson's contract, though, is that the Sabres have another player whose contract they would like to buyout: Josh Gorges, who it should be noted was acquired by the Sabres in exchange for the second-round pick the team acquired from Minnesota in the Moulson trade.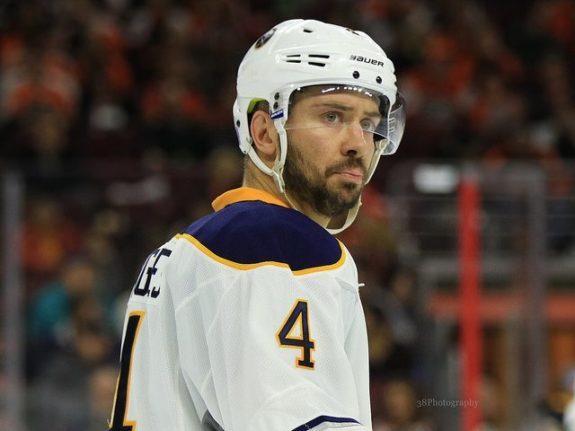 Since the Sabres cannot buyout the contracts of both Moulson and Gorges, the best-case scenario would be for the Golden Knights to use their pick on Moulson (or Gorges, my Plan B), thereby allowing the team to buyout the remaining bad contract. Las Vegas would gain an experienced player who will provide leadership to what could be a pretty young team, as well as a player who is under contract for the 2017-18 season. (Remember: the Golden Knights must draft at least 20 players who are under contract, and must select players that make up at least 60 percent of the prior season's salary cap, as per the expansion draft rules provided by the NHL.) Meanwhile, the Sabres would be allowed to clear not just one, but two unwieldy contracts off the books in order to go shopping during the offseason.
It's a win-win for both teams — or at the very least, it's a huge win for the Sabres. The big question, though, is what will it cost for the Sabres to convince the Golden Knights to agree to this scenario?
Sabres Must Add Sweetener to the Mix
As our very own Jim Parsons explained in his piece, NHL Teams Prepared to Offer 'Sweeteners' there are rumors that certain teams are planning on making offers to the Golden Knights in order to encourage the boys from Las Vegas to turn a blind eye toward certain available players. So far, the Anaheim Ducks, Carolina Hurricanes and Ottawa Senators are all rumored to be preparing to make the Golden Knights an offer they cannot refuse, but you can bet your bottom dollar that there will be more than three teams looking to wheel and deal with Las Vegas once it gets closer to June 21.
Obviously, not every team can convince the Golden Knights to ignore good players in favor of less-than-desirable ones. If Botterill is going to convince Las Vegas general manager George McPhee to work with him, he is going to have to offer him a deal that is sweeter than the rest of the competition. It would probably take a high draft pick (first or second round), as well as a player with potential — and this is where the best-case scenario falls apart for the Sabres.
For starters, there is no way Botterill is going to trade the eighth overall pick in the 2017 NHL Entry Draft to the Golden Knights, just to convince them to draft either Moulson or Gorges. He might be willing to part with the team's second-round pick, but I would argue that even that is ill-advised. Under former general manager Tim Murray, the Sabres traded away an awful lot of players and picks, some of which they would definitely like back. The cupboard is already bare; does throwing another draft pick out the window lend itself toward building a Cup-contending team?
Then there is the problem of deciding which player or prospect to throw in to sweeten the deal even further. Buffalo only has a handful of prospects who seem to have a shot at enjoying a successful NHL career, so those players are untouchable. And even if you don't feel bullish on the chances of someone like Justin Bailey ever becoming a permanent addition to the Sabres' roster, shipping him out of town would cripple the Rochester Americans. If Botterill truly believes that creating a winning culture starts in the lower levels of the Sabres' organization, gutting the Amerks roster won't help.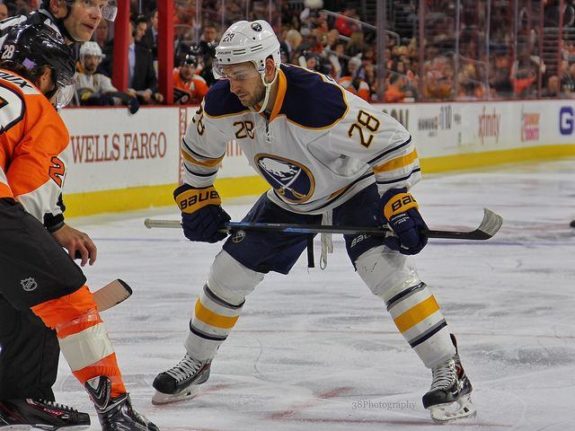 It is possible that Botterill could offer Girgensons, who will become a restricted free agent this summer, or Tyler Ennis to Vegas in order to achieve his best-case scenario. After all, the Sabres would probably lose one of these players anyway. Offering the Golden Knights a two-for-one deal on players might be enough to convince them to take someone like Moulson or Gorges out of the 716 — but that's only if the adage "One man's trash is another man's treasure" holds true. McPhee has already gone on the record as saying, "Hockey should never be boring." What are the odds that he will buy into thinking that Girgensons or Ennis fit his vision for the Golden Knights?
Make no mistake about it: the Sabres will not be the only team trying to convince the Golden Knights to pick a specific player, so don't hold your breath. There are teams who stand to lose legitimate top-6 forwards or top-4 defensemen, and GMs who will be willing to offer more than what the Sabres can offer in order to convince the Golden Knights to play along. It would be great if the Sabres' best-case scenario came true, but there is zero reason for Botterill to press the issue, making this a long-shot at best.