Oh what a difference three days make. On the afternoon of March 30th, the Buffalo Sabres were comfortably in last place in the NHL standings with a six point  "lead" over the Arizona Coyotes as the two teams were set to square off in Glendale.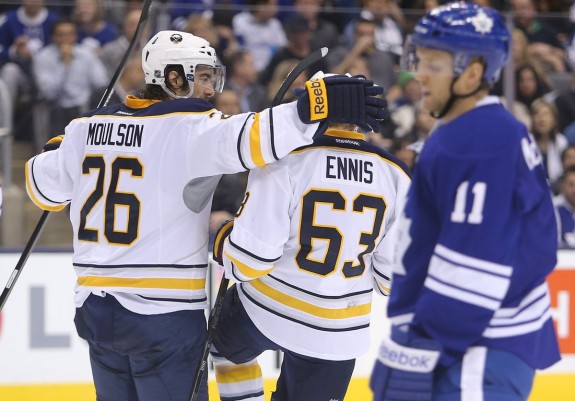 The Sabres took the contest 4-1, and their lead in the race for last place fell to four points with six games to play. Fast forward to Wednesday night, Buffalo had a home game with Toronto on the docket. After falling down 3-1 in the second, the Sabres mounted a comeback to take the victory 4-3 against their division rival. And although fans are usually happy at the idea of beating the Maple Leafs, this victory is different. This victory has fans feeling a lot of angst.
Buffalo's hold over last, which had the potential to me a whopping eight points after Monday night, now sits at just two with five games to play. Needless to say, fans are pretty upset over what's transpired in the last few days. How upset? Well, take a look for yourself.
@BuffaloSabres Enjoy mediocrity, I'm done

— Mike Forcucci (@MichaelForcucci) April 2, 2015
@BuffaloSabres what are you guys doing?? Are you TRYING to win?! — Alejandro Izquierdo (@alejandrorizq) April 2, 2015
@BuffaloSabres I'm gonna continue crying

— Justin Trudell (@Darknight350) April 2, 2015
@BuffaloSabres this is the sabres april fools joke we wont finish last and probably draft a defensemen in the draft — steven johnson (@stevenjohnson09) April 2, 2015
@BuffaloSabres this will be one of the biggest let downs for Sabres fans ever if we don't get a top two pick in the draft I hope u know this

— Evan Wright (@evan_wright26) April 2, 2015
Now, those are the cleaner responses to the Sabres' recent run of "success" that I found after Wednesday's game. If you care to get the full blunt of the responses, then feel free to do a Twitter search for yourself. Though some may criticize the Sabres fan base for wanting their team to lose, I'm not going to be one to blame them for reacting the way they are. Still, all hope isn't lost to finish last and guarantee a top-two pick in this year's NHL Entry Draft.
Buffalo no longer has a game in hand with the Coyotes, and still sits in last place. Arizona can lose out, but as long as the Sabres finish no better than 1-4-0 in the final stretch, Buffalo will finish 30th. They may have the "easiest" of the two remaining schedules between the two teams, but Arizona did beat Detroit last week.
Can Arizona really go the rest of the season without earning a single point? I wouldn't put my money on it, so just relax Sabres fans.
Michael is a former Managing Editor for The Hockey Writers. He's covered the Buffalo Sabres, along with the NHL in general, for various outlets since 2009. His work has been featured on outlets such as Yahoo, Sports Illustrated and Fox Sports.