News flash: the Buffalo Sabres need to improve their blue line this offseason.
Okay, if you are a Sabres fan, you know that statement is anything but a news flash. Many would argue it should have been a top priority for the front office last season and should have been addressed before the trade deadline came and went. (Whether or not this had anything to do with Tim Murray being relieved of his position as general manager remains to be seen.)
But while Sabres fans can agree with the fact that the team desperately needs another top-4 defenseman and quality depth at the blue line, there is a difference of opinion among fans when it comes to just how the team should go about improving the defense. Evander Kane has been a popular topic of discussion when it comes to potential trades, ever since his run-in with Buffalo City Police during the 2016 NHL Entry Draft. Other fans have floated the possibility of the Sabres trading their first-round draft pick and a mix of prospects and/or current NHL players in order to bring in a top-4 defender. Finally, a few brave writers and fans have shared the unpopular idea of trading Sam Reinhart, the second overall pick in the 2014 NHL Draft, to a team in exchange for an elite blueliner.
Bringing up the idea of trading Reinhart might be a sure-fire way to get flamed on social media, and our own Chad DeDominicis made a compelling argument against such a trade . . . but there are two sides to every story. Fans might not want to hear this, but there are a handful of reasons why the front office of the Buffalo Sabres could already be mulling over the idea of moving Reinhart in order to bolster the blue line in time for the 2017-18 NHL regular season.
Reinhart is Easier to Move than Kane
The first argument for using Reinhart as trade bait for a top-4 defenseman is pretty obvious — he's just flat-out easier to move than Kane.
If a GM is going to surrender a top-4 defenseman, he is going to want to know he is going to get a solid investment in return. Reinhart owns the advantage here in spades, as he is only 21-years-old and is just entering the third year of his entry-level contract. Right off the bat, there is a fantastic reason why a team looking to get value for players they might otherwise lose to an expansion draft would want to trade for Reinhart. Having just finished his second season of professional hockey, he is exempt from the expansion draft and would not need to be protected by whatever team trades for him.  And any team that acquires Reinhart's services will feel good knowing that they can probably get Reinhart to agree to at least a short-term bridge deal, locking him in for at least the next three seasons. (I don't see a team signing Reinhart to a long-term contract right away, but stranger things have happened.) Meanwhile, Kane will become an unrestricted free agent following the 2017-18 season, and what team would be willing to ship a top-4 blueliner out of town for a player who could bolt after just one season?
It's not just Reinhart's age and contract that make him easier to move. The very baggage that caused so many Buffalo fans to demand the team trade Kane this season still hangs around his neck like a giant albatross, deserved or not. Sure, Kane had a productive season the ice, and a quiet season off of it, but he still carries that stigma of being the sort of player who could attract the wrong sort of attention to himself and to his team due to his off-ice decisions. Meanwhile, Reinhart does have a little bit of baggage (more on that below!), but nothing that will show up on the radar of any GM that is interested in his services.
Finally, Reinhart's production makes him the better trade option than Kane.  Kane may have scored more goals (28) than Reinhart (17) in 2016-17, but Reinhart had more points (47 to Kane's 43) and already has amassed 90 points in just two full NHL seasons. Kane didn't hit the 90-point mark until his third season in the NHL, and has only topped 47 points once in his career, back in 2011-12, the only season in which he hit the 30-goal mark.  All in all, Reinhart presents better value to a team looking to move a top-4 defenseman than Kane does, and we all know that is what matters most to a GM considering to give up a quality player.
Samson not Living up to Expectations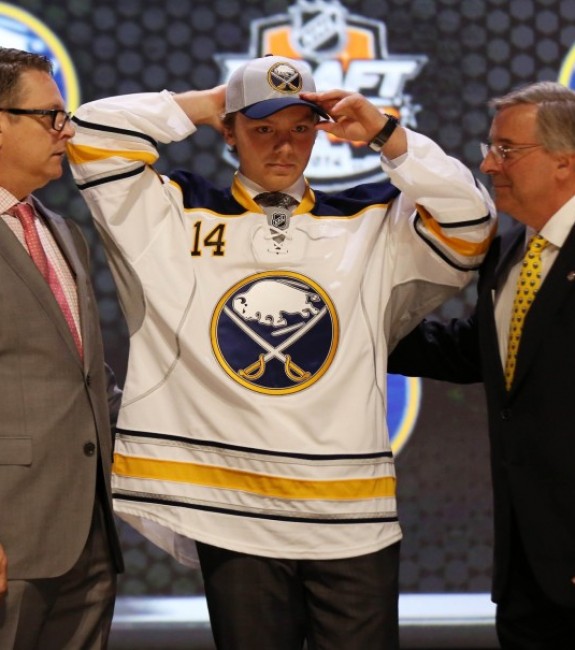 It is true that Reinhart has value. A young player who has already topped 40 points twice in his career while playing for a struggling team? Put him together with a top-6 draft pick and you have yourself a trade package worthy of a top-4 defenseman!
So if he has so much value, why should the Buffalo Sabres trade him? Simple. Despite his value, Sam "Samson" Reinhart has, in fact, under-achieved with the Sabres. As Chad DeDominicis pointed out, Reinhart compares quite favorably to the rest of the 2014 NHL Draft selections:
He's fifth in total points scored behind Leon Draisaitl, David Pastrnak, Nikolaj Ehlers and Aaron Ekblad. Reinhart has also played fewer games than those four players, except for Ehlers. He also ranks fifth in assists with 50 and tied for third in goals with 40. Reinhart's .54 points per game also have him tied for sixth among all players in the 2014 class.
Sounds pretty good, right?  Well, sure. Until you realize that Reinhart has 47 less points than Draisaitl despite playing in only 24 less games and has 12 points less than Ehlers despite playing in 13 MORE games.  Reinhart also owns the second-worst plus/minus rating of every player selected in the first round of that draft, with his minus-20 being topped only by Sam Bennet's minus-28 after skating two seasons with the defenseless Calgary Flames.
Worse, whereas Draisaitl, Ehlers and Pastrnak have improved their goal scoring in each and every season of their young careers to date, Reinhart actually watched his goal-scoring decrease last season, finding the back of the net only 17 times, compared to his 23-goal effort in 2015-16. If the Class of 2014 truly was as weak as most hockey writers said it was, what does it say about Reinhart that he has actually lost ground to such a mediocre pack of players?
Sabres fans need only look across the ice from Reinhart to see how a player picked second in the NHL Draft ought to develop. Jack Eichel clearly raised his game to new heights in 2016-17, equaling his goal total from the previous season and notching one more assist despite losing 21 games to a high-ankle sprain before opening night. Had Eichel played as many games as Reinhart did this season, he would have easily put up career-best numbers in all three categories — goals, assists, and points — and quite possibly would have put 20 points between himself and Reinhart, if not more. It might not be fair to compare Reinhart to a talent such as Eichel, and it is not as if he is expected to match Eichel goal-for-goal and assist-for-assist. But there are expectations that go hand-in-hand with being picked No.2 overall and Reinhart has clearly fallen well short of those expectations.
Is Reinhart a bad player? Of course not, but he is by no means an irreplaceable player and the Buffalo Sabres have to be disappointed in his development thus far. Parting with him might sting, but the end almost certainly would justify the means.
Reinhart not Buying What the Sabres are Selling?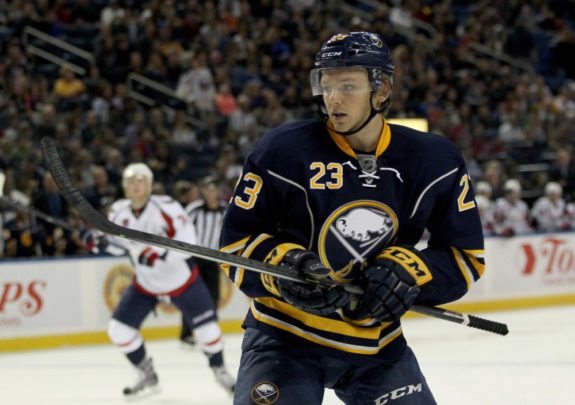 This is just speculation, so take it for what it is worth, but by the end of the season, Reinhart did not appear to be thrilled with his experience as a player on the Sabres roster. On March 28, Reinhart was forced to sit in full uniform and watch his team lose 3-1 to the Columbus Blue Jackets as punishment for arriving five minutes late to team stretch.  His response made it pretty clear he didn't appreciate the discipline meted out by then head coach Dan Bylsma:
It's a coaches decision.  It's a management decision. From my perspective I would have rather battled it out with my teammates. I don't think five minutes in the morning is gonna influence my preparation for a game, but it was a team stretch and I should have been on time. . .

I mean … sh*t happens.  Sorry to swear, but I didn't sleep in, I didn't… it wasn't something that I could… it was just a misread text. I woke up, I thought the times were different, so that's going to happen. But it is what it is.
This is not the sound of a player who is buying into the culture his team is trying to create.  Whereas team captain Brian Gionta supported the decision to bench Reinhart . . .
Sabres Captain Brian Gionta: We're building a culture here. Everybody needs to learn from this. It's about the long-term of this franchise..

— Buffalo Sabres (@BuffaloSabres) March 29, 2017
. . . Reinhart was busy being flippant – "S**t happens" – and essentially arguing he didn't do much of anything wrong – "I don't think five minutes in the morning is gonna influence my preparation for a game."
Okay!
Will the change in coaching staff and the general manager make a difference in how much Reinhart buys into the culture that the Sabres are attempting to build? Don't know. Does Reinhart even appreciate his role on the Sabres, which is quickly becoming Eichel's team? Don't know that either. Sometimes, though, a player needs a change of scenery. His actions and words indicate that maybe Reinhart is that player on the Sabres.
All in all, it would be a shame to watch Reinhart leave the Sabres. He can be fun to watch and has great chemistry with Eichel. In no way does this piece advocate that the Sabres SHOULD trade him, but you gotta give something to get something.  Top-4 defensemen do not fall off trees and it is impossible to argue that there is a better way for the Sabres to bring such a player into the 716. So if Buffalo's front office makes a serious push to trade for a defenseman, don't be surprised to hear Reinhart's name mentioned early and often.