Sam Reinhart was the second overall pick in the 2014 NHL Draft. He was the first big piece the Sabres added in their rebuilding process. Just a year ago the 21-year old was considered one of the promising young core pieces moving into the future.
Now, a year later, he's being talked about as an under-achieving top draft pick who can be used as a trade piece to acquire a defenseman. When you look through the numbers a few misconceptions appear to be feeding the idea of Reinhart being a replaceable player.
Draft Year
The 2014 NHL Draft was considered be a weaker class. Especially when you compare that to what followed in 2015 and 2016. Nonetheless as a second overall pick in a weak class or not, that label follows you throughout your career.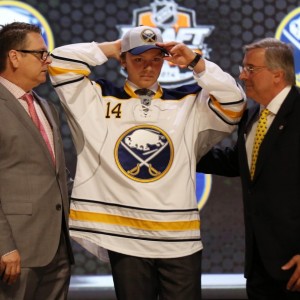 In Reinhart's case, three years removed he's being labelled as a disappointment by some for not being one of the better players in the draft class. While he may not be the second best player in his draft year. Reinhart is still one of the top players selected in terms of production.
He's fifth in total points scored behind Leon Draisaitl, David Pastrnak, Nikolaj Ehlers and Aaron Ekblad. Reinhart has also played fewer games than those four players, except for Ehlers. He also ranks fifth in assists with 50 and tied for third in goals with 40. Reinhart's .54 points per game also have him tied for sixth among all players in the 2014 class.
Down Season?
In today's age, where the highlight reel plays are all over the internet on a daily basis. The lack of those types of plays in Reinhart's game hurt him in the eyes of some. He'll have a special play here or there throughout the season, but won't make fans jump out of their seats on a consistent basis. Then you get to the end of the year and look at the numbers. Reinhart will quietly have amassed between 40 to 50 points.
The talk that the Vancouver native had a down season may be a product of what I just mentioned. He improved on his 42 point rookie season from a year ago to score 47 points this season. While yes, the goals were down from 23 to 17, he picked up more assists going from 19 to 30.
Reinhart started off the season slow without his running mate Jack Eichel who was out with a high ankle sprain. He only registered ten points in those first 21 games and then 37 points over the remainder of the season with Eichel back in the lineup.
Thus the narrative of Reinhart being unable to produce without Eichel began. When in reality he wasn't the only player who failed to be productive without the club's star player. In fact, the entire team struggled to produce goals. Ryan O'Reilly and Evander Kane also got off to very slow starts.
Power-Play Specialist
Although Reinhart increased his point production from a year ago, it's believed by some that this improvement was primarily because he got fat off one of the top power-plays in the NHL, another misconception. The right-winger did score seven more points with the man advantage compared to last season, but that is to be expected from a unit that went from 12th to first in the league.
At even strength, Reinhart was still one of the most productive players on the team. He leads the team in assists per 60 and primary assists per 60 at even strength. Also, Reinhart was third on the team in points per 60 at five on five. He scored 30 of his 47 points at even strength, which is 63.8 percent of his total point production. To give a comparison, Nikita Kucherov scored 62.3 percent of his points this season at even strength.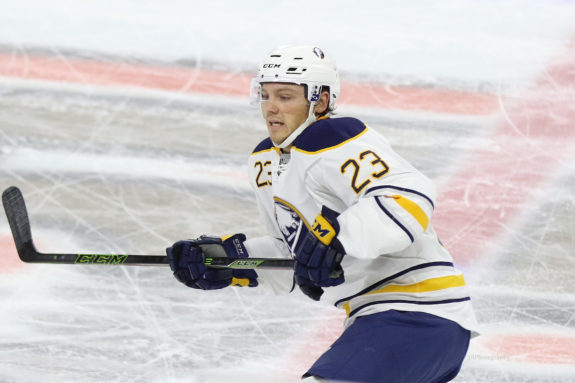 Trade Chip
The Sabres are in desperate need of a young top four defenseman, but the idea of using Reinhart as the piece to acquire that player is counterproductive. One position on the team will be improved, but another position would be weakened.
Buffalo is not deep in the organization on the wing. They have some young players like Alex Nylander, Nick Baptiste and Justin Bailey, but none have shown signs of yet of being able to replace a 40 to 50 point player like Reinhart.
It's important not to forget the fact that the Sabres are able to retain the rights of Reinhart for many years to come. He's heading into the final year of his entry-level contract next season, but will on be on the restricted free agent status for the next four years after that.
If the Sabres were to trade Reinhart and then lose Evander Kane to unrestricted free agency in 2018, they would have lost two of their top six wingers in a span of a year. In reality, the Sabres likely need to another winger this offseason to help out an offense that at times struggled to score consistently. When the idea is broken down, trading Reinhart isn't a productive way to improve the hockey club in the long run.