It may only be three games but as far as debut post-season performances go, Edmonton Oilers netminder Cam Talbot has made quite the first impression. Next to Connor McDavid, the 29-year old played the biggest part in this club's surprising turnaround during the 2016-17 regular season. In order for the Oilers to have any hope of enjoying similar success during the playoffs, a repeat performance from their No. 1 goaltender was a must.
Talbot 1st EDM goalie with back-to-back playoff shutouts since Curtis Joseph closed out Colorado in Games 6 & 7 in 1998.

— Jack Michaels (@EdmontonJack) April 17, 2017
Again, these are still early days but we have seen no indications of Talbot's heavy workload during the Oilers 82-game schedule hampering him in any way during the league's "second-season". To their credit, Edmonton has managed to limit the San Jose Sharks to only 83 shots over the course of the first three games, half of which came during the series' opening 3-2 overtime loss, but their goaltender has certainly held up his end of the bargain.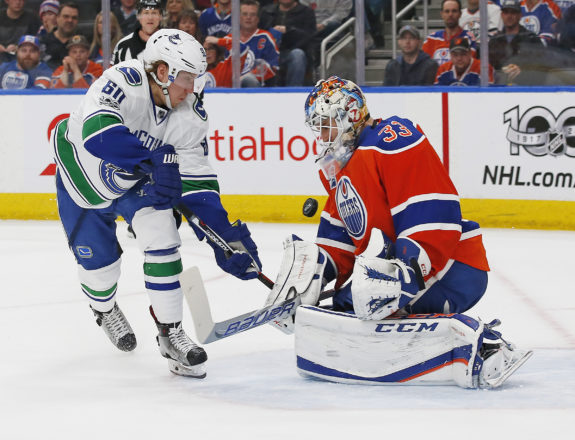 Talbot Continues to Impress
Is it realistic to have him maintain a 0.98 GAA and .964 SV% for the duration of the post-season? Of course not but if the former New York Rangers backup goalie continues to track shots on goal in the fashion has, expecting much in the way of regression would be a mistake. From a positional standpoint, Talbot has been near flawless since the series started and when a goaltender finds himself in said zone, pucks tend to find them more often than not.
Outside of a brief sequence or two in Game One, we have not seen Talbot desperately scrambling back into position after being pulled from his crease. In fairness, his style of play does not lend to said situation happening with much frequency, we have seen nothing close to it over the last couple of games. The ease in which he is reading plays has been scary and it has made life difficult on San Jose.
To this point, the potential Vezina Trophy Nominee has answered every challenge thrown his way and it has been an absolute treat to watch for those of us who appreciate the ins-and-outs of the position. Every single movement has been calculated and the results speak for themselves. Make no mistake, Talbot is currently in the "zone" goaltenders occasionally get into and the Oilers are doing a fantastic job of using it to their advantage.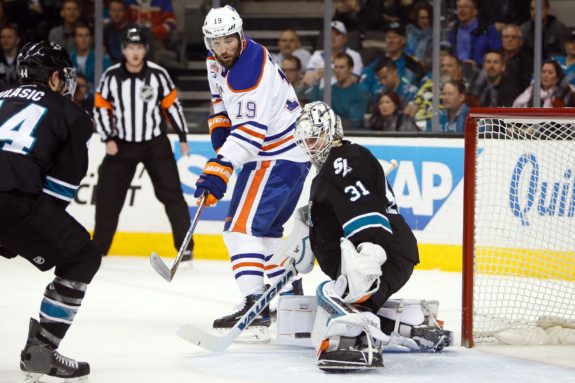 Jones Feeling the Pressure
In comparison, his counterpart at the other end of the rink has been pretty darn good in his own right…minus one big difference. On a statistical front, it would be difficult for anyone to take issue with what Martin Jones has delivered to this point in the series. After all, it is hard to complain about a 1.66 GAA and .935 SV% but the former third-round pick of the Los Angeles Kings has become prone to giving up that "iffy" goals against at the worst possible moment and it has come back to bite the Sharks.
Whether the masses want to accept it or not, every goaltender allows the odd stinker to get behind them from time to time. It is the nature of the position and comes with the territory. However, there are netminders who seemingly find ways to cough up those goals when they potentially have far greater impact on the eventual outcome. Not surprisingly, the team with the goaltender who hasn't allowed the magnitude of the moment to get to him is one setting with a 2-1 series lead.
Oilers vs SJ this season:
Talbot: 3-1-1, 2.60 GAA,.912 SVP
McDavid: 4-4-8
Klefbom: 1-5-6
Lucic: 3-1-4
Caggiula: 2-1-3
Maroon: 3-0-3

— Bob Stauffer (@Bob_Stauffer) April 12, 2017
Edmonton is unquestionably riding the high that comes with the belief your goaltender can do no wrong and San Jose is heading in the opposite direction…especially late in games. Let's not forget, the chances of all the first-round series combined delivering more than a handful of games which will be decided by more than a single goal, not including empty-netters, are awfully slim. Hence, the greater spotlight being placed on those ill-timed goals against…as they continue to cost teams games.
Heading into the playoffs, there was no guarantee Cam Talbot would be ready to shoulder the extra pressure that comes with being the starting goaltender on a team with playoff expectations. While not many hockey experts picked the Edmonton Oilers as a team to go on a lengthy post-season run, quite a few did have them moving onto the second round. There is still plenty of work to be done but it does appear as though the Caledonia native is more than up to the challenge