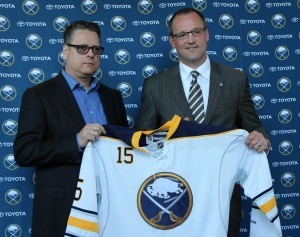 After being fired by the Pittsburgh Penguins and collecting a paycheck from home through the 2014-2015 season, Dan Bylsma has moved on to the Buffalo Sabres, where he will now have the opportunity to coach a club looking to make a dramatic turnaround. With Jack Eichel likely joining a squad that already houses a number of promising young players, including Sam Reinhart, Bylsma will look to replicate and improve upon the success he had in Pittsburgh.
Over the course of 401 games behind the Penguins' bench, Bylsma won a franchise-record 252 matches and collected a Stanley Cup in 2009. An inability to capture another Stanley Cup with the powerhouse duo of Sidney Crosby and Evgeni Malkin ultimately led to Bylsma's termination, but that has not stopped his services from being greatly coveted around the league.
While the Sabres have added a coach with a real knack for connecting with young talent, the Penguins were not left empty handed. Due to a controversial rule regarding the hiring of personnel technically still on another team's ledger, the Penguins will receive a third round pick in 2016, in addition to having Bylsma's contract removed from their books.
PIT gets 2016 3rd rd pick from BUF as compensation. Pick was originally NYI but has condition attached to it, so PIT likely getting VAN pick

— Bob McKenzie (@TSNBobMcKenzie) May 28, 2015
Considering that the Penguins' have had an extraordinary dearth of draft picks in recent seasons thanks to the team's detrimental "win-now" mentality, this is good news across the board for the team. While each year is different, recent third rounders for the Penguins have included Kris Letang, Matt Murray, and Oskar Sundqvist, so the possibility to add a player with great potential is high.
Some may be questioning why the Penguins only pursued the draft pick during Bylsma's hiring, as the team had previously been lauded for setting a precedent that bucked against the rule that allowed for such an exchange. General Manager Jim Rutherford claims that it had been a previous misinterpretation of the rule.
"The rule is not as clear as it should be," Rutherford told Trib Total Media. "We felt that the intent of the rule was for employees that were still with the team, that were working with the team, not terminated employees.
"Once Edmonton got a pick for [former Bruins GM] Peter Chiarelli — when he was a terminated employee — we decided to ask for picks for future employees."
While this explanation seems a tad odd, as one would assume that an NHL management would have a firm grasp on any rule that could give them a leg up, it would seem that Rutherford are satisfied with a third round pick, just as Bylsma is likely pleased to be moving on to an up-and-coming new squad.