The New Jersey Devils will face the Buffalo Sabres in their second of three regular-season games tonight. The Devils are looking to bounce back from a 2-1 overtime loss to the Minnesota Wild on Tuesday, their fourth loss in the last five games. 
The Sabres are also on a losing skid. They've lost eight of their last ten and are struggling to keep their playoff hopes alive. 
---
---
The Sabres currently sit eight points behind the Pittsburgh Penguins in the wild-card race and will be facing a team coached by Lindy Ruff. They haven't made the playoffs since he was their head coach in 2011, and they have gone through six different coaches since he left.
Both teams are coming off frustrating losses on Tuesday. However, the Devils are sitting solidly in the playoffs. That makes Friday's game more crucial for the Sabres if they want to at least have a chance at the postseason.
Item One: Goalie Prospect Devon Levi Finally Lands in Buffalo
The Sabres are high on goalie prospect Devon Levi. With his papers now finalized, the young goalie showed up in Buffalo and was seen practicing on Friday morning. Levi signed an entry-level contract with the team last week and had to resolve his work visa status before joining the team. 
Related: 7 Cool Things About the Buffalo Sabres French Connection
---
Latest News & Highlights
---
Levi is well-traveled for a 21-year-old. He's from Dollard-des-Ormeaux, Quebec, and is 6 feet and 185 pounds. After being selected by the Florida Panthers in the seventh round (212th overall) of the 2020 NHL Entry Draft, he was involved in a few trades.
First, his draft pick rights were traded from the St. Louis Blues to Toronto Maple Leafs in 2019. Then, the Maple Leafs traded those rights to Florida in 2020. He came to Buffalo in a trade from the Panthers in 2021, along with a first-round pick in the 2022 draft (Jiri Kulich) in exchange for Sam Reinhart.
Related: Sabres Need to Target Free-Agent Defensemen This Summer
Levi began his career playing for the Carleton Place Canadians in the Central Canadian Hockey League (CCHL) during the 2019-2020 season. In his 37 games in junior, he had a goals-against average (GAA) of 1.47 and a save percentage of 0.941 (SV%). 
Levi moved to Boston's Northeastern University for the 2021-2022 season, where he played 32 games with a GAA of 1.54 and an incredible .952 SV%. In his second season in Boston, his success continued. In 34 games, he had a GAA of 2.24 and a .933 SV%. During his young career, he's shown promise, with impressive statistics at all levels.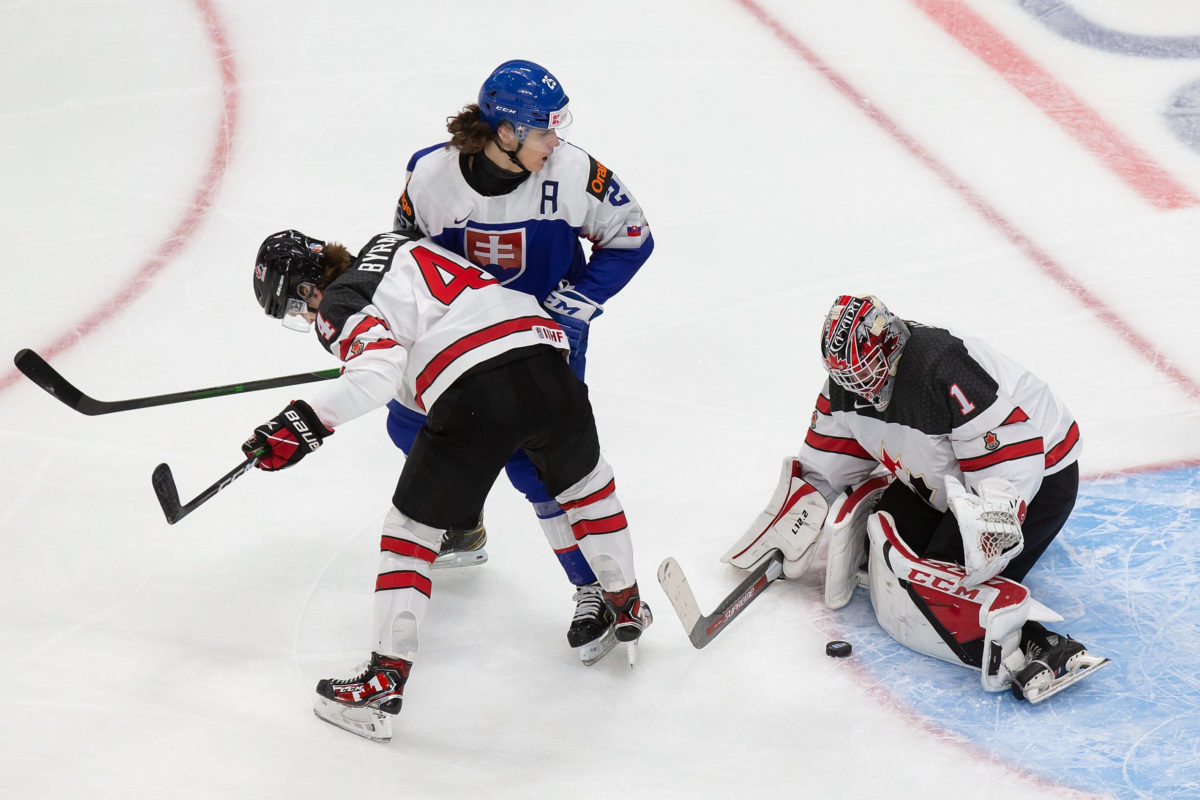 Levi is regarded as the Sabres' goalie of the future. However, at this time – at least until the Sabres' postseason is settled – it's tough to know if he'll get an NHL start.
Item Two: Goalie Eric Comrie Ready to Play
Sabres goaltender Eric Comrie is expected to be ready to play this weekend. He's been out with a lower-body injury since March 9. 
Related: Sabres' Recent Problems Won't Be Solved by Devon Levi
The goalie situation in Buffalo is a bit like musical chairs. Other than Comrie, two other goaltenders are looking for playing time, with perhaps one more on the way (Levi). Ukko-Pekka Luukkonen and Craig Anderson have been splitting time with Comrie out. Comrie's record on the season is 8-9-0, with a 3.95 GAA and a .877 SV%.
Item Three: Jordan Greenway Is Practicing But Won't Play Friday
Jordan Greenway, who has played eight games with the Sabres since being traded from the Minnesota Wild, practiced on Thursday. However, it looks as if his upper-body injury will prevent him from playing in tonight's game against the Devils. 
Item Four: Vinnie Hinostroza Was Absent from Practice for Personal Reasons
Sabres forward Vinnie Hinostroza did not practice yesterday for personal reasons. He's been a healthy scratch in six of the Sabres' last seven games. 
Item Five: Tage Thompson Finally Scores a Goal
In the loss to the Nashville Predators on Tuesday, Tage Thompson finally scored a goal after three games off the scoresheet. Although it was in the team's 7-3 loss to the Nashville Predators, it was good to see him find his offense.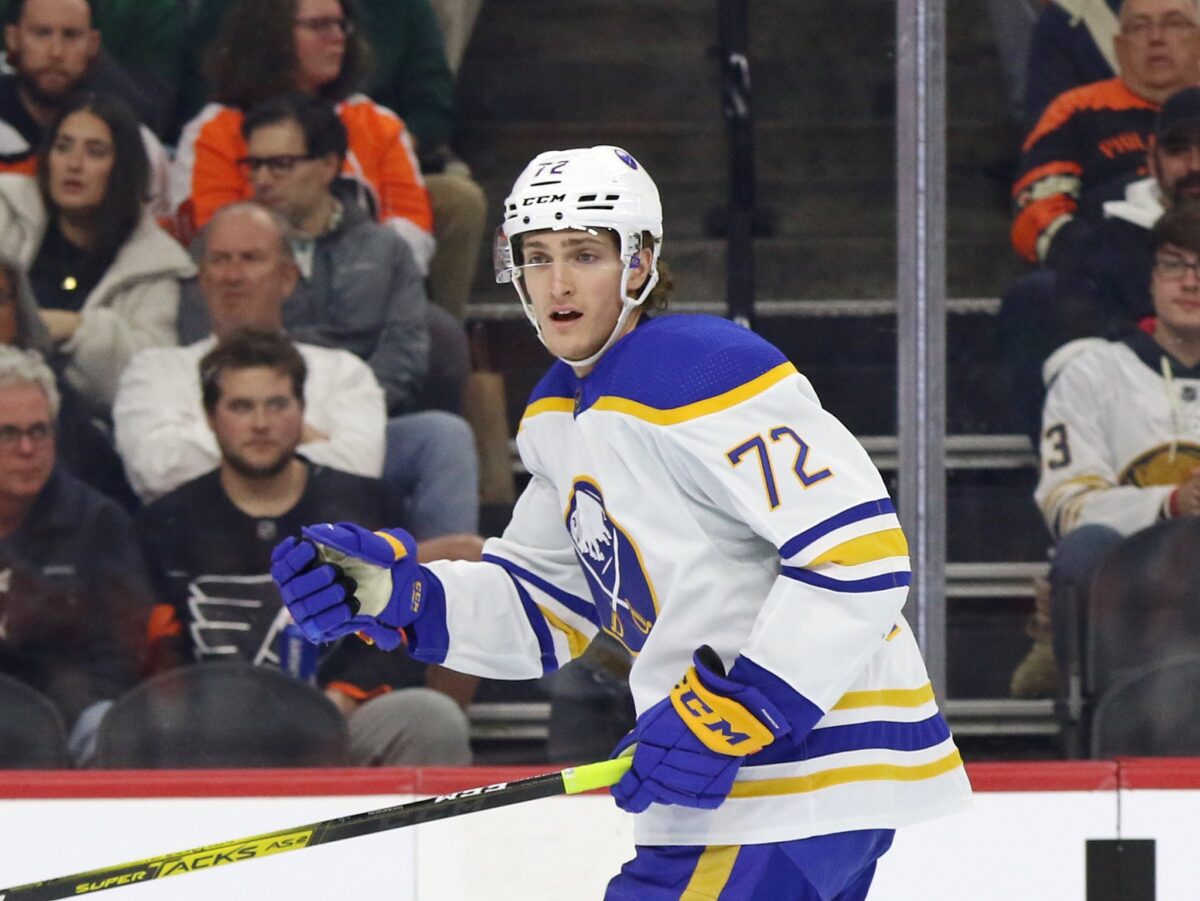 Thompson has now scored 43 goals and 45 assists (for 88 points) in 70 games this season, including 32 points with the man advantage, which has doubled his production from last season. Thompson's power-play success is one reason he's improved so much since 2021-22, when he had "only" 68 points all season.
Item Five: Jeff Skinner Adds to Career Season
Sabres forward Jeff Skinner is having a career year. While he might not hit the 40 goals he scored during his first season with Buffalo back in 2018-19, his assists are way up. He has 38 assists on the season, and his previous high was the 30 he registered last season. 
Related: Sabres News & Rumors: Goalie Play, Cozens & Beast of the East
In the loss to the Predators, he scored his 30th goal of 2022-23, which marks the second consecutive season in which he has reached the 30-goal milestone. Skinner also has a total of 68 points in 67 games this season. He's a point-a-game player for the first time in his career.
Item Seven: Dylan Cozens Scores His 27th Goal
Dylan Cozens also scored a goal in the Sabres' loss to Nashville on Tuesday. It was his 27th goal and his 58th point in 69 games this season. Similar to Thompson, he also ended a three-game scoring drought.
What's Next for the Sabres?
Although it's going to be a hard climb into the postseason for the Sabres, they are a team for the future. They have the scoring for sure. However, their defense and goalie play has fallen on hard times. They just aren't there yet.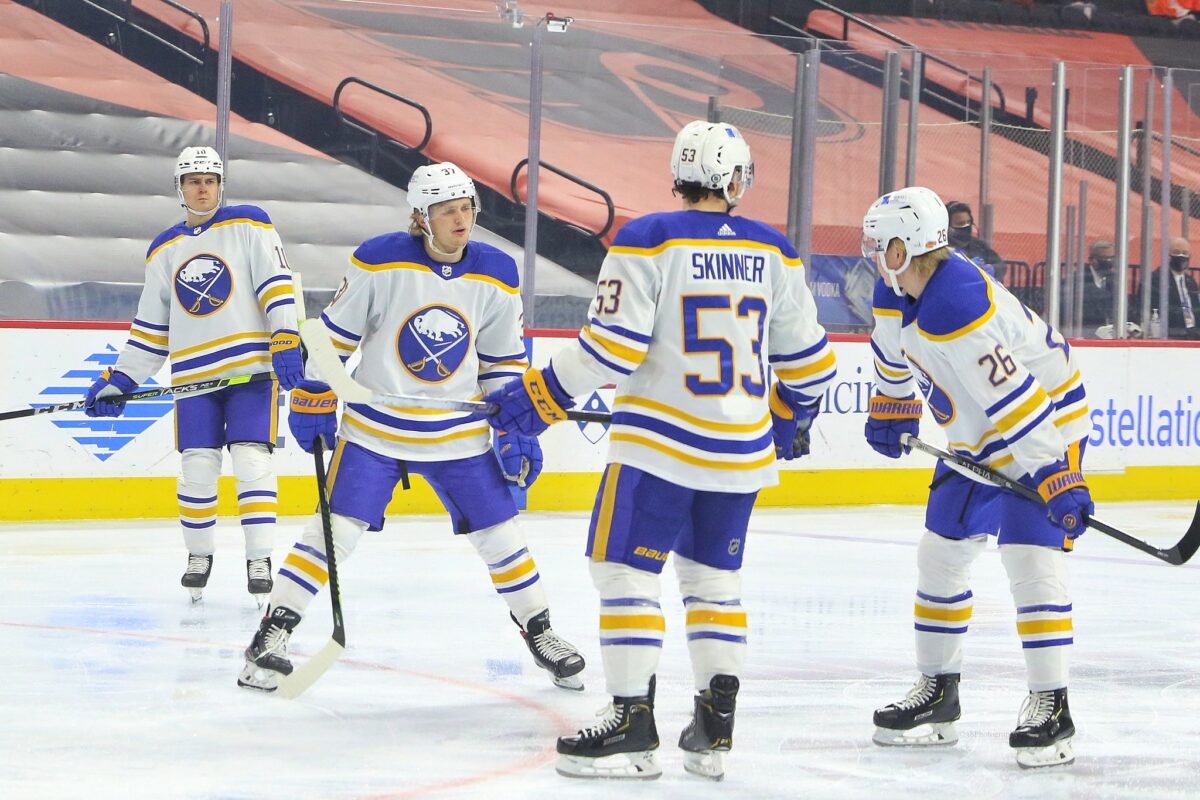 The Sabres had a significant 15-goal swing in goal differential over the past week because of their inconsistent play. March has not been good for them; they've only won two of their past eleven games. 
They've also had a few lopsided losses at home, with margins of four, six, and even seven goals. This season's team has had moments of great success, but their recent struggles have been epic. This might not be their season, but I believe that season is coming soon.