There are a handful of players on the Winnipeg Jets who truly are the faces of the franchise and one of those players is Blake Wheeler. The fifth overall 2004 NHL Draft pick and former Captain has worn a Jets jersey for twelve seasons now and is still making an impact on the ice.
Playing in the NHL for 15 seasons, Wheeler has had quite the career so far. Let's take a look at a few fun facts about the right-winger.
---
---
1. Wheeler Declined Initial NHL Offer
Something interesting about Wheeler's NHL journey is the fact that he never played for the team that originally drafted him. In 2004, the Phoenix Coyotes (now known as the Arizona Coyotes) selected Wheeler fifth overall in the NHL Draft. Wheeler then went on to play three seasons at the University of Minnesota, where he led his team in goals in his final season and was then offered a contract by the Coyotes in 2008.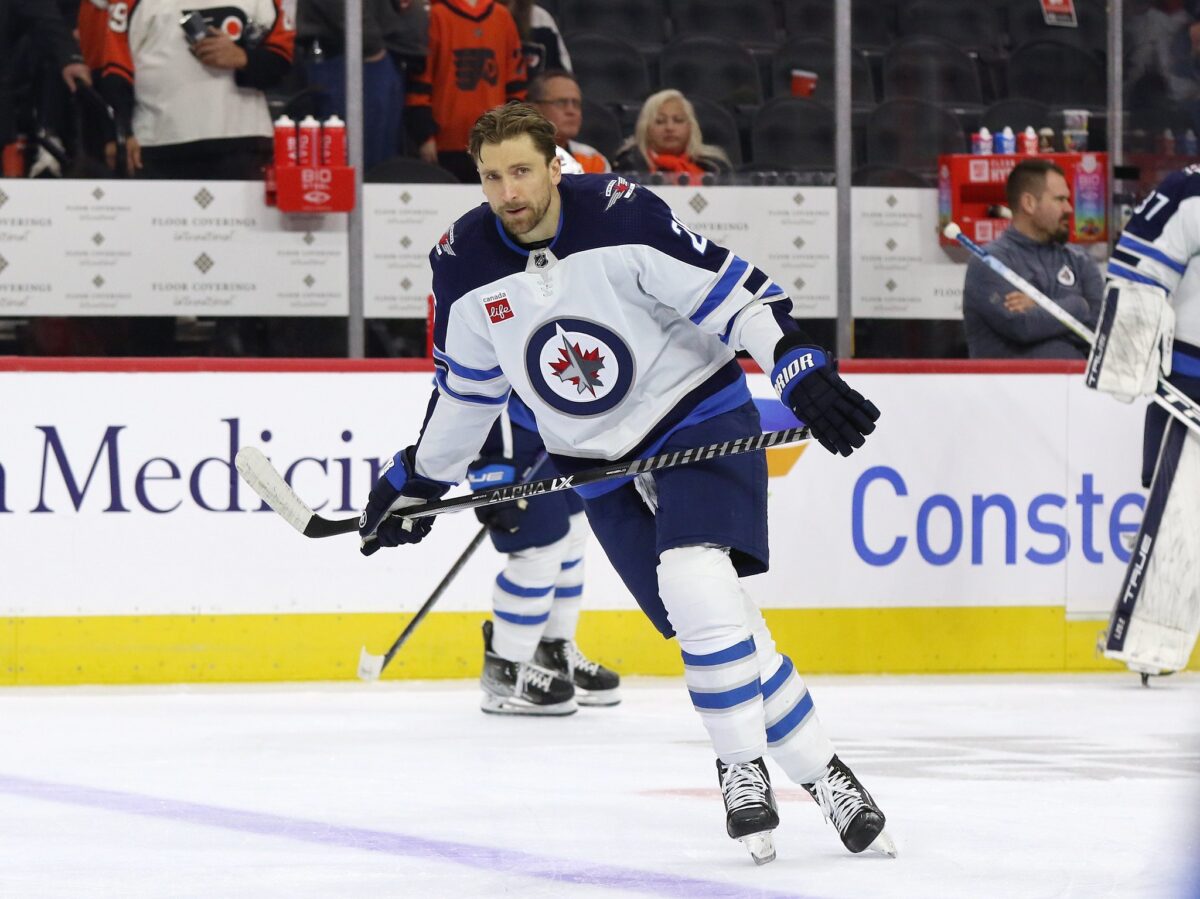 In a fairly unusual fashion, he declined their offer and chose to become a free agent. Don Maloney, the Coyote's General Manager at the time, discussed his surprise with Wheeler declining their offer saying, "We offered Blake a contract which was both commensurate with his draft position and far exceeded any guaranteed contract he can receive, under the current CBA, with any other team. He has decided, however, that becoming a free agent is in his best interest."
Related: Jets' 3 Keys to Success As Playoffs Loom
---
Latest News & Highlights
---
The Minnesota native informed Maloney of his decision on May 28, 2008 and ended up signing with the Boston Bruins on July 1, 2008. Wheeler played with the Bruins for the entire 2009-10 season, and for 58 games in the 2010-11 season before being traded to the Atlanta Thrashers where he played 23 games. When the Jets were born the following season, Wheeler decided to stick around.
2. Wheeler's No. 26 Inspired by Phil Kessel and Thomas Vanek
Wheeler didn't always wear no. 26; his University of Minnesota teammates knew him as no. 17. But during that time, he played with some recognizable names who inspired him to select no. 26 when he reached the NHL.
In Wheeler's rookie season with Minnesota, he played with close friend Phil Kessel who wore no. 26, and before he claimed it, Thomas Vanek had worn the same number. While Wheeler knew he wanted to wear the number in the NHL, he wore no. 42 in his NHL debut with the Bruins on Oct. 9, 2008. 
In his 13th NHL game, he laced up his skates and hit the ice for the first time as no. 26, earning his first-ever NHL hat trick. After that performance, Wheeler discussed selecting his new number saying, "It was just always a cool number. Numbers don't really mean that much to me, but I thought it would be a good one. So far, No. 26 has worked pretty well."
I'm sure Jets fans couldn't agree more.
3. Wheeler Was Granted Captaincy on His Birthday
On August 31, 2016, Wheeler was named the Jets' captain on his 30th birthday. The season before, 2015-16, he finished with 78 points (26 goals, 52 assists) in 82 games and was tied for sixth in the league in points.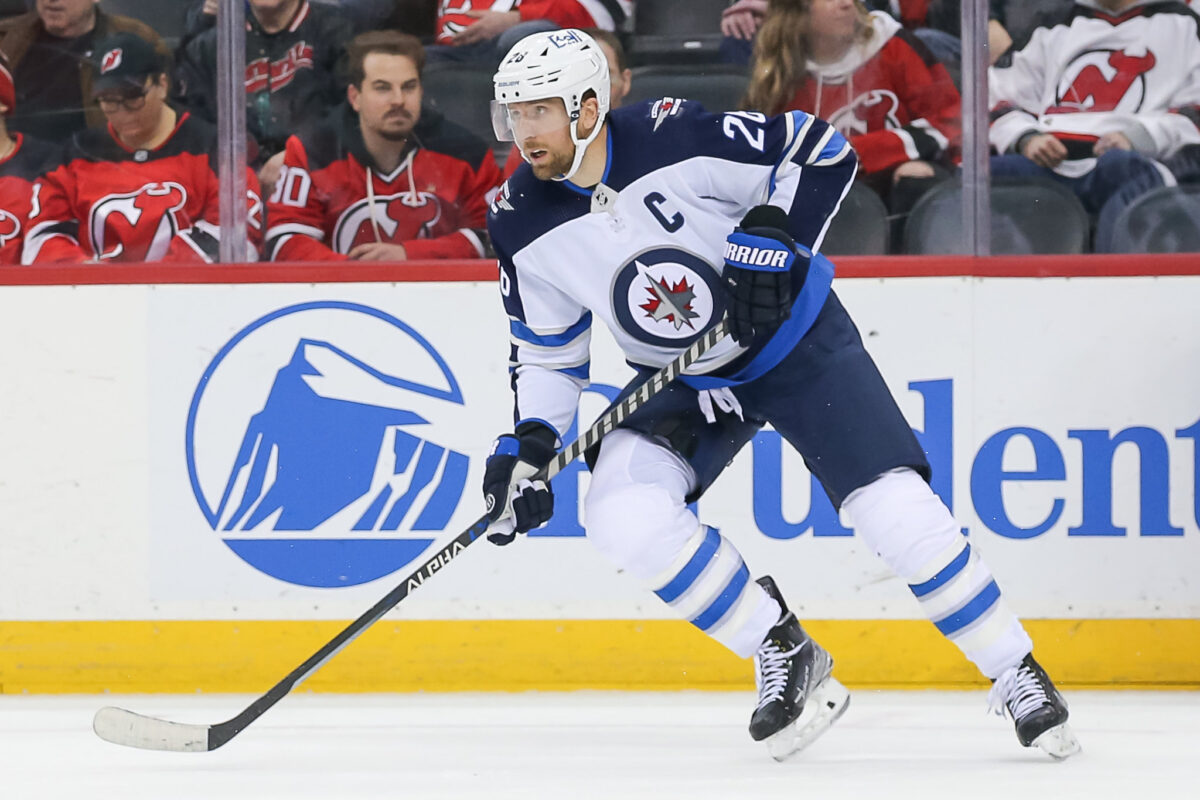 In his first season as captain, he earned a career-high in points with 91 – a feat he matched in the 2018-19 season. His efforts helped the Jets complete the 2017-18 season with a franchise-high 114 points. He also earned 21 points in the Stanley Cup Playoffs that season, as he helped guide the Jets to the Western Conference Final, where they lost to the Vegas Golden Knights. 
Wheeler retained his captaincy for six seasons until the franchise announced he would no longer wear the 'C' heading into the 2022-23 season, kicking off the year as the longest-tenured player in Jets/Thrashers history. 
4. Wheeler Curated A Public Spotify Playlist for His 1000th NHL Game
Playing 1000 NHL games is a big deal, so why not have some fun with it? Wheeler picked some of his favourite songs for the Jets to play during the pre-game warmup and put them together in a Spotify playlist. The playlist consists of songs by Kendrick Lamar, Mac Miller, Migos, and more. 
Want to get pumped up and jam along to Wheeler's favourite tunes? Give the playlist a listen at wpgjets.co/JetStream. 
While this season has been an interesting one for the Jets to say the least, Wheeler continues to prove his loyalty to the franchise. We will just have to see what the future has in store for No. 26.