On Monday night, the Buffalo Sabres' came from two goals back to beat the Toronto Maple Leafs by a score of 4-3. Alex Tuch's return from injury – along with his two-goal game – led the Sabres to the win.
---
---
It also didn't hurt that the oldest current player in the NHL – goalie Craig Anderson – came up big in the game. Two young burgeoning stars, 21-year-old Jack Quinn and 22-year-old Dylan Cozens also scored for Buffalo. And, Owen Power and JJ Peterka each added two assists. 
It was the Sabres' second strong game in a row. On Saturday, they had played the New York Rangers hard but lost 2-1 in overtime. Monday they clawed back for the victory over the second-place team in the Atlantic Division. Even when they were down two goals and outplayed badly, the team stayed patient, stuck to its game plan, and pulled out the win.
Related: Sabres: Revisiting Tom Golisano's Purchase to Save the Franchise
---
Latest News & Highlights
---
In this edition of Sabres News & Rumors, I'll take a look at the player news emerging from the game. 
Item One: Alex Tuch Comes Roaring Off the IR 
After being sidelined with a lower-body injury, Alex Tuch was a game-time decision for Monday's game. However, he returned to practice on Sunday; fully participated in Monday's morning skate; and, was activated off injured reserve ahead of the game against Toronto.
Related: Sabres Need to Use Jordan Greenway Differently
Following his eight-game absence, it was like he had never been gone. Tuch had an outstanding game. He scored twice. His first goal tied the game 2-2 and the last goal was the game-winner with the man advantage.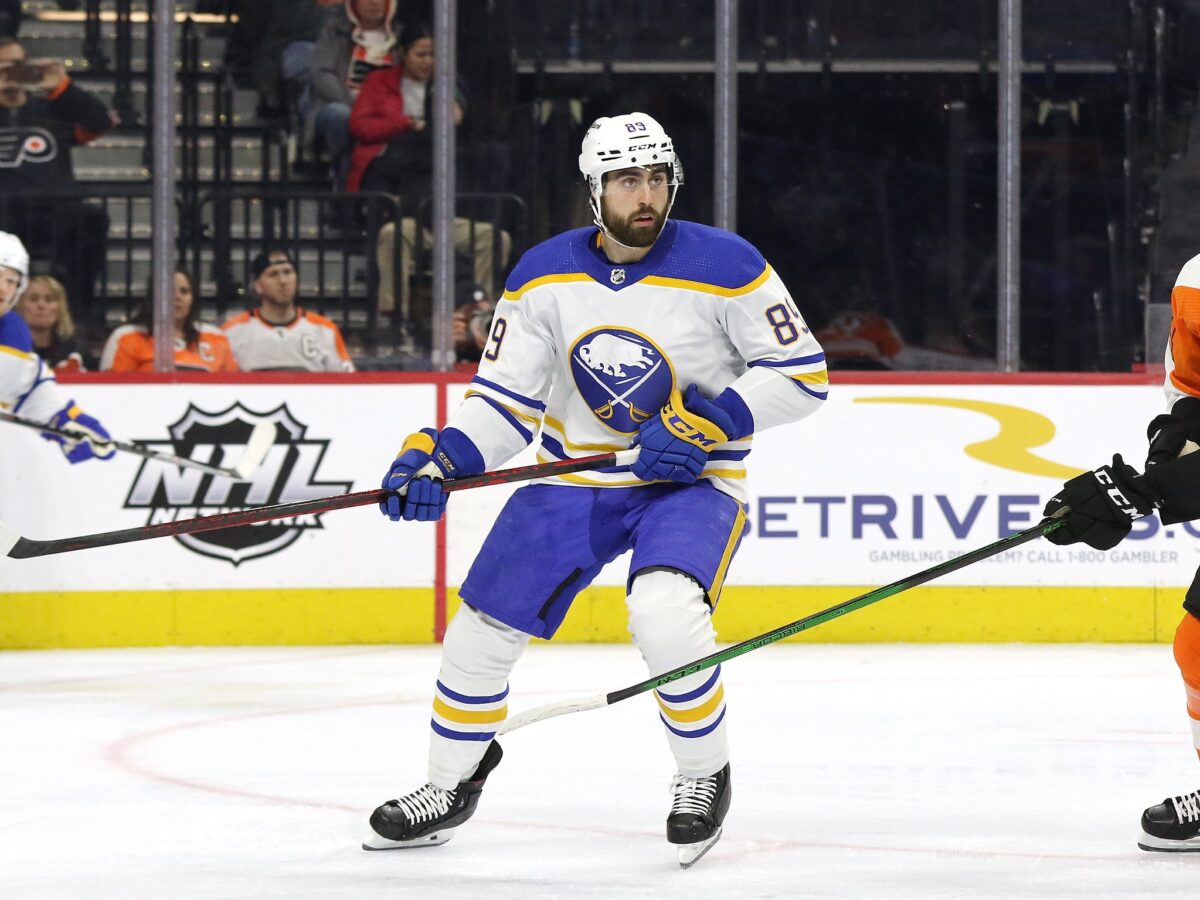 What a career season the 26-year-old winger is having. On the season, he has now scored 30 goals and added 34 assists (for a career-high 64 points) in only 58 games played.
Item Two: Craig Anderson Seemed Ageless 
In Craig Anderson's 38th career game against the Maple Leafs, he put up a solid game to beat his long-time rival. He made good saves on a couple of chances for Auston Matthews, who had previously scored 13 goals in 16 games against the 41-year-old goalie. 
Related: 7 Cool Things About the Buffalo Sabres French Connection
In the third period, Anderson made a great breakaway stop on William Nylander's shot and also made a big save on Michael Bunting during a 2-on-0 chance coming in alone with John Tavares. Overall, he stopped 25 shots out of 28.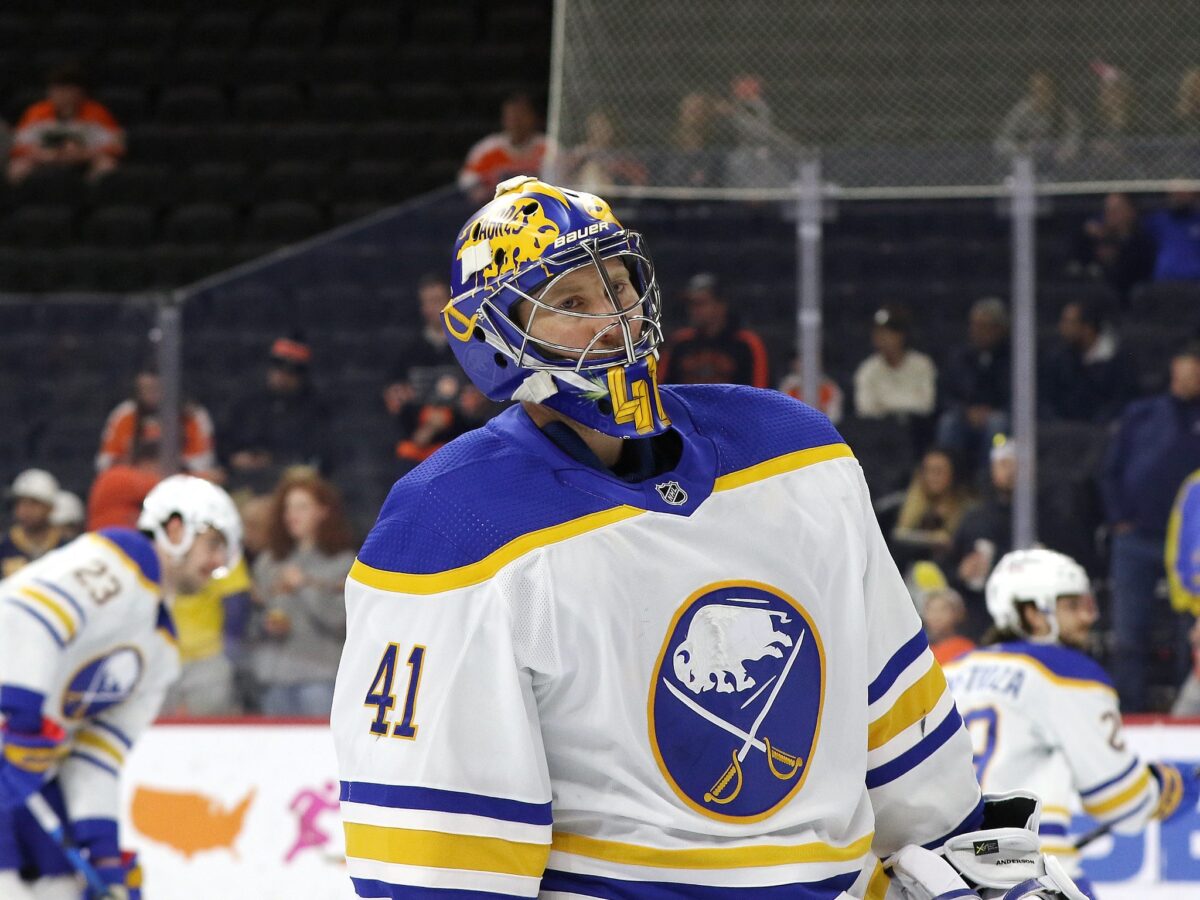 The win is Anderson's first since Feb. 28. He now has a record of 10-9-2 and leads all Sabres goalies with a goals-against average of 2.79 and a .917 save percentage. Look for him to continue to split starting duties with Ukko-Pekka Luukkonen while Eric Comrie is out with a lower-body injury.
Item Three: Dylan Cozens Breaks Two-Game Pointless Streak
Dylan Cozens scored a goal and added an assist in Monday's win. His goal put his team up 3-2 and his assist came on Tuch's power-play, game-winning goal. 
Similar to Tuch, Cozens is having a breakout season. He's now scored 26 goals and added 31 assists (for 57 points) in 65 games. He helps make the Sabres' top-six potentially one of the best in the NHL. His two-point game ended a two-game pointless streak for the young forward. It was also his first multi-point game since Feb. 26.
Item Four: Jack Quinn Baseball's a Puck into the Net
One might think that Jack Quinn also was a good baseball player in addition to his hockey skill. He scored the first Sabres' goal of the night by batting a puck out of midair in the second period. That cut the Maple Leafs' lead to 2-1 and got the ball rolling (is that enough mixed sports metaphors?) for his team.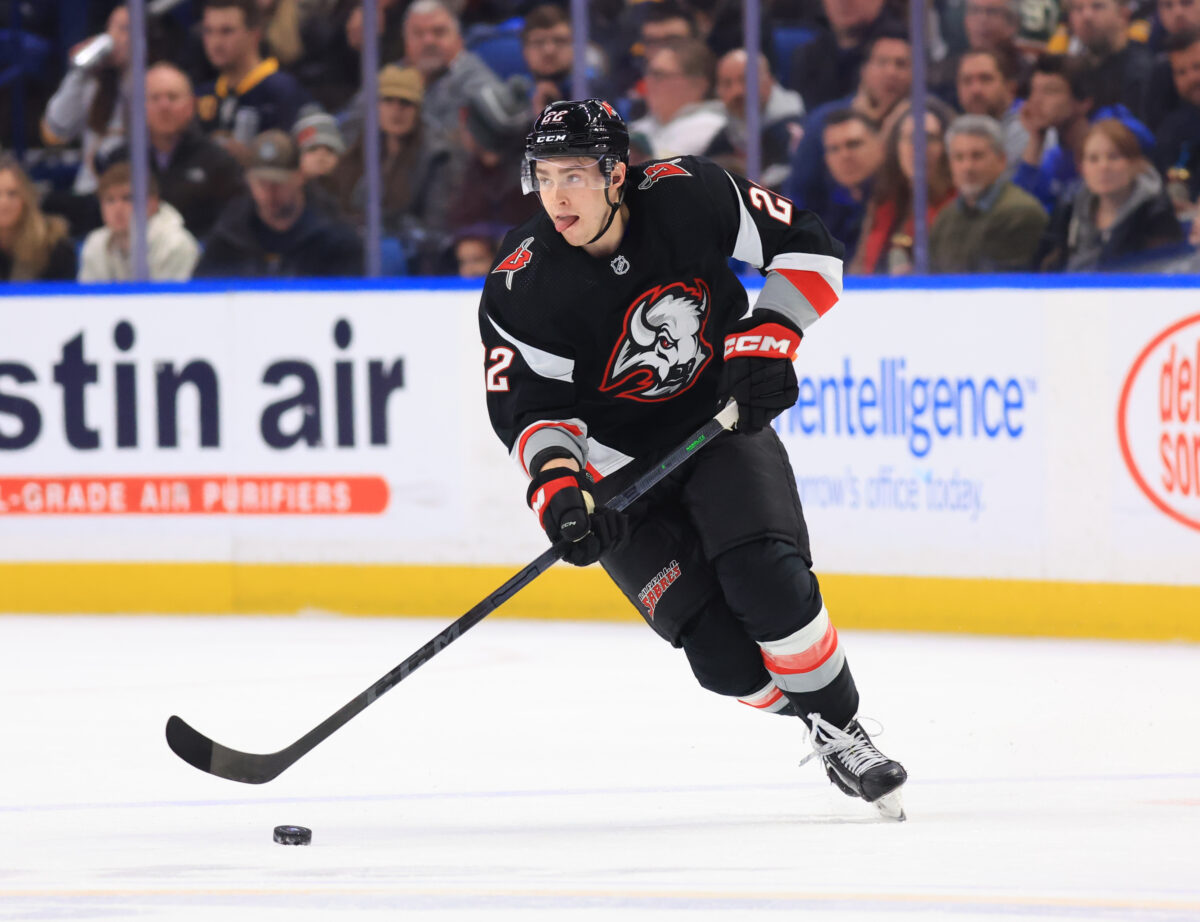 It was Quinn's only shot of the game and broke a four-game scoring drought for the rookie forward. He now has scored 13 goals and added 17 assists (for 30 points) in 59 games this season. He's making his presence felt in the Sabres' top-six unit.
Item Four: Two Sabres' Rookies Add to the Scoresheet
Two up-and-coming Sabres' rookies – John-Jason (JJ) Peterka and Owen Power – each added two assists to the cause. 
Peterka has registered four assists in his last three games, but he's scored only a single goal in his last 33. On the season, the 21-year-old has scored eight goals and 17 assists (for 25 points) in 62 games. He's still inconsistent, but he seems to fit in well with Cozens and Quinn on Buffalo's second line.
Related: 7 Cool Things About Jarome Iginla: Calgary Flames Hall of Famer
Young defenseman Power is having a solid rookie season as well. He has scored four goals and added 22 assists (for 26 points) in 63 games. He also carries a plus-11 rating in those games.
What's Next for the Sabres?
Just reviewing the Sabres' game against a strong team like the Maple Leafs suggests how strong Buffalo could become. Although it might be next season, the team has youth and potential throughout the lineup. Monday night's well-rounded team win saw a number of youngsters contribute to the scoresheet. And, 27-year-old Victor Olofsson didn't play in Monday's game as a healthy scratch. Although he has scored 24 goals in 65 games this season, he's been in a scoring drought during his last 17 games. Tuch is only 26 years old, too.
This is a good young team. It's fun most nights to be a Sabres fan.