The 2022-23 Buffalo Sabres season came to an end this past Friday with a victory over the Columbus Blue Jackets. Though it was a very encouraging season filled with improvement and pleasant surprises, it still ended the same way each of the last 11 before it did. The Sabres came as close to the postseason as they had in over a decade but fell just short and once again found themselves on the outside looking in.
---
Latest News & Highlights
---
Nevertheless, the excitement and positivity surrounding the team are the highest they've been in quite some time. Now that the dust has settled, here are three observations from the end of what was a truly transformative campaign in Buffalo.
Two Bad Sabres Losses Prove Costly
Buffalo finished 2022-23 with a record of 42-33-7 and 91 points, its best record and point total since its last playoff appearance in the 2010-11 season. The Sabres were in contention for a playoff spot all season long, but a brutal month of March set them back hard. They caught fire down the stretch and won nine of their last 12 games to close the gap, but it proved to be too little too late. A 6-2 loss to the New Jersey Devils on April 11 officially eliminated them, pushing their NHL-record playoff drought to a 12th season.
The team ultimately finished one point out of the Eastern Conference's second Wild Card spot. With that in mind, two particularly bad defeats at the hands of lowly teams in the second half of this season stand out all the more. A 4-0 loss to the Philadelphia Flyers on Jan. 9 and a 5-3 loss to the Blue Jackets on Feb. 28 were embarrassing enough at the time but sting even more in hindsight. Either could have been the difference-maker, and perhaps the Sabres would be in the postseason right now had they shown up on those days.
Luukkonen Goes MIA
The Sabres' mega-hyped top goaltending prospect Devon Levi arrived at the end of March for his highly-anticipated NHL debut. He ended up starting seven of their final nine games and played very well, going 5-2 with a 2.94 goals-against average and .905 save percentage. His presence gave the team a noticeable boost, and while it wasn't enough to get them to the playoffs, it was a very promising introduction for the man who could potentially be their next big netminder. However, Levi's test run to finish the season meant that one of his compatriots in goal was cast aside.
Despite shouldering a majority of the Sabres' schedule this year, Ukko-Pekka Luukkonen appeared just twice in their final 12 games and didn't play again after April 1. Head coach Don Granato did have four goaltenders to work with after Levi was added to the picture, but Luukkonen's apparent benching still came as a surprise. He could have worked into the mix better or even been sent down to Rochester for the American Hockey League playoffs rather than sitting on the sidelines. It's tough to make sense of any way one looks at it, seeing as he also looks to be an important future piece in goal.
Mittelstadt On the Rampage
Casey Mittelstadt has had a tough go of it since coming to the Sabres and has been a popular target for the ire of fans. Entering this season, expectations of him were not high, and speculation over his future continued to run rampant. However, over the last month of the season, that perception changed radically. He quietly put together a very strong campaign and posted new highs in every offensive category to give the Sabres a major boost from the middle. And while it helped keep the team's lower echelons moving, he didn't receive much credit. But then the calendar turned to April.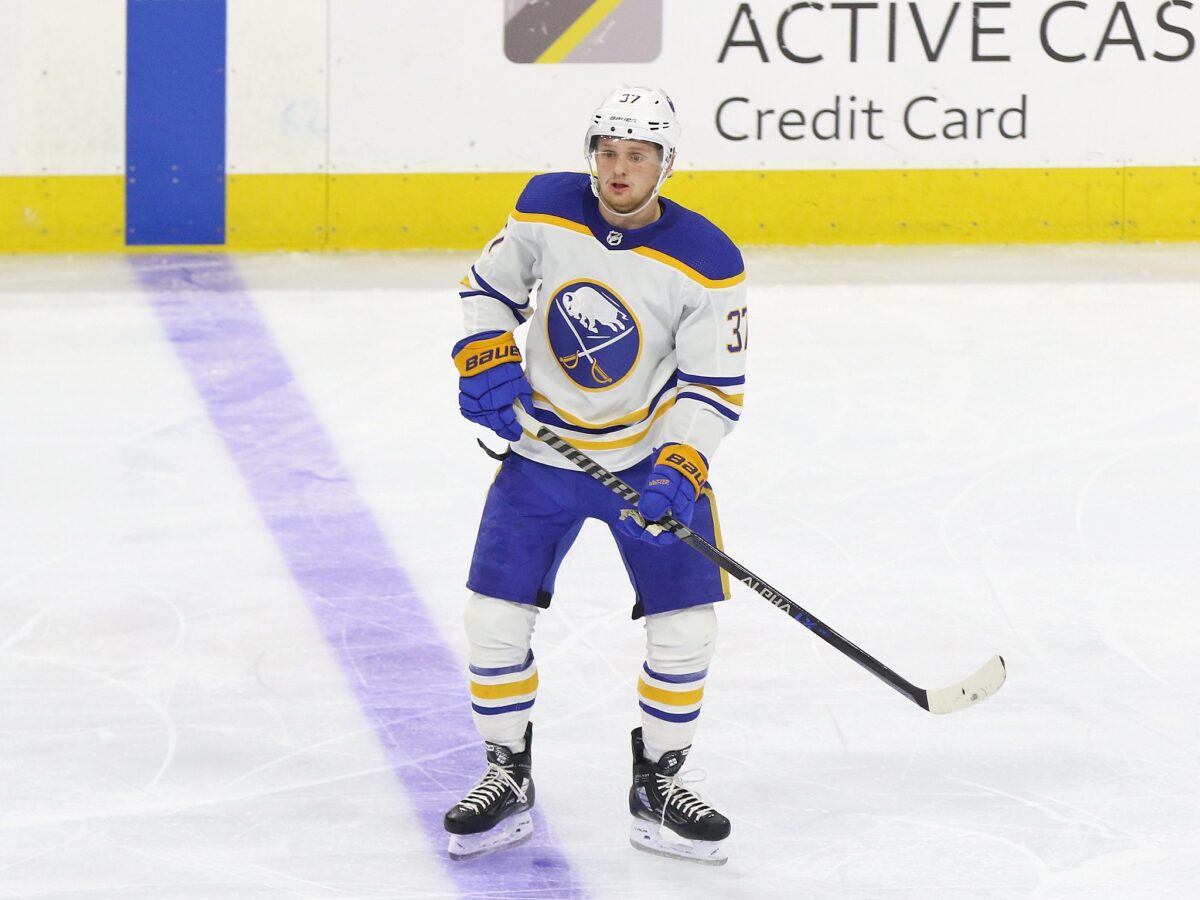 The 24-year-old went off down the stretch and was unquestionably Buffalo's best forward over the last two weeks of the season. Moving up to the top-six while Tage Thompson was sidelined, Mittelstadt recorded 12 points (four goals and eight assists) in his final eight games to finish the season with a career-best 59. He finally showed how elite of a playmaker he could be, and it was one of the biggest reasons the Sabres nearly made it into the playoffs. The American will be a restricted free agent (RFA) this summer, and it's still unclear what general manager Kevyn Adams will decide. But if what we just witnessed was Mittelstadt's coming out party, the Sabres would be foolish to not retain him.
Sabres Looking to the Future In a Different Way
It's been a long, long time since Western New York, Southern Ontario and Sabres fans all over have had a contender to root for. This season may have been another example of almost, not quite, but the vibe around this team has changed, and fans and the media alike have taken note.
Related: Sabres Player 2022-23 Season Report Card: Tage Thompson
The Sabres are no longer viewed as hapless and will enter next season with legitimate expectations. No question about it. How will they handle the pressure? We can only wait and see.
---
---