The Buffalo Sabres are fighting hard for a playoff spot right now, but they recently had the injury bug strike a blow against them. Both Alex Tuch and Rasmus Dahlin are out, and Tuch will be out on a more long-term basis with a foot injury. In his absence, rookie Jack Quinn has been granted a top-line role alongside Tage Thompson and Jeff Skinner, a role he has rightfully earned.
Throughout the course of the season, Quinn has struggled and had some rough streaks, been benched, and even been scratched. But as of late, he has been showing how much growth has truly been happening during those events. His work ethic, combined with his talent, are why the Sabres drafted him eighth overall in 2020, and he is finally showing signs of being a legitimate NHL scorer. His personal boom could not come at a better time as the Sabres continue to push toward a playoff position.
Jack Quinn's Development Pattern
Quinn has always been a slow-developing player, but the evidence shows that patience pays off in regards to him. When he was a junior player for the Ottawa 67's in the OHL in 2018-19, he scored 12 goals and 32 points as a rookie, but in his draft year, he exploded for 52 goals and 89 points. The Sabres loved what he brought to the table in goal scoring and in hard work, so they used one of their COVID exceptions to put him in the AHL for the year. In his rookie season in the minors, he put up two goals and nine points in 15 games, and in the following 2021-22 season, he dominated the AHL with 26 goals and 61 points in 45 games.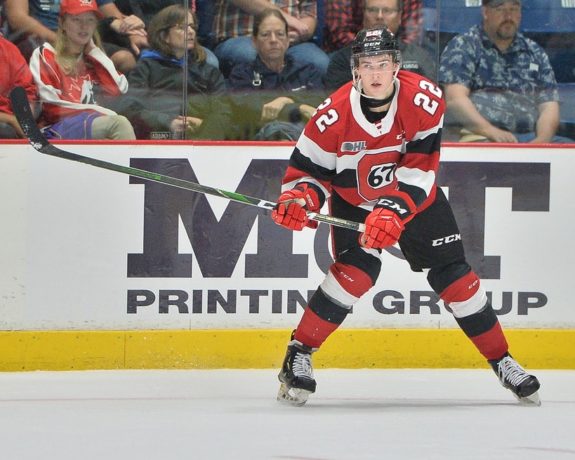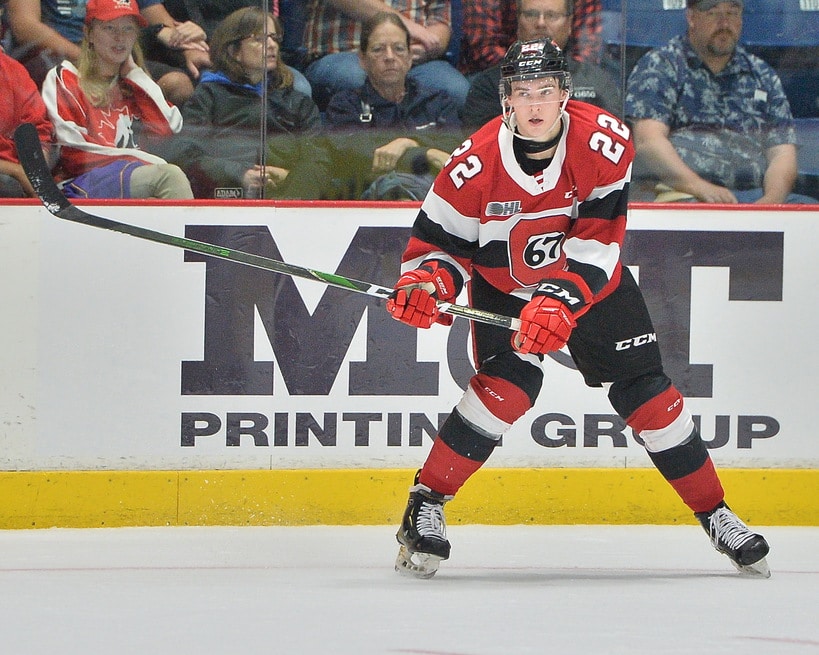 The drastic improvement from one season to the next saw Quinn get his NHL roster spot for this season, and if the pattern were to stay true to form, it was presumed that he would struggle as he learned the pro game. He did struggle, but now he is coming out of his shell a lot more and showing off what type of player he can be. This season, he has 11 goals and 28 points in 52 games, but those numbers are pretty solid, considering his ice time is that of a third-line forward. With his current opportunity to play on the first line, there will be a nice bump to his scoring numbers.
Quinn's Current Gameplay Is Fantastic
Quinn has rotated where he has played nearly all season, but the players that he has the most chemistry have been Peyton Krebs and Tage Thompson. Krebs has been a story of his own and has also shown significant improvements over the course of this season, but when he finally received more responsibility as the third-line center between Quinn and Victor Olofsson, he shined. Quinn reaped the rewards from Krebs' promotion, and the two of them started feeding off one another for energy and points. In the four games that they played together as an established line, Quinn had four points in four games. It was some of the most consistent production he had since earlier in the year while on the "Kid Line."
Now Quinn is playing on the right side of Thompson and Skinner, and his play has only improved because of it. They have only been together for a couple of games, but he already has four points in those two games. He not only looks like a finisher, but he is making some creative offensive plays to set up his linemates. In his last 10 games, his hustle and play driving have improved, and these are what earned him a shot at the top line. The best part is that he isn't wasting his chance to prove he belongs there.
Quinn's Future in the Lineup
Alex Tuch's absence for the foreseeable future will act as an audition for Quinn to hold onto his top-line role. Tuch is the type of player that can play anywhere and still perform. If Quinn is able to be a stable replacement on the first line, then Tuch can slide down to play with Dylan Cozens. This would finally give Cozens a solid winger to work with regularly, and the chemistry he has with Tuch is already established. With Cozens being signed long-term, it will be important to find wingers that suit him, so whether Tuch slides down or Quinn finds chemistry with him, there is bound to be a lot of scoring coming from the top two lines.
Related – Sabres Need to Make a Trade to Overcome Alex Tuch Injury
---
Latest News & Highlights
---
Quinn is a future 30+ goal scorer in the NHL, and the more he plays against top competition, the more he will learn what it takes to become that. He has the natural skill to put the puck in the net and beat goaltenders, but it will take a little more time to really get him up to the right compete level to play on a first line every night. He may not reach the 30-goal mark by the end of this season, but it is completely possible for him to make it to 20 goals. It will be exciting to watch him continue to grow into next year when he will be more likely to have a breakout campaign. As always, patience pays off when it comes to Quinn.
---
---