The Buffalo Sabres are as close to the playoffs as they have been in over a decade, but their aspirations were dealt a big blow on Saturday. It was reported that forward Alex Tuch was placed on the injured reserve, a fact that general manager Kevyn Adams confirmed on Sunday. He will be out for a minimum of two weeks.
Tuch's absence will leave a considerable hole in the Sabres' lineup, and they will have to find a way to fill it, even if just for the time being. What will that lead Adams to do? Will an American Hockey League (AHL) call-up step in for the time being, or will this push the team to be more active at Friday's deadline?
Tuch Is Invaluable to Sabres
Though the Sabres possess numerous offensive weapons, Tuch might be their most important piece and finding even a temporary replacement for him is no small task. Buffalo's top line of Tuch, Tage Thompson and Jeff Skinner has arguably been the best in the NHL this season and has produced 200 combined points. 62 have come from Tuch, tying him for second behind Thompson.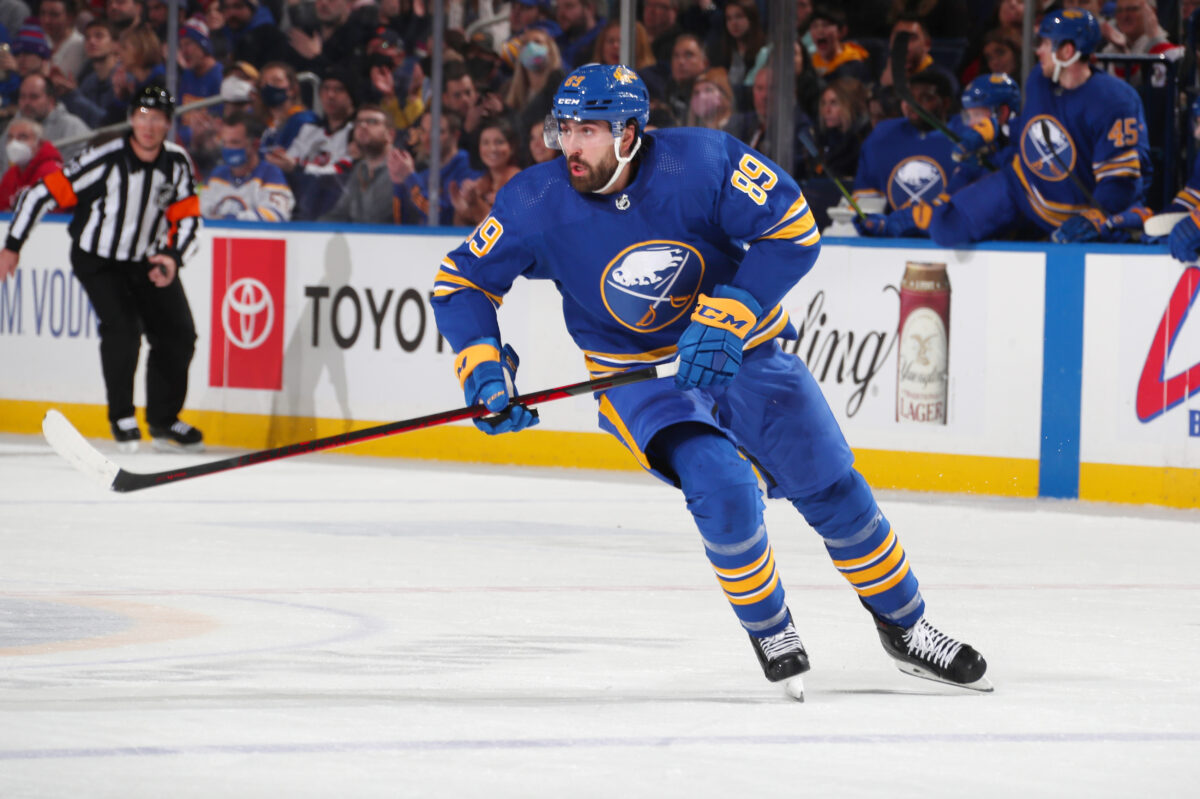 However, it's his two-way play and presence that sets him apart and makes him so valuable. Thompson and Skinner's offensive abilities can't be denied, but their defensive play has been highly questionable at times (as with numerous other Sabres forwards), and it wouldn't be a stretch to call them liabilities in that department. Tuch, on the other hand, has demonstrated that he is an efficient back-checker, and his plus-12 rating is a testament to that.
Tuch is without question the Sabres' most complete forward, but he's also emerged as their leader, even if he doesn't have a letter on the front of his jersey (which he should). Losing him at such a pivotal point of the season could spell trouble, and the team will undoubtedly miss the energy and positivity that he brings. Vinnie Hinostroza was recalled from the AHL's Rochester Americans to replace him on Sunday vs. the Washington Capitals, and while the Sabres could simply decide to keep him around, it's more likely that another move will be made at some point.
Should the Sabres Make a Trade?
Tuch's injury coming less than a week before the March 3rd Trade Deadline could prove oddly beneficial in that it could spur the team to make a trade that they wouldn't have otherwise. General manager Kevyn Adams was previously reported as saying that he will be conservative and avoid a big move, but his top right winger going down may just force his hand.
---
Latest News & Highlights
---
The Sabres had previously been linked to Timo Meier of the San Jose Sharks, whose size and two-way ability would have boosted them considerably, but the door was closed on Sunday when the winger was dealt in a blockbuster to the New Jersey Devils. However, that may prove to be a blessing in disguise for Buffalo, as they avoided parting ways with what surely would have been a significant number of assets in return for a player, who has a $10 million qualifying offer after this season.
Jakob Chychrun of the Arizona Coyotes is another name frequently associated with the Sabres. Though it seems that veritably every team in the league has inquired about him, Buffalo is a realistic landing spot for the defenseman, and he would be a much-needed upgrade for the team's struggling blue line corps, especially given that Norris Trophy-hopeful Rasmus Dahlin was recently declared day-to-day. He's under contract until 2025, and the Sabres have more than enough leeway space to take on his $4.6 million yearly cap hit.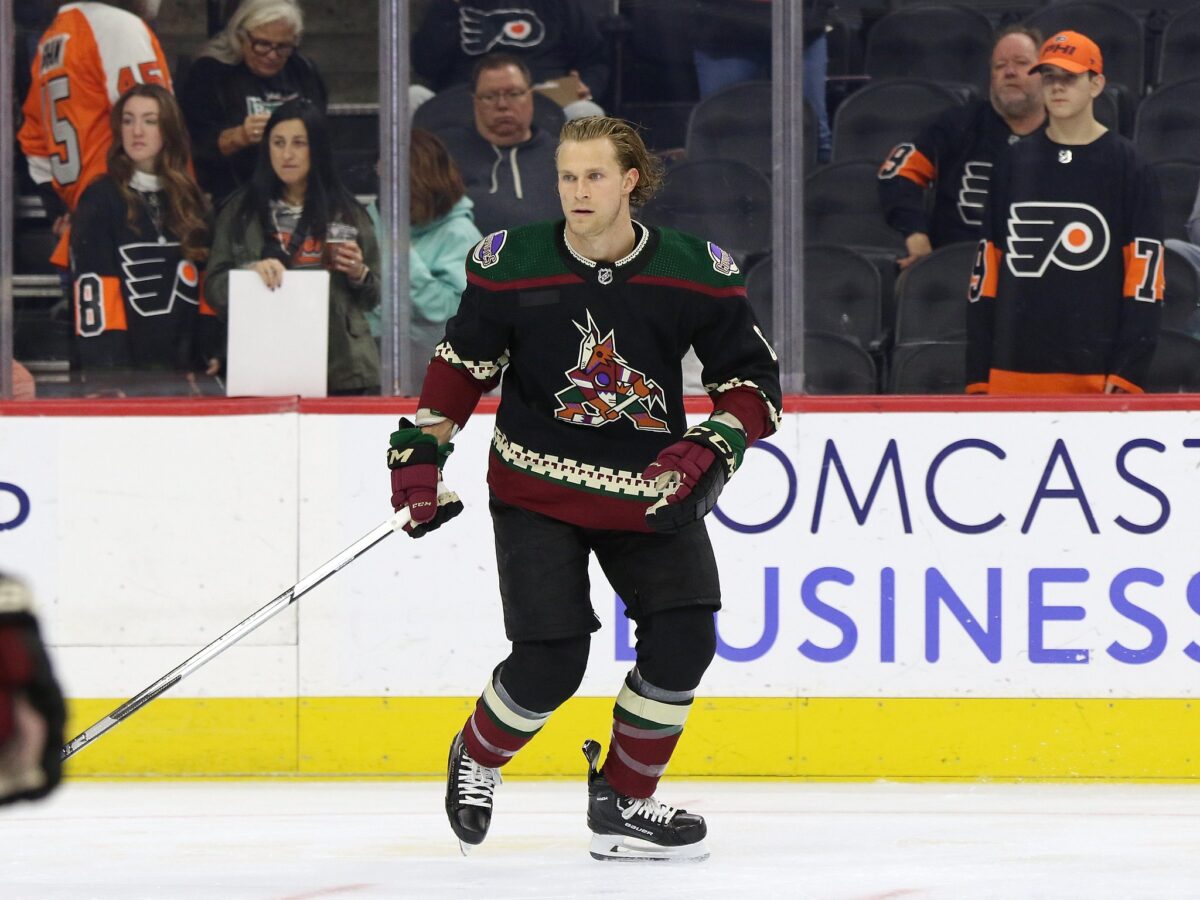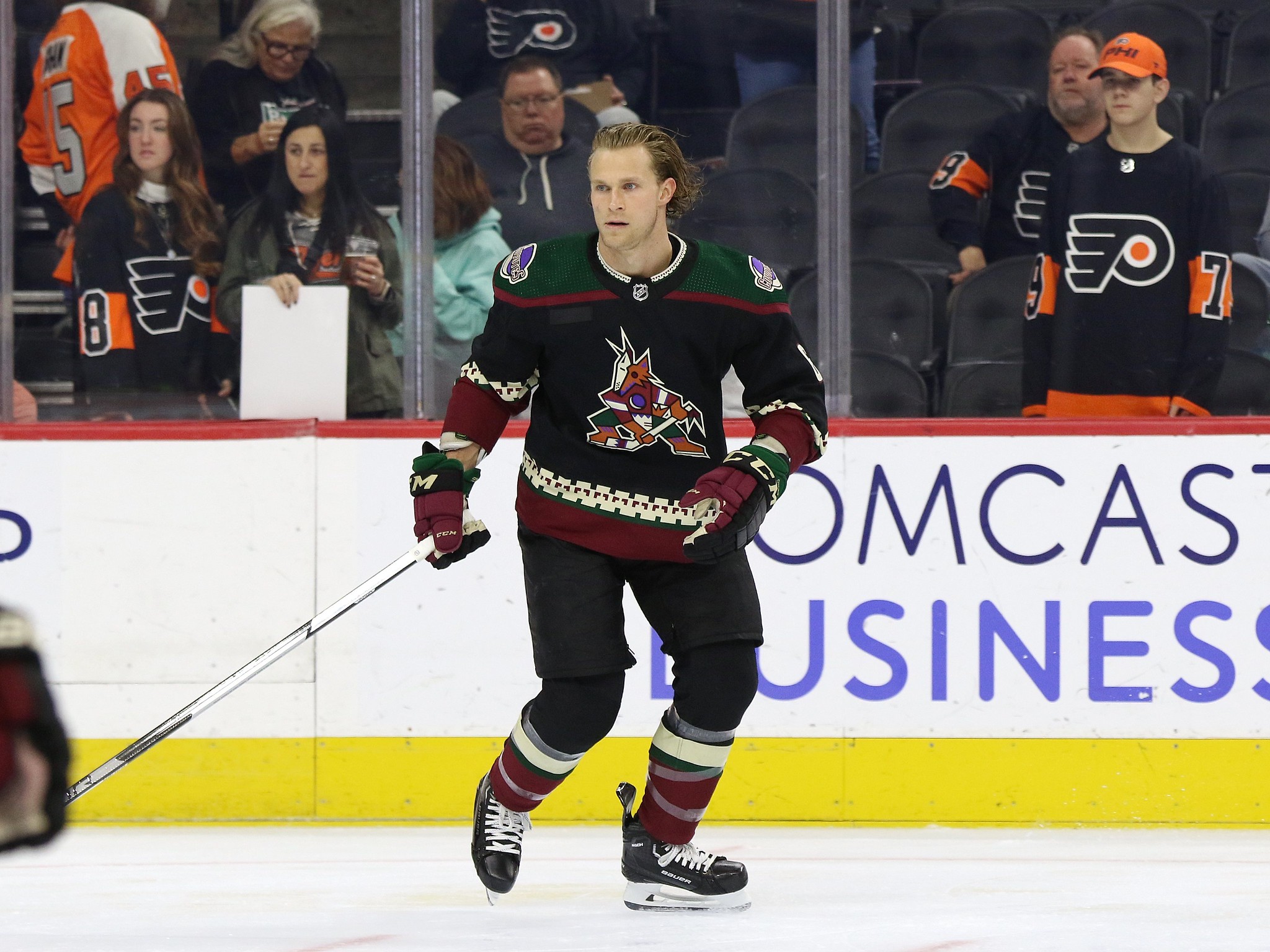 However, though it seemed as if that speculation had ended, it was renewed on Monday when TSN's Pierre LeBrun reported that the Sabres have inquired about Chychrun (from 'LeBrun: Inside the Sabres' trade deadline plans with GM Kevyn Adams,' The Athletic, 2/27/23). The consensus around the league, according to LeBrun, is that the Coyotes' asking price for the 24-year-old is considered exorbitant and has prevented any deal from being reached to this point. The Sabres and others are likely waiting until closer to Friday to see if the Coyotes will accept a lesser offer.
Acquiring Chychrun obviously wouldn't help the Sabres in the forward department but would be a major fix for a team whose defense has struggled all season long, which could improve the club's goaltending as well. But it all hinges on Arizona lowering its price and Adams' willingness to be bold.
The Philadelphia Flyers are shopping James van Riemsdyk, who could be a solid, relatively inexpensive addition that would be handy in case Tuch is out longer than expected.
Give An Amerk A Shot?
If Adams ultimately decides against bringing in a big trade piece, the team does have another option available. The Americans have also had a strong season and, like the Sabres, are currently locked in an airtight Eastern Conference playoff race. The team has numerous candidates that could step up if Buffalo decides to go that route.
Related: Sabres News & Rumors: Cozens, Hinostroza, Stillman & Houser 
The most obvious choice would be center Brandon Biro, who has been their most consistent player all season and looks more than ready for a call-up with 36 points and a plus-1 rating in 40 games. Lukas Rousek has also been strong, with 37 points in 50 games to lead the team.
However, a darkhorse candidate could be 18-year-old Jiri Kulich, Buffalo's third first-round selection of last year's draft (28th overall). The Czech winger has been sensational for the Amerks and scored 33 points in 42 games, and was recently named the AHL's Player of the Week.
Likewise, Isak Rosen could also receive the call. Though he hasn't been as electric as Kulich, the Swede has grown considerably throughout his first season in North America, and his speed and agility could also help make up for Tuch's absence. He has 25 points through 44 games.
It's not likely that the Sabres will select either of the youngsters to avoid rushing them into the spotlight too quickly, and it seems that Biro is the best candidate. After making his NHL debut with the Sabres this time last year, it wouldn't be a stretch to see him in the blue and gold, once again.
Deadline Brings High Intrigue For Buffalo
With the Sabres as close to the playoffs as they've been in 11 years and one point out of the Eastern Conference's second Wild Card spot, this year's Trade Deadline could prove to be a turning point for better or worse.
Though it seemed like they didn't have much planned initially, Tuch's injury may force the team to change course and make a move. Though there is an argument to be had for staying the course and thinking in the long-term, the Sabres have a golden opportunity to finally end their dreaded drought and return to the postseason. It would be foolish to squander such a big chance.
If Adams ultimately decides against making any trades, he'll have to hope that the team can survive without one of its top stars, potentially (for a while) and that they can fix their issues with defense. All eyes will be on him come Friday.
---
---