If being a complete team is key to success in the Stanley Cup Playoffs, there is one team that deserves a long look. There might be no more complete team in the NHL than the San Jose Sharks. Among the key attributes is tremendous continuity, with almost all top players having played together for at least five seasons.
Some of Everything
The Sharks have some of everything and holes pretty much nowhere.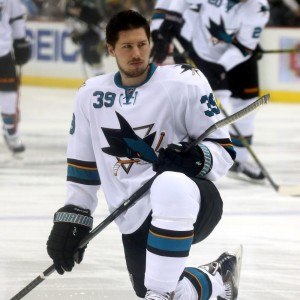 The team mixes veterans and youth. While many of the top players are in their 30s, veterans including goalie Martin Jones, forward Logan Couture and defenseman Marc-Edouard Vlasic are not. While every regular is at least 22, about half the typical game-day roster is 27 or younger.
In terms of grit or sandpaper or whatever else one wishes to call it, San Jose has players like Micheal Haley and the recently-acquired Jannik Hansen.
Size? Joe Thornton is among the biggest top-line centers in the league, Brent Burns is perhaps the biggest top-tier defenseman. San Jose has half a dozen players listed a 215 pounds or over. But are they sacrificing speed for size? Not really. Players including Hansen, Patrick Marleau and Mikkel Boedker have plenty of speed.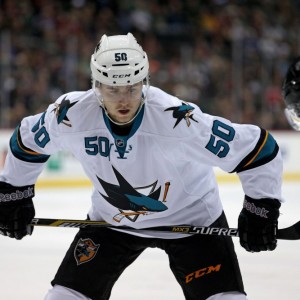 The Sharks have an elite passer in Joe Thornton, but others, including Joonas Donskoi and Chris Tierney, are good at setting the table for others. The Sharks have goal scorers, too. Four are likely to top the 25-goal mark this season. Among these top goalscorers is Joe Pavelski. He is also an exceptional passer, though passing to his longtime linemate Joe Thornton doesn't result in many assists.
Disruptive forecheckers, a major aspect of winning hockey, are in the fold. The highly effective Melker Karlsson might be the best of the bunch, but newly acquired Hansen also fills the bill. And many of the Sharks' first-year forwards understand that forechecking is a good way to stay in the NHL.
San Jose has one thing every top team wants, a matchup nightmare. Defenseman Brent Burns has been a hot knife through butter for much of the season while leading the entire league in shots on goal and all defenseman in many major categories.
[irp]
Forwards
Commentators often say a key to a successful postseason is depth down the middle. The Sharks' four centers, Thornton, Couture, Tomas Hertl and Tierney, are a very strong group.
There are those who think depth matters. Of the 12 likely starting forwards for the playoffs, nine are plus players and the worst is only modestly negative at minus-4. Last season's team went to the Stanley Cup Final with four starters who were double-digit negative.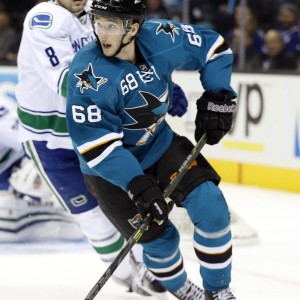 Though it has been a rotating cast, the Sharks' fourth line has been a consistent asset for the team. The wingers have been especially productive. Among them, Karlsson is plus-9. Haley plus-7, Marcus Sorensen plus-3, and Ryan Carpenter plus-5. The Sharks have put out effective fourth lines all season long.
Defense and Goalies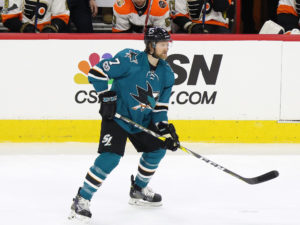 Few teams – perhaps no team – can match the Sharks' defensive group. They get a ton of offense from Brent Burns, but every starting member of the blue line has double-digit points. Vlasic and Paul Martin have over 20 while Brent Burns leads NHL defensemen with 70.
Burns is the best offensive defenseman in the game. He has become a respectable defensive sort as well. The Sharks also have perhaps the best defensive defenseman in the league in Marc-Edouard Vlasic, who has a respectable offensive component to his game.
The third pair is solid, with Brenden Dillon (he of the polite fight) and David Schlemko. The bigger Dillon and the mobile puck-handling Schlemko work well together.
In goal, Martin Jones has proven himself a capable starter. But more critically, he has proven himself capable of being the best player in very big playoff games.
Backups and Playoff Experience
Backup defenseman Dylan DeMelo is a quality replacement if an injury strikes, while goalie Aaron Dell has been almost magical in net for San Jose. His sparkling .936 save percentage puts him in very good and rather exclusive company.
The Sharks go 15-deep at forward before a major drop-off occurs. It is very possible Haley, Carpenter and Kevin Labanc will be the odd men out of the lineup once the playoffs start, even though they are a combined plus-21.
Most Sharks players now have Stanley Cup Final experience, as do all the coaches. They even have one person whose name is on the Stanley Cup. It is Martin Jones, though he watched from the bench as Jonathan Quick took care of business for the Los Angeles Kings in 2014.
[irp]
The Challenge
Being a complete team, though helpful, is not a guarantee of playoff success. The Sharks are vulnerable on a few key fronts. Being a complete team does not mean it can handle every style of play equally. The style used by the Pittsburgh Penguins played proved difficult for San Jose in last season's Stanley Cup Final. The Sharks' problems with Pittsburgh continued this season. The teams San Jose has played which most resemble the Pens' speed and aggressiveness are the Minnesota Wild and New York Rangers. San Jose is 0-5-0 against these three teams this season.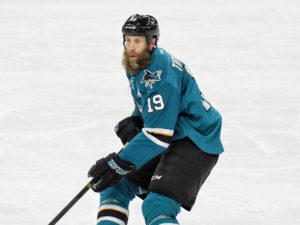 Despite the talent, San Jose has struggled with special teams. The penalty kill has been no better than average, while the power play is decidedly below average. Given the Sharks' top power-play unit has over 1,500 career goals among the five players and they have played together for five seasons, this is particularly hard to fathom.
While the Sharks are a complete team, not every player has lived up to his historic resume this season. Several have fallen well short. The two most notables on this list are Thornton and Vlasic. Others have disappointed, including Boedker and Donskoi. Can these players live up to their abilities when the games mean more?
The Major Caveat
Ultimately, this team will likely be defined not by how complete it is, but by how much they have left for the playoffs. The major open question: how much energy they will have come game 83 and beyond?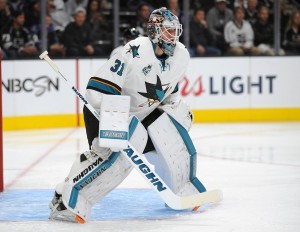 Since the start of the 2015-16 season, the Sharks have the top NHL time-on-ice players at all three major spots. This includes regular season and playoff games.
Pavelski leads all forwards, Burns all defensemen and Jones all goalies. This is not surprising given the Sharks' long playoff run last season. While six of the top 10 forwards in NHL ice time over the past two seasons are under age 30, a pair of 37-year-old Sharks are in the top 10. Joe Thornton is third and Patrick Marleau is ninth. Pavelski is the third-oldest at 32.
Meanwhile, defensemen Vlasic, Justin Braun and 36 year-old Paul Martin are among the top-30 defensemen in NHL ice time during this time frame. Martin is on track to play in more games over a two-season span than any time in his career. He played in 182 games over a two-season span a decade ago. He could exceed this number before the first playoff game of this season.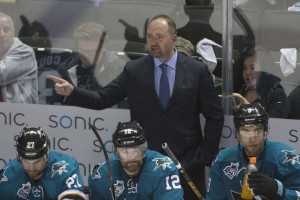 Fatigue happens during the regular season. In the Sharks' recent loss to St. Louis, head coach Peter DeBoer openly suggested fatigue was setting in, even though the visiting Blues had more reason to be tired based on the recent schedule. The question for San Jose come the playoffs will be: will this sort of lower-energy game be rare or will it occur just often enough to derail the team's playoff hopes?
Though the Sharks are not matchup-proof, having a complete team means they are capable of playing with anyone. A well-rested Sharks team is a major threat to win the Stanley Cup. However, in the upcoming battle of attrition, this team may prove vulnerable.
[irp]
Zeke's Notes
Brent Burns' shot at the Hart Trophy for league MVP has taken a bit of a tumble. He has fallen off his rather outrageous scoring pace over the last few weeks while others have made major moves. Still, if one wanted to gauge Burns' impact, the win over Washington was probably the best game to view. Against the Capitals, Burns was easily the top player and the difference in the game. Meanwhile, Burns went pointless in wins over the Dallas Stars and Buffalo Sabres (combined score of 9-2), games where the team didn't need points from him. Coming up big against top teams when your team needs it is what makes an MVP. Burns has done that.
In a recent article, I wrote I did not trust what had been the Sharks' most effective line over an extended stretch, consisting of Mikkel Boedker, Logan Couture and Patrick Marleau. I had a major concern: how would this line hold up as the competition level increased? Five periods after I wrote my article, DeBoer apparently lost trust as well. He took Boedker off the line and replaced him with Joel Ward. Ward has stayed on the second line since.
ZEKE is a native of the DC area where he witnessed the birth of the Capitals franchise. After graduating from Cornell University, which had seen hockey glory before he arrived, he moved west to San Jose. There he witnessed the birth of the Sharks franchise. His wait to witness a Championship from any of these teams finally ended in 2018.