You can look at the San Jose Sharks' run to the Stanley Cup Final in many ways — the long-awaited playoff success of a tortured franchise, the reward for years of suffering, the validation of a core that has been questioned over and over again.
For a team that comfortably cruised into the playoffs — they had the sixth best record in the West and third best in the Pacific Division — yet was not expected to do much, the Sharks sure made a statement, finding their groove at the right time and vanquishing long-standing beliefs that this team couldn't win when the wins matter most.
But did they simply catch lightning in a bottle, or is this the start of a succession of deep playoff runs?
Sharks' Longtime Core Finally Struck Gold
http://gty.im/533866776
For the most part, the 2015-2016 team consisted mainly of the same core from years past — Joe Pavelski, Logan Couture, Joe Thornton, Patrick Marleau, Marc-Edouard Vlasic and Brent Burns. Sure, there were new pieces mixed in who made vital contributions: a Joel Ward here, a Joonas Donskoi there. But by and large, the Sharks relied on their old core, which carried them farther than anyone expected.
I will emphasize the word "old." Thornton and Marleau are both 36. Ward is 35 and Pavelski and Burns are both 31. Vlasic is 29 and Couture, the youngest of the core, is 27. This is not a core that will be the same — if they're all even around — in three or four years, inviting the unwelcome notion that the Sharks may have missed their lone window at a championship with this group of players, if they are unable to maintain the same magic in the next season or two.
Oftentimes, winning in the NHL playoffs means getting hot at the right time. Having the best regular season does not equate a guaranteed trip to the championship; seven of the past eight Presidents' Trophy winners have fallen short of the Stanley Cup. The Sharks learned that lesson in 2009 and over and over again when they entered the postseason with soaring expectations after a stellar 82-game season, only to fall flat.
But, short of the final round, everything came together for the Sharks this time around. They had a goaltender in Martin Jones who stood on his head and won more than a few games single-handedly. They had secondary pieces in Ward, Donskoi, Melker Karlsson and Justin Braun come through in critical moments, a luxury they lacked in past years. And they still had the magic of the wizard-like Thornton and the ever-so-clutch Pavelski.
From Rebuild to Quick Reboot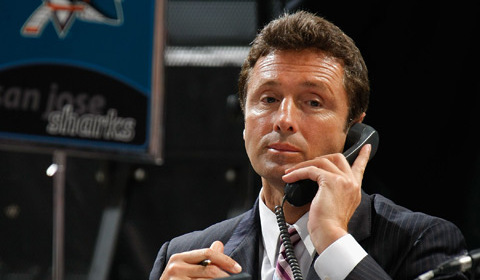 Nevertheless, the Sharks must tread carefully. This was a team two years ago that was planning a rebuild, or in General Manager Doug Wilson's words, "Take one step backwards." Yet, the crux of their team remained the same, and here they are, defying the odds when it was least expected.
Though neither Thornton nor Marleau have shown an intention to retire, at some point they will regress, whether that's next season or the following one. Thornton, with his keen sense of awareness and passing ability, may survive longer than Marleau, whose speed-based game may take a hit as the years pile on. But the Sharks have to prepare for life without their two long-tenured stars while maintaining their newfound status as a legitimate Stanley Cup contender.
That's a difficult mix, because it means seeing what the younger guys can do. It means hoping Donskoi, Karlsson, Tomas Hertl, Chris Tierney, Matt Nieto and Brenden Dillon step up and expand the nucleus. It means having Pavelski, Couture and Burns continue to command the offense, and Vlasic and Braun key the defense.
The Sharks, who were supposed to be in a transition phase, are suddenly pushed back to the top, a position they wish they had been in a decade ago. But in a twist that few expected, like a popular band on its last legs releasing a killer album before being pushed out of the limelight, the Sharks have finally validated themselves before being pushed off the stage for good.
Now, it's time to see whether they were a one-and-done fluke that caught lightning in a bottle, or a veteran team with a mix of youngsters on a mission to prove that making it to a Stanley Cup Final is not enough.