Cam Fowler has long been regarded as a cornerstone of the Anaheim Ducks' blueline. As Anaheim's first selection in the 2010 draft, the expectation has always been that he'd develop into a first-pairing defenseman. Yet with general manager Bob Murray battling a tangled salary cap this summer, it may be time to part ways with the 24-year old blueliner.
Credible sources have reported that there's considerable interest in Fowler's services. Sami Vatanen was long rumored to be the young defenseman that the Ducks would part ways with, but that's out of the question now thanks to a shiny new five-year extension.
Keep an eye on @AnaheimDucks potentially moving one of their good young D. Plenty of market interest esp on Fowler. @NHL @NHLNetwork 🏒

— Kevin Weekes (@KevinWeekes) June 21, 2016
It seems at least plausible that Fowler's days in Anaheim are numbered. His $4 million cap hit is becoming increasingly difficult for the Ducks to stomach, yet it's a very movable figure. There are a number of teams around the league looking to bolster their blueline, so Anaheim would be in no shortage of suitors.
Why all the fuss over Fowler though? If his contract doesn't seem that bad, then shouldn't Murray find other ways to trim the fat? There's a dirty little secret that most of the NHL has yet to find out, making it imperative that the Ducks strike while the iron is hot.
Fowler A Highly Flawed Player
Fowler possesses critical qualities for an NHL defenseman. He skates like the wind, making him a threat from anywhere on the ice. It allows him to attack the neutral zone with speed, opening up the chess board for his team. Here he astutely recognizes that the Montreal Canadiens are changing lines, and he decidedly turns on the jets:

The problem is, those strengths don't translate to a passable even strength game. He finished well below even in the shot attempt battle in 2015-16, with a mediocre 48.8 percent mark. That's worse than popular punching bag Clayton Stoner, who tallied a respectable 51.6 possession rating without Fowler on the ice.
Naturally, the obvious culprit here would be the fact that Fowler spent the majority of the year paired with Kevin Bieksa. That has some credence, as Bieksa was downright atrocious all year long at even strength. Amazingly though, the 35-year-old veteran actually enjoyed a spike in possession rating when he wasn't paired with Fowler. That's concerning, as it indicates that Bieksa wasn't the sole reason behind that pairing's abysmal play.
Elite defensemen can carry glass-chippers like Bieksa. Fowler doesn't come close in that regard. As we've seen though, he at the very least possesses the physical tools to be an elite player. It's his mental game that's severely lacking. With the puck, he's an extremely heady player. Without it, he can be a liability. Here against the Winnipeg Jets, he leaves his man wide open in the neutral zone, leading to a scoring chance against: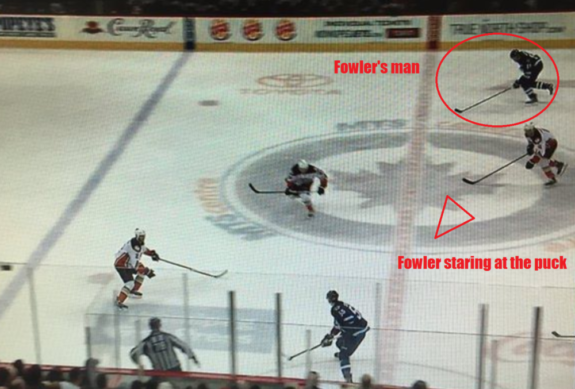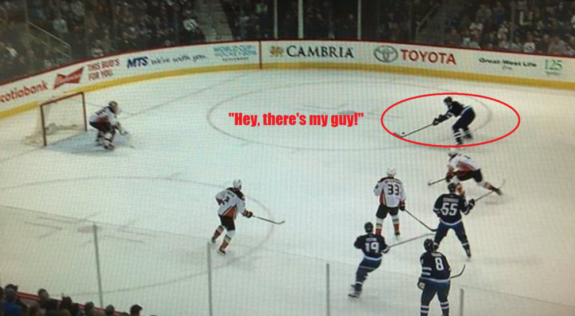 The eye test and the numbers paint a very clear picture: Fowler can do some nice things, but he's just not an elite player. Other teams don't seem to be aware of this. Even Ducks' beat writers have described him as the teams' best defenseman, while the newly hired Randy Carlyle sang his praises in a recent press conference.
Perception Versus Reality
Bob Murray can cash in on this classic case of perception not matching reality; and the Ducks can afford to part ways with Fowler, as their cupboard is stocked with quality blueliners on cheaper deals. Twenty-year-old Shea Theodore, who started getting regular minutes in 2015-16, actually doubled Fowler's points per 60 minutes and makes less than a fourth of Fowler's salary.
Then there's the promising young Brandon Montour, who tore up the American Hockey League this season. He notched an impressive 57 points in 68 games for the San Diego Gulls in his first full season of professional hockey. He projects as a dynamic defenseman with an ability to quarterback a power play.
Fowler's contract is by no means an albatross. A $4 million cap hit isn't the end of the world for what he brings to the table. Anaheim's roster is dotted with bad contracts though, and therein lies the problem: "Hey, take Kevin Bieksa/Clayton Stoner's egregious cap hits off our hands!" isn't exactly an attractive sales pitch. That leaves Fowler as the odd man out. Given that the league is blind to his flaws, that may not be such a bad thing.