Timo Meier is a physical specimen on skates for the San Jose Sharks. He stands at 6 feet even and 215 pounds of lean muscle while not sacrificing any speed. At only 21 years old, the sky is the limit for what this young Swiss winger is capable of.
Meier was drafted ninth overall by the Sharks in the 2015 NHL Entry Draft. He was the highest pick for the Sharks since they selected Logan Couture in the 2007 NHL Entry Draft. Due to this being their highest pick in nearly a decade, there was far more attention on who the Sharks would select. Although there are more notable names that were selected after Meier, it is still too early to make a final judgment on what the right pick at ninth overall was.
Why the Sharks Are Excited About Meier's Future
Meier isn't the flashiest player on the ice, but he makes plays that many players on the ice aren't capable of. He's eager to become the best player he can be, and he's already shown that desire early on in his professional career.
Coachability is an X Factor
In Meier's rookie year, he was up and down between the NHL club and AHL club. The biggest knock on his game was his shot selection. He will always be a heavy-volume shooter, but there were times when he would take shots when a better play was available.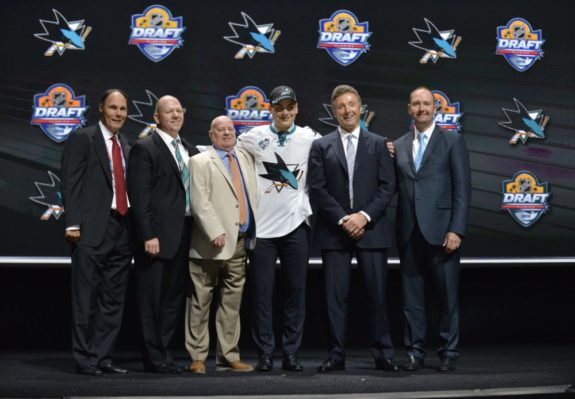 His improvement in this area was easy to notice in his sophomore campaign. Not all players can noticeably improve so quickly. Coachability is not always used as the main asset when deciding to select a player in the draft, but it is essential in any young player's game. The players with the most talent don't always work out the best, and their lack of coachability is often one of the reasons. Luckily with Meier, this isn't an issue.
Heavy Shot vs. Fast Shot
Ask any goalie and they'll tell you there are players with fast shots and then there are the players with a heavy shot. Heavy shots are harder for a goalie to handle and result in more rebounds when they don't hit the back of the net. Meier's shot falls in the heavy category. The puck comes off his stick in a hurry and goalies struggle to direct the rebounds out of harm's way. A heavy shot is only so useful if it is not accurate and Meier has shown the ability to pick corners. This season, he sniped the puck over Carey Price's shoulder and looked like a seasoned goal scorer in doing so.
Power Forwards Can Still Thrive
The NHL has shifted to a faster on-ice product in the last few years, and with that shift, there have been fewer power forwards who excel. The problem with most traditional power forwards, like a Milan Lucic, is that they are slow and lack the ability for a quick change of direction. These players are struggling to keep up with the speedy and agile new generation of NHL talent.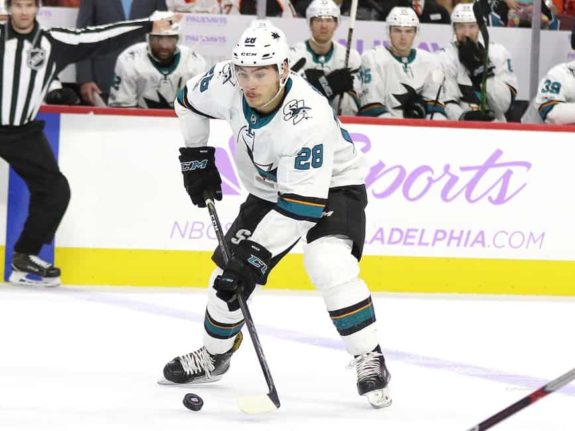 Meier is a new breed of power forward. He is one of the faster players on the ice each night and also one of the strongest. Meier rarely gets bodied off the puck, and defensemen seem surprised each time they try to lean on him in the offensive zone. He isn't especially tall, but he is extremely dense. His skates seemed glued to the ice when the opposition tries to body him. After making a power move in the offensive zone, you won't see Meier get beat back down the ice like older power forwards would.
He can beat defensemen to loose pucks on the forecheck and then protect the puck like the best in the business. Every positive aspect of a traditional power forward is seen in Meier's game plus the footspeed to keep up with the modern game.
What is Meier's Career Ceiling?
Meier played his first full season in the NHL this year and recorded 21 goals and 36 points in 81 games played. He also joined Team Switzerland at the World Championship, notching seven points in seven games while taking home a silver medal. Hitting the 20-goal mark is always an accomplishment for an NHL player, but there is room for growth in Meier's game. His combination of power, speed, and a heavy shot are the recipe for a potential 40-goal scorer if he is playing with other first-line talents. The more reasonable expectation for Meier is that he will be a perennial 30-goal scorer throughout his career.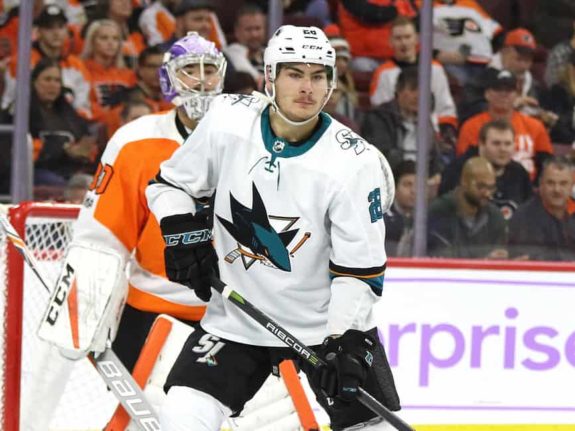 Meier was able to score his 21 goals this year while not being on the first powerplay unit for the Sharks and at times wasn't even on the second unit. All elite scorers are fixtures on the first power-play unit, and this gives them a big boost in production. Meier had only three of his goals scored on the power play this season, which is good for 14 percent of his goal production.
For comparison, Alex Ovechkin has scored 37 percent of his career goals on the man-advantage. Meier won't be winning scoring titles as Ovechkin has, but it's reasonable to predict an uptick in production as his ice time increases and he gets more powerplay time. Add in the improvements he will make in his game, and the Sharks have their future goal scorer of the next decade.