Ever since Joe Thornton joined the Sharks 11 years and 11 months ago, he has centered the Sharks top line. And while some may think Thornton remains the top center on the team's top line, the eyeballs say it isn't so.
The changing of the guard on the Sharks top line is a big story. Thornton, with wingers Joe Pavelski and (most often) Kevin Labanc, still form a solid line. The bigger story is the nature of top line takeover. Logan Couture and his new wingers, Melker Karlsson and Tomas Hertl, have been terrific. This is the Sharks best line, by a lot.
Beating Buffalo
The new top line combined for the game-winning goal against the Buffalo Sabres.
With under four minutes to go in a 2-2 game, Karlsson helped force a turnover just outside the blue line. The loose puck went to Justin Braun, who quickly sent a cross-ice pass to Couture, enabling him to enter the offensive zone on the left wing. He powered past Buffalo defender Jake McCabe, knocking the stick out of the defender's hand while concurrently pushing the puck forward to Hertl on the half wall. Hertl tapped it perfectly back to Couture who drove towards the net.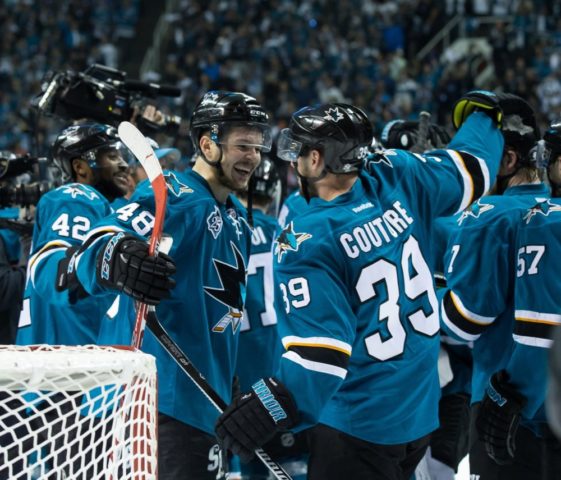 While Couture and Hertl were working on the outside, Karlsson sped inside to the near post. As Couture moved towards the net, Karlsson backed his way across the crease to the far post. This left the defenseman by the crease, former Shark Matt Tennyson, to face a quick-developing 2-on-1 situation. Tennyson moved to take away the passing lane, opening up a bit more space for Couture. It was what he needed. From close in, he fired a snipe over the shoulder of Sabres goalie Robin Lehner.
This is what line chemistry looks like – each player complimenting the other.
The game-winner against Buffalo is an example of why this line is the new top line. Winning a big moment on the last game of a long road trip matters. But it is more than this. On the five-game road trip, Hertl, Karlsson, and Couture combined for six even-strength goals, five even-strength assists, and a plus-16 rating. At even strength, the former top line combined for one goal, four assists, and a minus-9 rating. Consider the torch passed.
Line Construction
Karlsson started the season as a winger on the Sharks fourth line, Hertl centered the Sharks third line and Couture centered the second line.
Karlsson has long been an effective player. While he has an array of skills, he is the best defensive disruptor among Sharks' forwards. With many scores coming off of disruptive defensive plays (think forechecks, deflected passes, etc.), Karlsson is an ideal complement for players who take advantage of disruptions.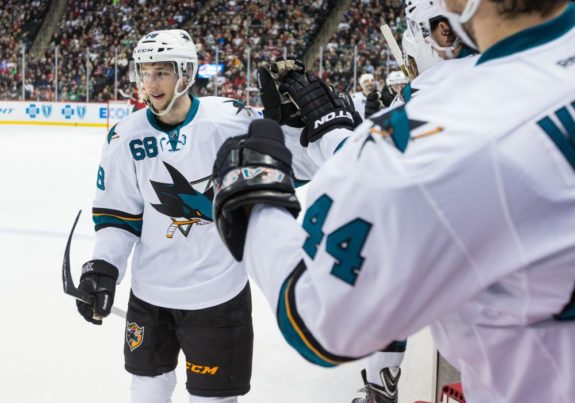 Hertl, a big-bodied forward, is a capable scorer. His ability to protect the puck is as good as anyone on the team. He drives long offensive zone possessions, which tend to draw penalties. His passing game has evolved nicely. Hertl's ability to win face-offs is also helpful. Couture won less than 40% of his draws last season, meaning the Sharks' best forward was spending too many possessions without the puck.
The key to the line is Couture. Arguably the Sharks top forward last season, he is clearly the team's best player this season. In the Sharks run to the Stanley Cup Final in 2016, he totaled 30 points in 24 playoff games. Still, many question whether Couture is capable of holding down the role of top-line center for a top contender. Teams routinely put out their best against the Thornton line, leaving Couture playing against lesser players.
For this reason, many see him as an excellent second line center, but not really the sort who bests or even holds his own against the league's best. Ten games into the season is too early for a new assessment, but the early returns are encouraging.
The Sharks new top line consists of one guy who gets the puck, one guy who is strong on the puck and one guy who can snipe with the best. They are skilled players, each with multiple strengths to their games. It is not just an effective line, it is a fundamentally well-constructed line.
The Main Risk
The Sharks new top line has many things going for it, but it is not without risk. All three players have had injury issues in recent seasons. Karlsson has never played more than 67 games in a season and he's never had the sort of ice time a top line role demands.
Hertl has struggled to fully recover from a knee injury suffered in a controversial collision with Dustin Brown – this cost him over half of his rookie season, nearly four years ago, but his knee issues have lingered. A surgery on the same knee in the middle of last season limited him to 49 games. He then finished the year playing on a broken foot.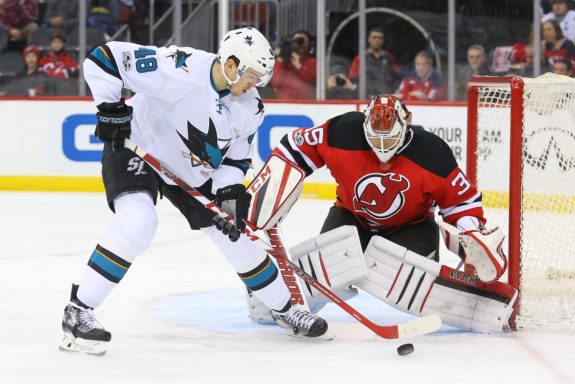 Couture has exceeded 73 games only once in the last four seasons, missing an average of 14 games per season in this time.
Perhaps these injuries represent something positive for each player. They all have issues to overcome and if it makes them hungry for success, all the better.
A Lot To Like
Another benefit with this line, the Sharks can keep it together for a long time. Couture, at 28, is the oldest player of the three, and his deal has another year in San Jose after this one. Karlsson is in year one of a three-year deal. Hertl's deal ends this year and he can become a restricted free agent. Restricted free agents rarely leave town if the team wants them to stay. Expect Hertl to sign a long-term extension with San Jose (unless of course, the New York Islanders want him as part of a John Tavares trade…).
For this season, the line only costs $11 million in salary cap space, a figure not much different from what several top players are earning now (or expected to earn in the near future). This is both a good line and a good value.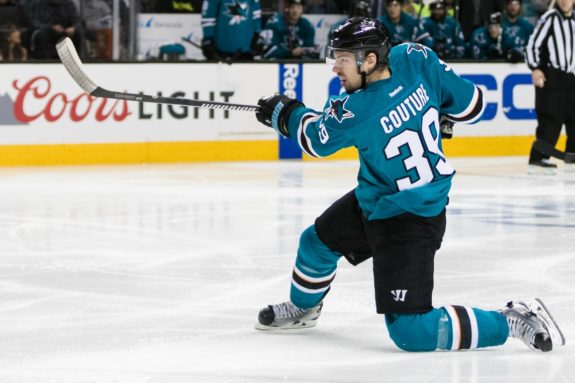 This line has a good pedigree. Hertl and Couture were first-round picks. Both had a good chance to win the Calder Trophy as the NHL's top rookie. Couture finished second in the voting in his rookie season. Hertl was blowing away the pack in his rookie season before the knee injury. These are players whose talent is consistent with a top line. Karlsson is a terrific complementary player. Placing this high chemistry player with two high-level talents has resulted in top line with plenty to offer. Whether it is enough, time will tell.
A Brave New World
What lies ahead for the former top line of Thornton, Pavelski and (perhaps) Labanc? It is a good question. As this line stops being the top line, it becomes vulnerable to the line blender. While Sharks coach Peter DeBoer has kept Thornton and Pavelski together since he became the head coach in 2015, the ascension of the Couture line opens up possibilities to new combinations.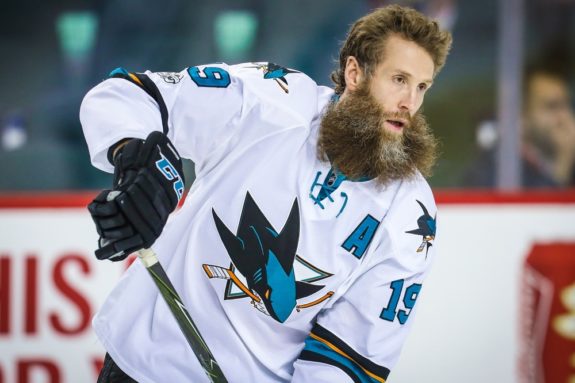 In a year where Thornton is coming off major knee surgery and Pavelski doesn't seem completely healthy, perhaps adjusting their workload and linemates makes sense. Plus, the Sharks have plenty of forwards with limited NHL experience and having a veteran linemate like Thornton or Pavelski provides these players a unique opportunity.
Zeke's Notes
• The Sharks have been searching for a third line. The combination I've liked best so far is Chris Tierney, Joonas Donskoi, and Timo Meier. There is enough shooting, playmaking, and physicality to make this line work.
• Ryan Carpenter has acquitted himself well in the fourth line center role. I expect this to continue. Barclay Goodrow played one game this season (on Carpenter's wing) and was not good in it. Sitting a player for three weeks and giving him just one game is less than ideal. If Goodrow is going to play, give him two or three games to get going. He is capable of being much better.
• Quick strike scores, which we discussed in a recent article, continue to be a theme. Absent for San Jose in the loss to Boston on Thursday, they made a return against Buffalo. All three San Jose scores came within seven seconds of entering the offensive zone.
• For good reason, much is being made of Patrick Marleau's return to San Jose. I wrote Marleau's move to the Toronto Maple Leafs would be good for Marleau, though he didn't address Toronto's biggest issue. Toronto didn't suffer from a lack of scoring (that is descriptive of the Sharks), they struggled to keep the puck out of their own net. Not surprisingly, Marleau's scoring ability remains intact with four goals this season. His contribution to Toronto's defense is less clear. Toronto is second best in the league in goals scored per game at 4.1, but they give up 3.6, which is fourth worst. One might expect Marleau's return to San Jose will result in both a sellout and a full house, with essentially every seat taken. Alas, two days before the game, tickets remain.