Last season, the San Jose Sharks lost in the Stanley Cup Final against the Pittsburgh Penguins. Many observers noted Pittsburgh's superior team speed as a key reason for their championship.
Funny thing about speed in hockey, though. Speed is not enough. The Sharks are a case study for this.
Speed Doesn't Kill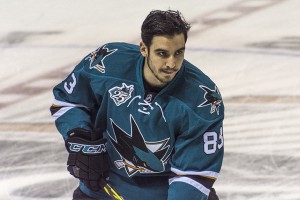 Two of the Sharks' fastest players at the start of the season were forwards Matt Nieto and Mikkel Boedker. Both were signed in the offseason. Nieto was a restricted free agent retained by San Jose. Boedker was an unrestricted free agent, coming over from Colorado, after spending most of his career in Arizona.
Nieto was waived by San Jose on Wednesday, after posting a minus-3 rating in 16 games. He has been on the edge of the Sharks' roster for a long time. With the emergence of rookies Kevin Labanc and Timo Meier, Nieto became expendable. He is now a member of the Avalanche.
Boedker is a team-worst minus-6, having played in all 38 games. Until yesterday against Minnesota, that is, when he was a healthy scratch.
Skating Speed Is Not The Issue
In hockey, straight-line speed is helpful, but hardly sufficient. A host of other attributes are needed to make speed useful. Acceleration matters, the first stride often determines the player who gets leverage. Balance matters, a small bump can take away speed if a player is unable to maintain his balance. Hand-eye coordination matters, a player who bobbles the puck will need to slow down to recover from the bobble, removing the benefit of speed. Stopping matters, getting to a spot requires both skating there and stopping at the right moment in the right place. Speed will not help if the player stops in the wrong place.
[irp]
Learning The Right Lesson
The Sharks' problems against the Penguins were more than speed. Pittsburgh had speed, but importantly, they had other complementary elements. They were especially good at one part of the game. I often refer to Igor Larionov's words when I think of skating speed: It's not how fast you skate, it's how fast you think.
Pittsburgh players were successful against the Sharks not so much because of raw speed, but because they knew where they needed to go before the Sharks knew. As a result, the Penguins' forecheck worked. Passing lanes were cut off and the neutral zone was clogged up. Even in the Sharks' offensive zone, pressure on the puck was constant. Pittsburgh had fast players. But the key element was thinking fast – which enables playing fast.
In this play from the Stanley Cup Final, the speedy Carl Hagelin (62) beats Tomas Hertl (48) to the puck, which ultimately turns into a Penguins game-winning goal. Hertl has better position but does not use it. Skating speed did not create this goal, thinking speed did.
The Sharks' pursuit of speed will not bear fruit unless skating speed comes with faster thinking. The sort of thinking which allows players to react, often before events actually dictate a clear course of action. This is anticipation. Effective anticipation comes from knowing where to move before it becomes apparent to the other team. When an entire team can do this, as the Penguins did last season, they become very formidable. Speed comes from having a system which allows players to process information and react at the fastest possible rate.
From Speed To Success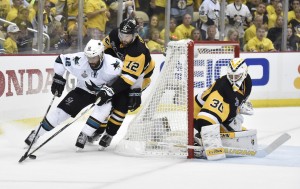 Skating speed is an asset, but it needs to be coupled with other skills to be truly useful. Patrick Marleau has skating speed along with other important attributes, including great balance and anticipation. Speed, coupled with all these other attributes, has allowed Marleau to score nearly 500 NHL goals.
The Sharks do not need lots of speedy players to succeed. They must be able to handle speedy teams, which is different. A team does not need great speed to beat a team with great speed.
The Sharks invested in skating speed with Nieto and Boedker. Their speed has not been an asset to the team. Skating speed alone is not enough.
[irp]
Zeke's Notes
There has been some criticism of Sharks general manager Doug Wilson about Nieto's departure. Nieto was waived, not traded, meaning San Jose did not get compensation for Nieto. Some are wondering if Wilson shopped Nieto aggressively enough. In a trade, San Jose would have gotten something in return.
I consider this criticism a stretch. Nieto was a restricted free agent last summer; he did make it to the open market.
The key element of being a restricted free agent is this: the team losing the player gets compensation (draft picks) from the team signing the player. The larger the salary, the greater the compensation.
However, there is a salary floor below which no compensation is granted. Nieto's salary with San Jose was well below the floor, meaning there would be no compensation if another team had signed him. In practice, Nieto was more akin to being an unrestricted free agent than a restricted free agent. Given the contract Nieto signed with San Jose over the summer, it seems other teams collectively yawned at Nieto's availability.
There is no evidence to suggest Nieto was in demand at this point. His productivity this season was not notably different from prior seasons. This makes criticism of Wilson's handling of Nieto rather specious.
Nieto can be a useful roster piece, especially on a team with a number of forward injuries. He can also help a team wishing to save a few dollars. Colorado, currently last in the Western Conference, is likely to be a seller at the trade deadline. I expect them to cut costs in the process. Nieto can help a team in selling mode. Hopefully, Nieto can help his own career in the process.