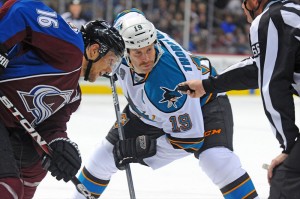 In 1920, after leaving the courthouse following Grand Jury testimony regarding his role in the 1919 "Black Sox" scandal, Shoeless Joe Jackson is said to have encountered a small boy who pleaded, "Say it ain't so, Joe!" Jackson, ultimately acquitted in 1921, was nevertheless banned from baseball for life along with his seven alleged co-conspirators and is said to have stood in silence, unable to come up with an answer.
One of the cleanest franchises in all of sports, there's no such scandal in San Jose. However, there is a star player named Joe who, along with his teammates, is similarly searching for answers. A late-season slide has turned from irritating to worrisome.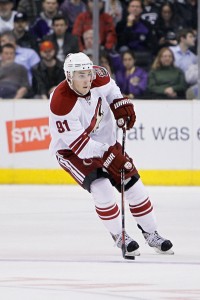 Thirty days and fifteen games ago, the Sharks were operating on cruise control. After walloping the Stars 5-2 at the HP Pavilion to extend their winning streak to three games (outscoring Calgary, Columbus and Dallas by a combined 12-2 margin in the process), they sat atop the Pacific Division standings with a 29-14-6 record, ten points better than the struggling Phoenix Coyotes. Starting with Phoenix' slump-busting 5-3 victory over San Jose on February 4th, however, the Coyotes went on a five-game winning streak and rampaged through an 11-0-1 stretch that catapulted them to the division lead. Losses by both teams in the first two games of the month have kept the margin tight, with the Coyotes holding a slim two-point lead over San Jose, who has a game in hand.
Without question, the division is still well within striking distance, and yes, all teams go through slumps at one point or another. However, with 73 points, the Sharks sit just 7th in a jumbled Western conference playoff race, a mere point away from being on the outside looking in. For a team used to all but mailing in the regular season after having won four straight division titles and six of the past nine, suffering a month-long slide this late in the season is, to say the least, disturbing.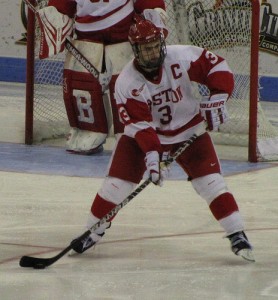 After a listless 3-1 home loss to the St. Louis Blues Saturday night in front of 17,562 at the HP Pavilion, San Jose continues to search for answers. The Blues outshot the Sharks 32-19 and notched power play goals by Andy McDonald and Kevin Shattenkirk, dropping the Sharks to a 77.5% success rate on the penalty kill — third worst in the NHL. After the game, defenseman Douglas Murray articulated a sense of frustration no doubt shared by the entire team. "It's tough to put a finger on it, but we're obviously in a funk, and we've got to get out of it." Murray, who had missed eight games with a fractured Adam's apple, then said, "We've got to work hard — the same old cliches — but we've got to get it going. Enough is enough."
The Sharks' struggles have manifested themselves on multiple fronts. The offense has scored just 37 goals in the last 15 games, a 2.47 per game clip that is well below the team's 2.70 average this season. Defensively, San Jose has given up 51 goals during the same span, or 3.40 per game. Starting netminder Antti Niemi has seen his G.A.A. rise from 2.29 to 2.44, and backup goaltender Thomas Greiss has experienced a similar hit to his numbers. The injury bug has bitten the team, with Murray and Jason Demers missing significant time on defense, Couture being scratched for two games on offense, and other assorted injuries, not the least of which has been Martin Havlat's 34-game stint on the IR. In a bizarre twist, coach Todd McLellan suffered a concussion after being hit in the head with a stick and missed three games himself.
Physically and metaphorically, perhaps the biggest Shark of them all — Joe Thornton — continues to put up points despite the general lethargy that has struck much of the team. During the 15-game slide, Thornton notched three goals and 13 assists and is on pace for yet another 70+ point season. However, Thornton is on track to score just 17 goals, his lowest total since his first full season in the NHL. "You gotta work out of it," Thornton said. "If you work hard, eventually you'll come out of it. I know no one is feeling sorry for us."
At first glance and given the team's history, the likelihood of missing the playoffs would seem remote. Indeed, the formula-driven odds calculated at SportsClubStats.com still have the Sharks still sitting at a solid 80% chance to make the playoffs. Having said that, a month ago those odds were just shy of 100%, and in the crowded Western playoff race, the Dallas Stars, Los Angeles Kings, Colorado Avalanche and Calgary Flames would be all-too-happy to take advantage of a flailing Sharks team and leapfrog over them in playoff positioning. Given the risky moves General Manager Doug Wilson made last offseason in sending Dany Heatley and Devon Setoguchi to Minnesota for Martin Havlat and Brent Burns, being on the outside looking in when the playoffs begin would be tantamount to a disaster.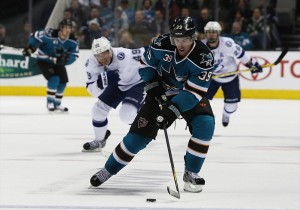 Logan Couture, the leading goal scorer for San Jose with 27, summed up the mission of the team for the remaining month of the season: "Starting with each and every one of us, we need to get better. We have to regroup and get it going."
The Sharks next play against the Edmonton Oilers Tuesday night at the HP Pavilion.