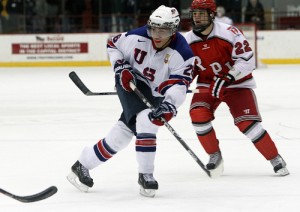 Emerson Etem
DOB: June 16, 1992 NHL Rights: Anaheim Ducks Drafted: 1st round (29th overall) 2010 Height: 6'0″  Weight: 195 lbs Position: Right Wing Current Team: Medicine Hat Tigers (WHL)  
                    ◊◊◊◊
The 2010 Ducks first rounder is a goal scorer through and through.  Currently leading the WHL, and the CHL for that matter, in goals with 55 in 59 games he is one of the more dynamic NHL prospects out there.
Ranked by many experts to go in the top ten leading up to the draft, Etem fell to the end of the first round and Anaheim at the #29 pick.  The Ducks are hoping they landed the steal of the first round and Etem has done nothing to dispel those thoughts.
Born in Long Beach, California, hockey was not exactly the sport all kids gravitated to.  He moved to Minnesota at age 14 to attend the famed Shattuck-Saint Mary's prep school and play for the Sabres, following the footsteps of stars like Zach Parise, Jonathan Toews and Sidney Crosby.  Etem played there for two years before moving to Michigan and playing for the National Team Development Program.  He was drafted by the Medicine Hat Tigers, 115th overall, and made his debut in 2009 leading all WHL rookies in goals in the 2009-10 season with 37.  He didn't stop there scoring 45 times in his second season, and already has 55 goals in 59 games this season.
Etem has also represented his country on the world stage playing for the United States in each of the past two IIHF World Junior Hockey Championships earning a bronze medal in 2011.
Etem has an extensive skill set, highlighted by his blazing high end speed and quick acceleration.  There have been some concerns over his somewhat unorthodox skating style, where he skates slighty hunched over, but it hasn't affected him yet at any level.  Etem also possesses a hard and accurate wrist shot with a quick release.  A tireless worker, he works hard at both ends of the ice.
A sniper at every level so far the Ducks are hoping that translates into NHL production.  The Ducks see him as a top six forward, and could be a potential replacement for the ageless wonder Teemu Selanne on one of their top lines in a couple of years.
NHL Potential:  Top six sniper (1st or 2nd line RW)
NHL Comparable:  Michael Cammalleri, Michael Grabner
NHL ETA:  2013-2014
The "Prospect Report" is a regular feature at The Hockey Writers that profiles NHL team prospects.  Check back for more profiles and follow Carl on twitter @maloney3383 for more articles.