Sean Monahan has spent just three years in Calgary, but the 21-year-old Flames' center is set on being there for many more.
On Monday, the restricted free agent told TSN that he wants to stay in Calgary on a long-term contract. "I definitely want to be there (Calgary) for a long time. So I would prefer a longer-term contract, but that's not up for me to decide. So I think I want to be there, I want to be in Calgary for the rest of my career, so that's something that I am looking forward to doing," he said. Monahan was originally drafted by the Flames 6th overall in the 2013 NHL Entry Draft.
Monahan, a native of Brampton, Ontario, has found success in Calgary and developed a good chemistry with friend and teammate, Johnny Gaudreau. "We want to be there, we both want to play together, and we want to win in Calgary," Monahan said.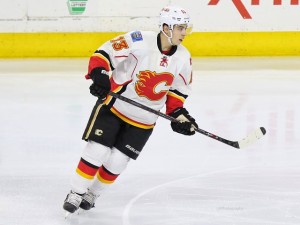 In three seasons with the Flames, Monahan has played in 237 regular season games, tallying 80 goals and 159 points. In the last two seasons, while paired with Gaudreau, the two players have combined for 112 goals and 267 points.
It looks as though Monahan, like other players in the NHL, has taken note of deals like the one Tampa Bay Lightning center Steven Stamkos signed this off-season, opting to take a longer-term contract and less money to stay with a competitive franchise and in a city that he has grown to love. On Jun. 29, Stamkos signed an eight-year, $68 million deal with the Lightning, foregoing unrestricted free agency and the opportunity to sign a richer deal elsewhere.
"If you're a high-end player and you're playing somewhere at a young age, that's where your heart is and that's where you want to win.Our goal is to bring a Stanley Cup to Calgary, so if that's what it is, that we can bring other players in, to have a little extra money room and get them in to help us to be a better team, I think that's the idea," Monahan told TSN.
Gaudreau and Monahan remain restricted free agents, but Flames' GM Brad Treliving has acknowledged the pairs' importance to the team and his intention to get each re-signed before the start of the 2016-17 regular season.