The Ottawa Senators defeated the St. Louis Blues 7-2 on Sunday (Feb. 19), with a statement performance at the Canadian Tire Centre. Tim Stützle played a crucial role for D.J. Smith's squad, providing two goals and an assist to propel the home side to victory.
---
Latest News & Highlights
---
In this article, The Hockey Writers will dive into four key takeaways from the Senators' win over the Blues, including a collection of impressive individual performances and how they helped the team to victory.
Senators' Drake Batherson Continues Fine Form with Spectacular Assist
The Senators entered the first intermission with a well-deserved lead thanks to a sensational combination play between Drake Batherson and Shane Pinto.
Batherson, who clocked 17:10 in an impressive performance at both ends, broke down the ice after a smart play by Alex DeBrincat, before providing a backhand saucer assist to Pinto. It's hard to know which was more remarkable: the pass or the shot.
Batherson's assist punctuated a positive first-period performance from Ottawa, who needed to produce a response after their loss to the Chicago Blackhawks. The Senators broke through the neutral zone with speed and attacked with the perfect combination of skill and physicality to make an impact early versus the Blues.
Batherson continued his standout performance in the second period, dispatching a one-timer after a cross-seam pass from defenceman Artem Zub. Again, Thomas Greiss stood no chance.
Senators' Power Play Still Presents Major Threat
While the Senators have often suffered at five-on-five, they have been consistently excellent on the power play this season and that trend continued on Sunday. Stützle played the perfect pass to cut the Blues' penalty killers open and create an unmissable chance for DeBrincat at the backdoor.
Stützle has made serious improvements to all facets of his play this season, but his work on the power play has been especially impressive. The German has found a new level of performance lately, which allows him to dictate the tempo at five-on-four, and was deservedly named first-star against St. Louis.
The Senators must continue their impressive production down the stretch to keep their playoff hopes alive. Their play against the Blues suggests they are heading in the right direction, with the NHL's third-best power play.
Thomas Chabot Rebounds After Poor Performance Versus Chicago
After a disappointing performance against the Blackhawks, Thomas Chabot bounced back with a solid display. The experienced defenceman played in all situations and steered clear of mistakes on home ice, demonstrating his ability to recover from setbacks.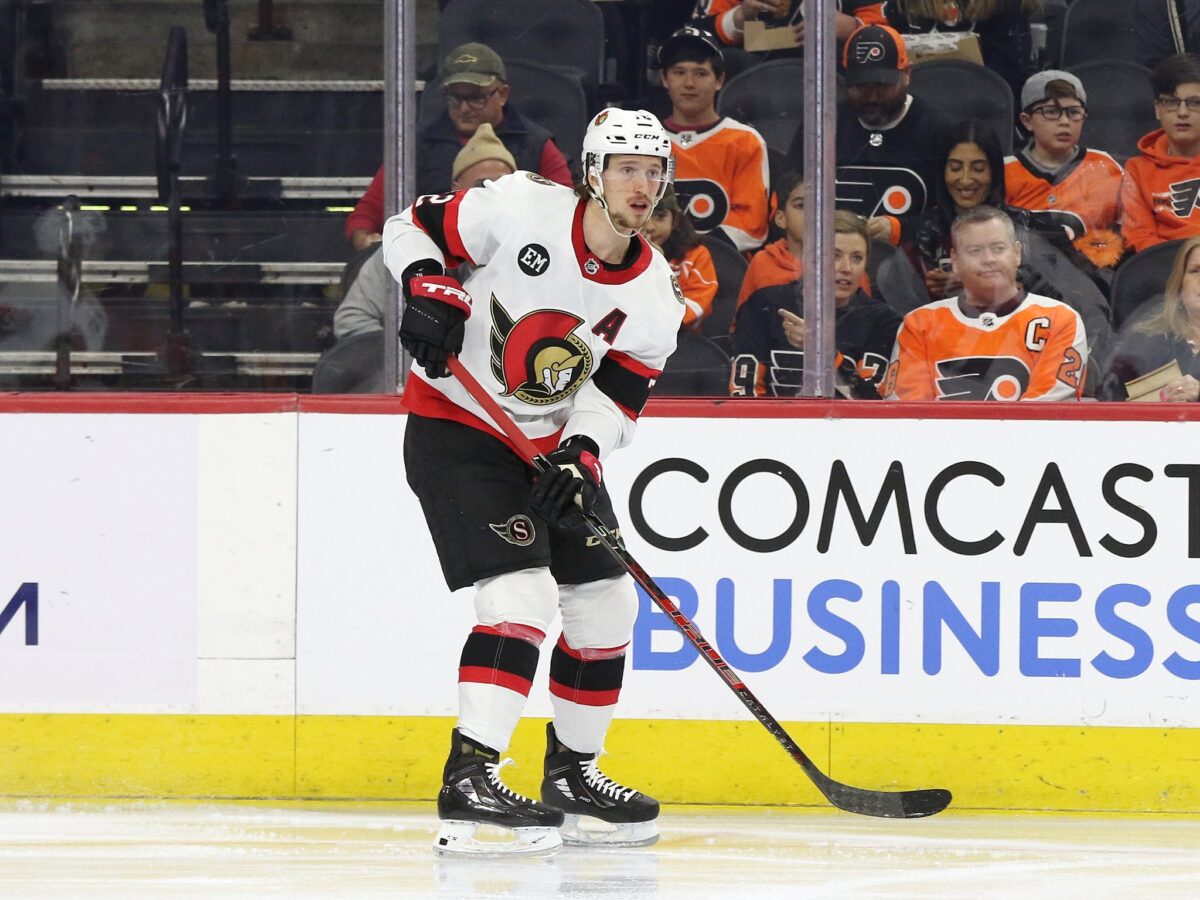 While Chabot did not make any headline-grabbing plays, his steady effort anchored the Senators' defence and was a relatively important factor in their victory. In fact, his display versus St. Louis was an important step towards restoring confidence in the 26-year-old, who is viewed as a cornerstone piece in Ottawa.
Looking ahead, it is clear that the Senators need Chabot to maintain his solid play if they are to have any chance of making the playoffs. As the team's top defensive player, his ability to shutdown opposing forwards and quarterback his side's attack will be crucial in the coming weeks and months.
Ridly Grieg Scores Much-Deserved First NHL Goal
The Senators' victory over St. Louis not only saw a dominant team performance, but also marked a major moment for 20-year-old forward Ridly Greig, who scored his first NHL goal in the final two minutes of the game. His marker came in his ninth appearance for the Senators and was the culmination of an impressive performance that showcased his physicality, tenacity, and skill on the ice.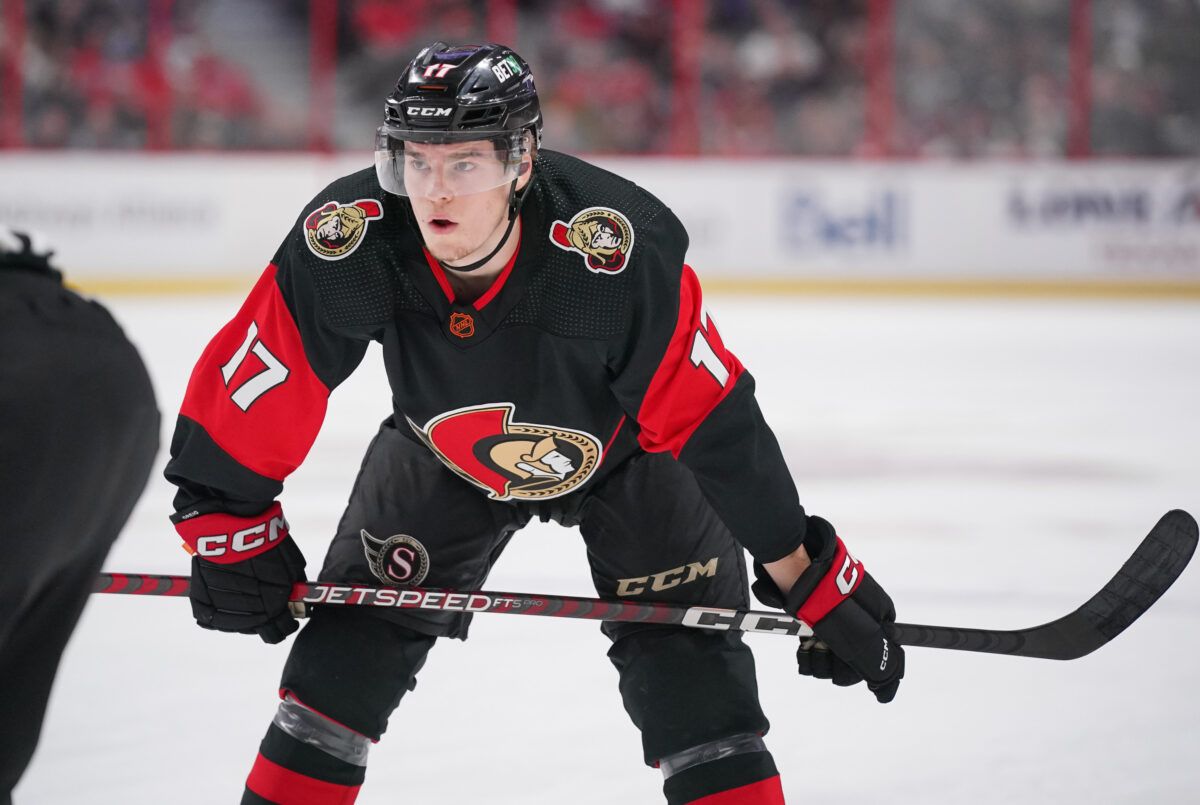 As a highly-touted prospect in the Senators' system, Greig has been seen as a key piece of the team's future for some time and his first goal underscores his potential. Known for his two-way ability, the Canadian has also shown himself to be a capable scorer, with goals in the American Hockey League and Western Hockey League.
With an eye on the future, Greig's performance will give the Senators' coaching staff and front office reasons to be optimistic. While there will undoubtedly be ups and downs along the way, the young forward is clearly on the right track.
Looking Ahead for the Ottawa Senators
"I think everyone is wondering, 'Are we a buyer or a seller?' Let's see where these next seven games take us," Senators general manager Pierre Dorion said on Thursday (Feb. 16). "We have a plan in place if we are going to be a buyer. If we are going to be a seller. We might also be standing pat."
Related: Rangers Re-Acquire Tyler Motte to Again Bolster 4th Line
The Senators are 1-1-0 since Dorion spoke with reporters and face a pair of Stanley Cup contenders – the Boston Bruins and Carolina Hurricanes – in the days ahead. They face an uphill battle with two weeks until the trade deadline and a five-point deficit to the wildcard places to overturn.
However, the Senators should take confidence from their win over St. Louis. They dominated the Blues, producing moments of real quality to turn the screw in the second period. It will be fascinating to see if they can continue their form as the trade deadline approaches and Dorion is forced to make more roster decisions. They are certainly a team to watch at the moment.
---
---