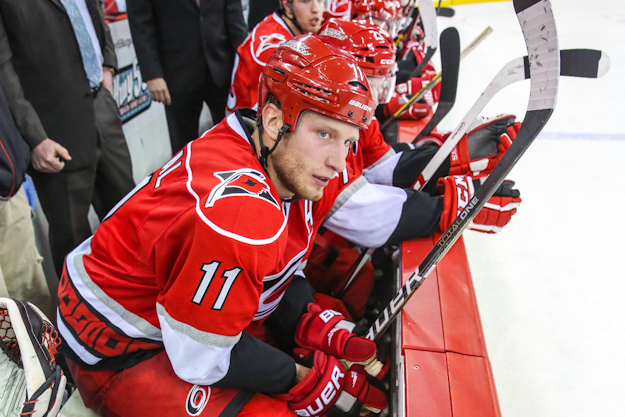 Eric and Jordan Staal may not be playing on the same line like many fans had hoped to see this season, but Carolina's brotherly duo has still be able to lead the Hurricanes' offense to new heights — even if they're doing it separately.
Skating as the 1A and 1B centers on Kirk Muller's depth chart, the two are currently first and third on the team in points with 10 and eight, respectively, and have led the Canes to a 2.75 goals per game figure, up significantly from last year (2.58).
Jordan, who was acquired from Pittsburgh this summer and promptly signed to a 10-year, $60 million contract, has developed some fantastic chemistry with Jeff Skinner, who has five goals himself. Eric, who is amending for his porous start last season, has clicked with Russian sniper Alex Semin, who has six points (1 G, 5 A).
"Jordan's a big guy who can track the puck down low. Skins is the type of player that reacts off of people," Muller said last week. "By Jordan hanging onto (the puck) down there, he gives Skins a chance to find the holes, find the openings and then capitalize on his skill level.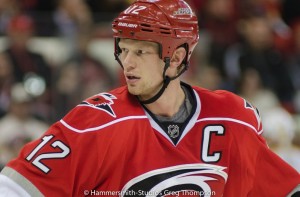 "(Semin's) a target as far as paying attention for him, and I think that opens it up for Eric." the coach added. "I think Eric's happier right now playing with him."
Consistency Has Been the Key
Some encouraging numbers: At least one of the two brothers has registered a point in seven of Carolina's eight games this season. That kind of reliability is extremely important in this abbreviated campaign, as each game is nearly twice as meaningful as one would be in a normal scenario.
Combined, they have contributed — either via a goal or an assist — to 81.8 percent of the Canes' offense thus far in 2013. The two have racked up all these points without each other's help, as neither has been involved in any of the other's scoring plays — at least not yet.
Even if they aren't doing it together, the Staals are definitely getting the job done in Carolina.
"They're so important to what we're trying to do here," Skinner told me. "It's huge to have both of them with us."
*   *   *
There was a lot of speculation this summer that Eric might slide over to the wing and play next to Jordan this season. In fact, Muller stated upon the arrival of the younger Staal that they would give that a shot from the get-go. Given Eric's defensive struggles last year, such an experiment seemed worth a shot.
While the prospect of witnessing the brothers play alongside Semin or Skinner is enticing, keeping them apart has proved to be highly effective — and the correct decision from the Canes' coaching staff.
By putting them on different lines, Carolina has been able to roll out a very well-rounded, productive top-six, which has kept the offense afloat as their depth forwards struggle to find the back of the net.
If the Staals were playing together right now, the Canes' offense would likely be too top-heavy to score at the output they have so far. And would Skinner and Semin be as productive with each other than in the current setup? Highly unlikely.
At least in Semin's case, my sense is the former Capital has really relied on having Eric down the middle to succeed early on, as seen here:
An Improved No. 12
Splitting up the brothers has been a rousing success for many reasons, but none more important than the defensive improvements we've seen from Eric. After being last in the NHL in plus/minus for much of 2011-12, the eldest Staal is currently tied for third in the league in that category with a plus-eight rating.
Perhaps the presence of his brother has given the captain more motivation to grind it out in the defensive zone. Maybe he's learned from last season's multitude of mistakes.
Truth be told, it's probably it's a bit of both.
Putting it All Together
The Staal power was on full display Tuesday night, as each notched a goal against the Maple Leafs in a 4-1 victory over Toronto. This marked the first time two brothers scored during the same game since the Sedins did so on February 19 of last year.
Jordan's tally was also his first as a Hurricane. While the 23-year-old has been a strong play-maker in his short time with Carolina, he reminded everyone that he still has a nice scoring touch with this goal 1:21 into the second period:
"It felt good," Jordan said of his goal. "It was nice to get that first one, and hopefully many more after that."
"We knew it was going to come with time," Eric said of his brother's scoring. "He made a nice move, it was nice to get that first one out of the way."
*   *   *
The Staals and the Hurricanes will return to action Thursday night in Ottawa against the Senators.
—
Andrew Hirsh is a hockey writer based in North Carolina and a credentialed member of the Carolina Hurricanes media. You can follow him on Twitter @andrewhirsh or email him at ahirsh3@gmail.com.
Andrew Hirsh is a graduate of Elon University and is entering his fourth year as a credentialed NHL writer. He founded SunbeltHockey.com in 2012 and serves as the site's managing editor. Andrew can be reached via email at ahirsh3@gmail.com.