What We Learned: Round Two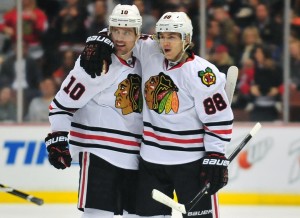 To this point in the playoffs, the Chicago Blackhawks and Anaheim Ducks have been the league's most consistently impressive teams. With Anaheim sweeping Winnipeg in the first round and Chicago sweeping Minnesota in the second round, the two teams are the owners of this postseason's only clean sweeps. In each team's other series, Chicago took down Nashville in six while Anaheim methodically bounced Calgary in five.
Round two taught us a lot about the Chicago Blackhawks. Up against what was literally the best team the Minnesota Wild has ever iced, many experts foresaw a knockdown, drag-out seven game war of attrition in the two teams' third playoff meeting in as many years. But such a series never came.
The Blackhawks took Game 1 by a margin of 4-3 behind Teuvo Teravainen's first goal of the postseason. Game 2 was a lopsided 4-1 victory in which Chicago got goals from Jonathan Toews, Patrick Sharp, and Patrick Kane twice. It was then Corey Crawford's turn to win his team a game, as Game 3 saw the goalie turn in a stellar 30 save shutout behind Patrick Kane's game winning lone goal. In Game 4, it looked as though the Wild were going to go down without a whimper. A Marian Hossa empty net tally looked to put the game away at 4-1 with about three minutes to go, but goals by Jason Pominville and Nino Niederreiter for the Wild made the game interesting to the end.
Why the Blackhawks Might Win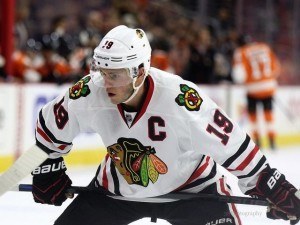 Jonathan Toews is going to have one of the toughest matchups of his playoff career in this series. You can bet your bottom dollar that Bruce Boudreau is going to do everything he can to make sure Ryan Kesler is on the ice every time Chicago's captain steps out there. The two know each other very well from the
epic Chicago-Vancouver
series in 2009 and 2011.
BB wouldn't get into matchups but we'll just surmise that Ryan Kesler might be next to Jonathan Toews at the Blackhawks' first team meal.

— Eric Stephens (@icemancometh) May 11, 2015
I'll touch on this more in the "Why the Ducks Might Win" section of this preview, but the matchup dynamics of this series are going to be extremely interesting to watch unfold. The hot hands for each team in this postseason so far are Patrick Kane and Corey Perry. If Chicago and Anaheim are to use their best shutdown centers against each other which is what Boudreau apparently wants, then who will Chicago put against Getzlaf and Perry? Who will Anaheim put up against Richards and Kane? I have some thoughts on that, but like I said, I'll get to that later.
On paper, this series appears to be about as tight as they come. These are two excellently constructed teams. The Blackhawks have proven that. This is the fifth time in the last seven years they've made it to the Western Conference Final, which is a truly unbelievable accomplishment. The Ducks, on the other hand, haven't yet had the postseason success to back it up, but they've now turned in three consecutive excellent regular seasons under Bruce Boudreau.
That being said, there are some areas where each team would appear to have an advantage. For the Blackhawks, those two areas are their group of defensemen and their bottom six forwards.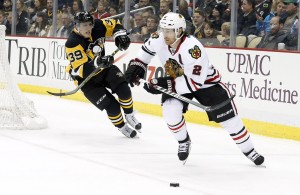 The quality of the Blackhawks defense speaks for itself. Duncan Keith is an established year-in, year-out Norris Trophy contender. Brent Seabrook would be a #1 defenseman on quite a few decent to good hockey teams in his own right. Niklas Hjalmarsson has rightly come to be known as one of the league's premier shutdown forces, but his hockey smarts and puck skills are underrated as well, and he's a guy I could see slotting in as a #2 defenseman on plenty of contenders. Who in the league can match a top three of that caliber? Maybe teams like Nashville, St. Louis, and Los Angeles comes close, but I don't think any of them have as strong of a #3 as Hjalmarsson currently is.
Then you look at Anaheim's blue line, and while it's certainly nothing to sneeze at, it just doesn't measure up to Chicago's. It's made up of Cam Fowler, Hampus Lindholm, Francois Beauchemin, Sami Vatanen, Simon Despres, and Clayton Stoner. It's a deep group, to be sure. Fowler, Lindholm, and Vatanen have tremendous futures in this league. Are any of them good enough right now to go toe to toe with Jonathan Toews or Patrick Kane? I'm not so convinced. We saw the trouble Marian Gaborik and Jeff Carter gave this very similar group last postseason. If Boudreau is smart, he'll sit Stoner in favor of James Wisniewski, who seems like an easy target for Chicago's deep forward group to exploit.
Additionally, Calgary's Johnny Gaudreau did give Anaheim some trouble in the last series. Know who's essentially just a bigger, better version of Gaudreau, and also happens to be currently setting the playoffs on fire? That's right, it's Patrick Kane. I think Kane, more than any other individual player, could be the deciding factor in this series. If he's able to come anywhere near replicating what he did against Minnesota, it's nearly impossible to imagine a scenario where the Ducks can overcome that and grab a win. I think he comes through and puts up 4 goals and 8 points in seven games.
Why the Ducks Might Win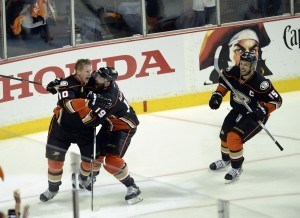 As promised previously, here's where I'll return to discussing the matchups of the team's forward lines in this series. If (and that's a big if) Bruce Boudreau can succeed in getting his Toews vs. Kesler matchup for the most part, I really do like Anaheim's chances in this series. A Toews-Kesler battle dictates that we likely see a Getzlaf-Perry vs. Richards/Kane matchup as well. While Getzlaf and Perry may not be shutdown players in the traditional sense, their size, strength, and elite ability to win close puck battles gives them a huge advantage against Chicago's second line.
Forcing Patrick Kane to play in his own zone is the best way to limit him, and I think the Ducks' first line is one of the few in the league that could actually accomplish just that. Quenneville would be smart to match the Toews line against the Getzlaf line when he has the last change in Chicago, as Saad-Toews-Hossa could probably out-possess Getzlaf and Perry if given the opportunity.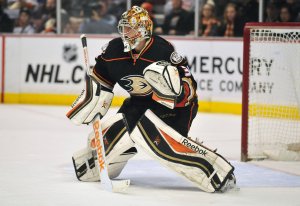 I also see a chance for Anaheim to come out on top in this series in net. When it comes down to it, I just like Frederik Andersen more than Corey Crawford. Andersen's been excellent in this postseason, to the tune of a .925 save percentage. That's the best in the Western Conference, save for Scott Darling, whom I assume will not be seeing any action in this series.
Though Crawford was much improved and excellent against Minnesota, you just can't discard his propensity for not showing up in any given playoff series for extended stretches and endangering the Blackhawks' playoff lives. He cost them against Los Angeles big time last year, and he nearly did the same thing against Nashville this year.
Corey Perry leads the postseason in points so far, despite his team only playing nine games in getting to this point. That's very impressive. Ryan Getzlaf is in fourth. Jakob Silfverberg is sixth. Needless to say, this is a Ducks team that can score in a hurry.  Therefore, it is absolutely crucial  that Corey Crawford brings his A-game to this series. If he doesn't, it will get ugly and fast. I personally think he will, which brings me to…
Prediction: Blackhawks in 7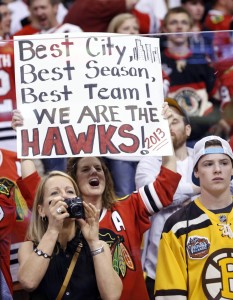 In round one, I predicted the Blackhawks to win over the Predators in five games. It ended up being six. In round two, I took a more conservative approach, taking the Blackhawks over the Wild in seven. Obviously the actual series was just a little bit quicker than that. While I'm yet to get the amount of games spot on, picking the Blackhawks is yet to lead me astray in this postseason.
I really can't express how excited I am for this series. In my mind, this is the best possible matchup we could have gotten in the Western Conference Final. I'm not sure if it'll be at the Chicago-Los Angeles level of good hockey, that's near impossible, but I am sure it will be quite close. I would not be at all surprised to see the Ducks come out on top here, but I'm going with the Blackhawks.
Let me know in the comments what you're expecting out of this series, and enjoy the hockey, everybody.