10. Jason Demers vs the Chicago Blackhawks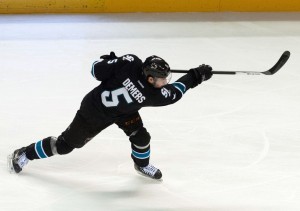 While Demers' minus-5 rating in 14 games doesn't sound all that great, his eight points in those games are his highest total vs any team in the league. The quick skating, puck moving defenseman tends to flourish against a fast skating Blackhawks squad. In one particular game vs Chicago, Demers was a healthy scratch and that made me question Sharks head coach Todd McLellan. Yes this was the during the two years that Demers bounced in and out of the lineup, but the slow footed Douglas Murray was struggling even worse at that point. Furthermore, as a rookie in 2010, Demers finished a plus-1 during the Western Conference final against the Blackhawks. This in spite of the fact Chicago trounced the Sharks in four straight games. He also scored his first career playoff goal in Game 1 of that series.
9. Brent Burns vs the St. Louis Blues
Whether a defenseman or a forward, wild stallion Brent Burns seems to give the Blues fits. In their playoff series two years ago, Burns scored a fantastic goal as a defenseman and outside of Joe Thornton, was arguably the second best Shark in that series. Last season as a forward, Burns notched his first career hat trick against the Blues. He also scored his first goal in his first game as a Sharks forward in St. Louis. For his career Burns has 18 points in 31 games against the Blues, his sixth highest total vs any team.
8. Patrick Marleau vs the Edmonton Oilers
A native of Aneroid, Saskatchewan, career long Shark Patrick Marleau has a tendency to shine against Western Canadian foes. Perhaps there is a little voice inside his head telling him to light it up when playing nearest his home town. When Marleau takes on the Oilers, you can almost be assured that No. 12 is going to light the lamp. In 64 career regular season games Marleau has scored 34 goals, including eight game winners, the latter of which is his highest total versus any opponent. His 17 goals at Rexall Place are his second most in any road arena outside his 19 goals at the Staples Center in LA. Considering the Oilers mostly have not been in the same division as San Jose, it is quite clear that Marleau loves to score in Western Canada.
7. Joe Pavelski vs Jarret Stoll
Unfortunately, with injuries and odd lineup calls by the Sharks removing Pavelski from third line center, we don't get to see this head-to-head matchup often. However, it is the best third line center matchup in all of hockey. Stoll, while not the point producer he once was, is still a dynamite two way center. He is also one of the few centermen around who can give Pavelski fits in the face-off circle. The Sharks center is otherwise a dominant face-off guy but has struggled against Stoll. Pavelski comes in at 53% in the circle vs LA while Stoll is at 54% vs San Jose. Obviously they both do really well in the circle when not facing each one another or other elite face-off men. Pavelski has scored some of his biggest playoff goals against the Kings. Think back he scored the tying goal in the epic Game 3 comeback in 2011, as well as the OT winner in Game 1.
6. Joe Thornton vs Jamie Benn
Another great center matchup, two big bodies Thornton and Benn.  Boy oh boy, wasn't this a fun fight? Easily ten times more entertaining than a fight between Mike Brown and Ryan Garbutt would be.
Thornton and Benn both come from an old school brand of hard nosed gritty hockey. These two super stars sharing the ice is an absolute treat for the fans. Jumbo Joe has 62 points in 62 career games vs the Stars, including a plus-19 rating which is his second highest versus any team. Benn meanwhile has a solid 18 points in 25 games with a minus-2 rating against the Sharks. The Stars forward is an amazing player that was on Team Canada last year. That said, even guys like Benn still rightfully look at Thornton as a measuring stick.
5. Joe Thornton vs Jonathan Toews
You'll sense a fighting theme in these Thornton matchups. While I've advocated for the full removal of fighting from the game, super star fights are the best ones you'll find. Toews and Thornton often don't see eye-to-eye on the ice. Toews had had enough of Thornton's antics on one particular night.
Against Chicago Thornton has tallied 45 points in 44 games, often producing his best performances against the top competition (haters can shut it) that the Blackhawks offer. Thornton is also 52.8% in the draw against the Hawks. Toews meanwhile has also been really good against San Jose. He's accumulated 21 points in 23 games, is 55.5% in the draw and is a plus-12 compared to Thornton's even rating. These are two off the hardest working top line centers in the world. Sharks and Blackhawks games are great to watch, in large part because of these two guys.
4. Patrick Marleau vs the Vancouver Canucks
Marleau has yet another  Western Canadian team he loves to score against. In 31 games in Vancouver, Marleau has scored 12 goals to go along with 12 in the 32 home games vs the Canucks. The 24 goals in 63 games total isn't quite the same dominance over Edmonton, but this is where the playoffs come into play. Marleau has lit the Canucks up in both playoff series. During the 2010-11 Western Conference final, Marleau was the best Shark by far with four goals and seven points in the five games. In the 2012-13 Western Conference quarter-final sweep of the Canucks, Marleau scored a goal in all four games including the OT winning, series clinching goal in Game 4. He also added an assist in the series for five points in the four games.
3. Marc-Edouard Vlasic vs Corey Perry
Nobody who calls themselves a Sharks fan will forget Perry's vicious slash to Vlasic's face while MEV had fallen down near the corner boards. Perry plays a notoriously dirty game with cross-checks and slashes. Vlasic however has matured and bulked up to the point where he won't put up with the abuse.. Nowadays he won't shy away from the nasty physical play that Perry will try to dish out. Watching one of the most gifted scorers in the league go up against the best pure defender in the game is always a fun matchup to watch. Vlasic the shut-down guy vs Perry the top line guy, they see a whole lot of each other when the Sharks and Ducks meet up. Vlasic has managed a plus-4 rating over his career vs Anaheim. Perry meanwhile has 40 points in 52 games vs the Sharks but surprise surprise is a minus-4. Look how that works out.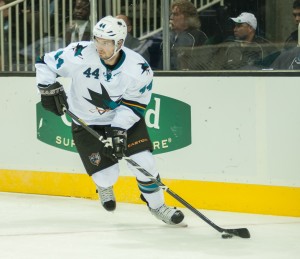 2. Logan Couture vs Drew Doughty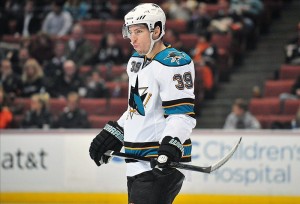 We all know the recent history between the Sharks and the Kings, but not everyone is aware that Couture and Doughty go way back. These two are best of friends since they were kids growing up in Ontario. On the NHL ice, it's awesome to watch one of the smartest two-way centers in the game, go often head-to-head with a buddy who happens to be one of the best two-way defenseman in the game. Both these players absolutely hate to lose, and like a great heavyweight bout, neither ever gives an inch.
Couture has managed a solid 16 points in 22 regular season games vs the Kings but has struggled in the face-off circle at just 46.8%. Doughty meanwhile has kicked the Sharks tail with 17 points in 34 games from his defense spot. Couture badly wants the rings that Doughty owns and the subsequent matchups between these two keep getting better.
1. Joe Thornton vs Ryan Getzlaf
This No. 1 matchup is pretty self explanatory, most hockey fans remember the start of Game 6.
Getzlaf and Thornton often go head-to-head when the Sharks and Ducks collide. As two of the bigger top line centers in the Western Conference, it is always a treat to watch these two go at it. This season Thornton may have some extra animosity towards Getzlaf, who made Team Canada over him last year. Getzlaf scored at a higher rate a year ago, but Thornton obliterates him in the face-off circle. Power on power is always fun to watch, and Thornton usually gets the better of his counterpart in this battle. Thornton has accumulated 64 points in 67 career games vs Anaheim, with a plus-9 rating and a 53.5% success rate in the face-off circle. Getzlaf meanwhile has tallied 44 points in 53 games versus San Jose, with a minus-1 rating and a 46.9% face-off percentage.
Andrew has been credentialed to cover the Sharks since 2010 and the 49ers since 2012. He graduated with his BA in Broadcast Electronic Communication Arts in 2013 from San Francisco State University.