The Early Stages
Coming off career highs in points (23) and games played (53), Ottawa Senators defenseman Patrick Wiercioch is ready for more responsibility and needs Head Coach Paul MacLean to lengthen his leash. The 42nd overall pick in the 2008 NHL Entry Draft out of the USHL, Wiercioch took the college route prior to joining the Binghamton Senators and played two seasons for the University of Denver. At 6'5, 205 pounds his build has always been his greatest plus but he's been slow to develop on the defensive-end thus far as he adapts to the NHL game and now enters his third season. For a Sens team that ranked 29th in the league last year in terms of shots against per game and didn't make any free agent additions to their backend this offseason, Wiercioch will need to step up and emerge as a reliable top four option. For that to happen, Paul MacLean needs to let him.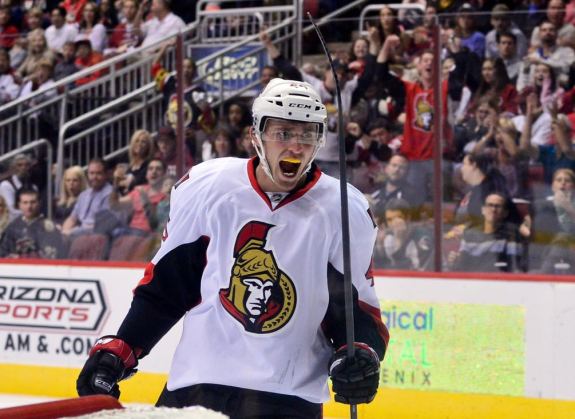 Answering the Bell
It's well-known that defensemen take longer to develop on average than forwards. Thus far in the career of Patrick Wiercioch the Senators have been more than patient and being much more so would be bordering on baby-ing. His 53 GP last season were an 11-game increase from his rookie season where he scored 5 goals and 19 points, recorded a +9 rating and also showed the ability to come to the aid of his teammates:
Waiting for the Call
Wiercioch has been a healthy scratch through the Sens' first two games of 2014-15 despite the team being out shot 37 to 20 in game one in Nashville. An embarrassing effort in the season debut against a relatively weak offensive team. The 3-2 final score makes it seem much closer than it actually was, and thanks can be given to Craig Anderson. With the departure of veterans Filip Kuba and Sergei Gonchar in recent years to new free-agent destinations, the Sens' puck-moving defenseman landscape is pretty barren behind caption Erik Karlsson. Cody Ceci has shown promising signs of what could one day be pretty a dynamic defenseman on both sides of the puck. However, he's still young and needs to carry learn from defensive partner Chris Phillips.
With Marc Methot day-to-day with a back injury, Jared Cowen is being paired with Karlsson in an effort by the coaching staff to not have their first round pick of 2009 not look as bad as he actually is. The third pairing is composed of Eric Gryba and Mark Borowiecki who are nearly identical slow-moving clones who add physicality but next to nothing in terms of offense. Yet, both are drawing starts over Wiercioch.
Here's the thing. In 2013-14 Patrick Wiercioch ranked second in terms of Senators' defenders in terms of Corsi-On. His 6.64 score was within 4.5 of Karlsson and better than 2.0 higher than any other defenseman on the team. His Corsi Relative was also second best on the team's backend. He did face weaker competition and ranked last on the team in Corsi Rel QoC, yet was third in PDO. Numbers and ranks that should have earned him a spot in the lineup, if not alongside Karlsson or a healthy Methot.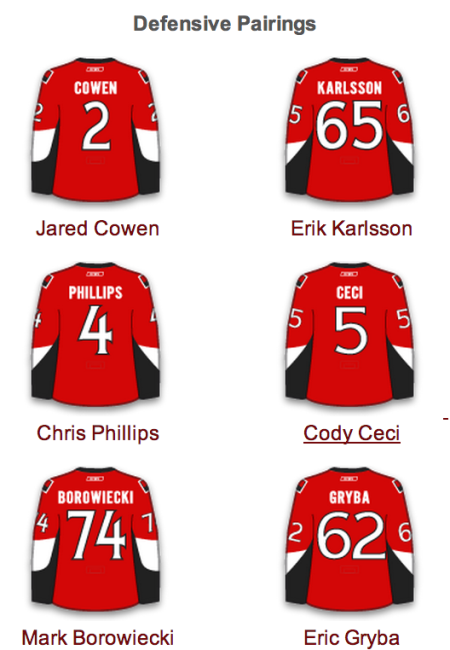 The Senators defense likely won't be able to fix their issues with preventing the opposition from racking up high shot totals, but with the best six defenders in the lineup they could at least get a few more heading in the other direction. It doesn't make sense to give up on Wiercioch while still allowing Cowen to prove night-in and night-out that he doesn't deserve to be anywhere near the ice.
Esten McLaren graduated from the University of Guelph with a B.Sc in Biological Sciences before enrolling at the College of Sports Media in Toronto. He graduated with a diploma in Radio and Television Sports Broadcasting in the spring of 2014 and now works at the FNTSY Sports Network in Toronto. Esten writes for lockerroomfantasysports.com and thefakehockey.com as well as for The Hockey Writers.