Earlier this week, the summer standoff between Ryan Johansen, his agent, and the Columbus Blue Jackets front office ended. The breakdown of Johansen's windfall looks like this:
Johansen terms: $3M in 2014-15, $3M in 2015-16 and $6M in 2016-17.

— Aaron Portzline (@Aportzline) October 6, 2014
That's a lot of Ben Franklins. It got me thinking, how could you spend $12 million dollars? Well, after NFL Quarterback Joe Flacco signed an eye-popping $120.6 million dollar deal with the Baltimore Ravens, the first thing he did was… buy 10 McDonald Chicken McNuggets, an unsweet iced tea, and fries.
If Johansen was compelled, he could roll into all the McDonald's in the greater Ohio region, and order roughly 1.9 million 10-piece McNugget large meals from — that's one way to rack up a $12 million tab at a fast food restaurant.
But, Johansen is probably high-class, and seems like the kind of guy to roll into Ruth's Chris steakhouse low-key. If Johansen really wanted to, he could order  the 8 oz. filet steak, an order of shoestring fries, and a bourbon with natural cane sugar, orange bitters, and other tasty ingredients (called the "New Fashioned") a whopping 201,680 times — and 2/3 of another meal (hold the fries).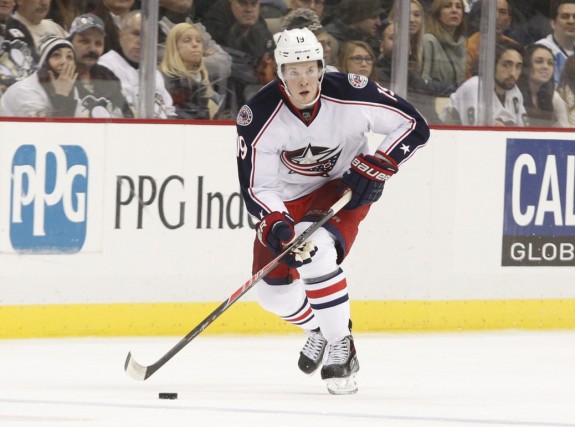 However, a man can't just live off of food; he needs other things in life! Let's say Johansen was in the market for a monster of a house. He could walk through one of the more expensive houses in Dublin, OH — home to Muirfield Village Golf Club — and buy it for the everyday low price of $5.35 million dollars, and fill his garage with a Porsche Cayenne ($132,040), a Mercedez-Benz SLS AMG GT Roadster ($265,184) , and a Volvo V60 ($52,675). Count the house, and the cars (each upgraded to the nines), and Johansen would have spent a majority of his contract on four items — granted, most of his money would go to taxes and agent fees.
More likely than not, Johansen won't blow his entire paycheck on McNuggets, a mega-house, and/or fast cars. But it's interesting to see how much he could get if his heart truly was set on it.
But Really…
Johansen's current deals expires in the 2016-2017 season — with a $6 million price tag on the final year of the deal. At that point in time, expect starting contract talks to begin at the $6 million dollar mark, assuming Johansen puts up the same kind of video game-esque numbers from last year.
What made the Johansen re-sign popular was that the deal averaged $4 million per year — helping in the cap space department for the Blue Jackets.
Who knows what's going to happen with Johansen in the summer of 2017. Depending on how well he performs from here on out, he could make money north of $6 million –and that's a lot of McNuggets.
Currently a student at The Ohio State University. Play-by-Play announcer for Ohio State football, basketball, and other sports on student radio. Writer of the Columbus Blue Jackets and other sports for U Weekly Newspaper. I believe I'm the real life version of Ted Mosby.