Star Struck
This past offseason, I chronicled the innate ability of Sharks phenom Tomas Hertl to score goals while jetting the seem. Hertl scored at least three (that came to memory) of his 15 rookie season goals on similar type breakaways. Looking for feeds from teammates, Hertl would receive passes in stride and effortlessly (or so it looks) split the defense and score. On Saturday night in San Jose's home opener, Hertl did it again in the first period. He made Jets goalie Ondrej Pavelec a victim for the second time in his career. Receiving a pass just outside the blue-line from Joe Thornton, Hertl took a couple good strides and wired home a wrister short-side blocker.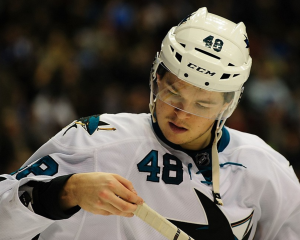 One can't help but be in awe when watching Hertl play, particularly in person. I've never before seen a single Sharks player create the same kind of separation through the seem that Hertl does. Not even Patrick Marleau. Thus far in his short career, Hertl has scored four of his 16 career goals (25%) in this similar short breakaway fashion. He is blossoming into one of the few must see attractions in the NHL. You can throw him in with the likes of Steven Stamkos, Alexander Ovechkin, and company, he is that much fun to watch offensively. In the second period he wowed the crowd on the power-play by inside outing a defender in the neutral zone gaining him tons of space in the offensive zone. From there Hertl pulled a Joe Thornton and passed up a glorious shooting opportunity, clearly getting a bit carried away with being cute after his slick move. Early in the third, Hertl also dodged a couple of Jets players at his own blue-line that got some oos and ahhs from the crowd. Hertl, still improving his English (markedly better than last year) was all smiles (as usual) after the game.
"Oh yeah, I like the breakaways, I scored a lot of [those] goals last season." the 20-year-old Czech forward confirmed. "It was a good breakaway and pass from Jumbo, I'm very happy my first goal of the season."
"He's playing with a couple good players that can see the ice but he's hitting those open spots, and got some good legs on him" commented Patrick Marleau who scored a breakaway of his own in the 3-0 victory over Winnipeg. "It's nice to see."
"He's going to holes" commented Sharks head coach Todd McLellan. "When Tomas is skating, things happen."
Sixteen goals in his first 39 regular season NHL games is certainly making "things happen", not to mention two more goals in seven playoff games. Combined that is now 18 goals in his first 46 meaningful NHL games. A 32 goal pace over 82 games through a half season's worth of games to start his career.
It has to be said, if you are planning to go catch just one game this season for your local NHL team, make it the game against the San Jose Sharks. Of course he may not do something special every night, but more often than not, you'll be incredibly entertained by No. 48 in white for the Sharks. As long as this "kid" stays healthy, he's going to be something very special for a long, long time.
Andrew has been credentialed to cover the Sharks since 2010 and the 49ers since 2012. He graduated with his BA in Broadcast Electronic Communication Arts in 2013 from San Francisco State University.