The San Jose Sharks selected Joachim Blichfeld out of the Malmo Redhawks J20 program with the 210th pick in the 2016 NHL Entry Draft. The native of Frederikshavn, Denmark spent two years with the Redhawks J18 and J20 teams playing in 87 games and recording 35 goals and 28 assists.
In the J18 playoffs, the Redhawks squad was down a 3-0 against Djurgarden, but Blichfeld scored four goals (also known as a 'Rooster Trick' among fans of the San Jose Sharks) to give Malmo the victory. 
https://twitter.com/zakkthebear/status/830640561354780672
Coming To North America
Blichfeld was a noticeable forward at the Sharks' development and rookie camps. He spent time with the WHL alumni Adam Helewka and Rourke Chartier. The experience and the advice from his fellow prospects were beneficial for a player that had not been on North American ice before this past summer.
"It helped me a lot. All the guys there told me it was a hard league to play in and I have to be ready. They said to me I had to work hard and stay consistent all the time."
Blichfeld Heads to Portland
Just days after the 6'2 winger became a San Jose Shark, he was selected by the WHL's Portland Winterhawks in the CHL Import draft.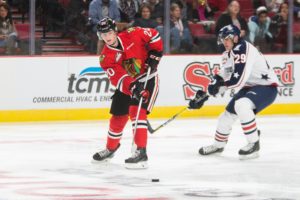 The Winterhawks head coach Mike Johnston wanted to choose a goalscorer and Blichfeld has not disappointed a coach who knows a thing or two about snipers. Johnston coached Nic Petan and Oliver Bjorkstrand, among others, who lit up the WHL in Johnston's previous stint in Portland.
"You look at our group, coming into the season we knew that we needed a forward up front that could score. And Blichfeld, that's what he is, he's a scorer. He has a great touch and a great shot."
For Blichfeld the decision to head to North America seems to be a good one.
"I love it so much. I'm so happy I made the decision to come [to Portland] and play."
The season has been an adjustment, as you would expect from any 17-year-old.
"The start of the season, I had a pretty rough start. I had to learn how the play was and how hard you have to work to be good here. After Christmas I think I have a good hold on it," Blichfeld said. "When I first came over here, I played the game I played in Sweden. But I really realized I have to work a lot harder to have success over here. That's the thing I'm working on. Skate hard, battle hard, win my 1-on-1 battles and standing in front of the net."
That increased comfort came as he returned from the 2017 IIHF World Junior Championships. Blichfeld was a key contributor as the Danes finished second in their group and advanced to the quarterfinals, to the surprise of many in the hockey world.
"It's always an honor to play for a World Junior team. The success we had there was unbelievable. We lost in the quarterfinal there, but I think we did a hella good job," Blichfeld said of playing on Team Denmark where he scored three goals and added an assist. "It's something you always see on TV, all the good players. To be standing there yourself is unbelievable. To play in an NHL rink was really fun, it was unbelievable."
Blichfeld Piling up Points in Portland
The season is catching fire for Blichfeld, who is on a very young Winterhawks squad that has been a mild surprise this season. He sits at 28 goals and 29 assists, good for fourth on the team and fourth in the WHL among rookies behind fellow San Jose prospect Rudolfs Balcers. His chemistry with his linemates, especially on the power play, has helped him pile up the points in his rookie WHL season.
"All the players are so good. They know what to do. If you're in the right place, you get the puck. I think it's the good teammates."
His coach says that Blichfeld is a difference maker on the man advantage and controls the game with the puck on his stick.
"The power play has been good because of him," said Johnston. "Joachim really quarterbacks [the puck] on the sideboards. He has a great shot. He can be a difference-maker with one shot. He's a very smart player, he plays a little bit of a different game, more of a puck control game than a speed game but he does it very well."
https://twitter.com/zakkthebear/status/838262483668250624
The physical nature of the North American game has been a surprise. When he was asked after a recent win against the Vancouver Giants what is the biggest difference playing in North America, fisticuffs was his quick answer.
"The fights! We don't fight in Europe. It's cool. Alex had a good fight today, and it really got the crowd going. I think we get a really good push if we're down by a goal for example. Some guy gets in a fight, and the whole bench gets a boost from that."
The boost Blichfeld has given the Sharks' prospect pool, especially from the late stages of the draft, should make San Jose fans excited as well. Blichfeld will get a chance to experience the postseason as the Winterhawks locked up a spot in the WHL Playoffs. He'll have yet another opportunity to show what he can do in the Pacific Northwest. 
Covering all manner of hockey on the West Coast, including the San Jose Sharks, San Jose Barracuda, Stockton Heat, WHL, and random prospect news and notes with random SM-Liiga coverage tossed in as well.