Those of you who follow me on a regular basis are aware of my love affair for strong fourth lines. In this day and age, a strong fourth line is a prerequisite to getting deep in the playoffs. The ever popular narrative that teams' best players have to out-perform the opposing best players simply isn't true. In the salary cap era, elite talent is spread out throughout the league. Each club that qualifies for the postseason features similar high-end talent. All playoff teams are so close on paper that the lower minute players are much more important than they were 20 years ago.  A shrewd role-player acquisition can make all the difference.
Strong Fourth is a Necessity
Teams certainly need their star players to play well in the playoffs, but the notion of needing them to out-shine the opponent's star players is an extremely old and out-dated.
The Chicago Blackhawks did not beat the Anaheim Ducks and the Tampa Bay Lightning because Jonathan Toews and Patrick Kane were significantly better than the likes of Ryan Getzlaf, Corey Perry, Ryan Kesler, Steven Stamkos, and Tyler Johnson.
No, no, the reason they won was because they got multiple game-winning goals from Antoine Vermette, and because their fourth line of Andrew Desjardins, Marcus Kruger and Andrew Shaw was by far the most noteworthy "fourth" line of the entire postseason.
Chicago's fourth line ate up key shut-down minutes against Getzlaf in the Western Conference final. That is simply something the projected Sharks' fourth line to start the 2014-15 season couldn't have done. Even though it featured one of the same exact players, the following line was downright terrible.
Mike Brown—Andrew Desjardins—Adam Burish
With Brown missing most of the season injured and Burish eventually being waved, this line didn't see much ice time. But in their place John Scott didn't do much better. A career year of four points is simply embarrassing. Having Brown, Burish and Scott on the roster made no sense. Three guys better known for face punching than playing actual hockey? This was quite bizarre when most teams were getting rid of their one player of this ilk, the Sharks started the year with three.
Not surprisingly, the Sharks had yet again another poor fourth line from start to finish last year. The fourth unit never inspired any confidence. During their most meaningful game of the season, (the Northern California Stadium Series game vs LA) now former head coach Todd McLellan played John Scott with Desjardins and Tyler Kennedy because he thought they needed "thump". While Desjardins and Kennedy are both capable players, they are not good enough to make an impact when their third linemate is essentially useless.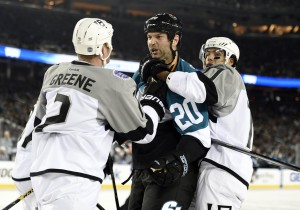 Scott played that night against the Kings instead of this year's projected third line center Chris Tierney. Scratching Tierney in favor of Scott, is simply indefensible. Just two nights earlier Tierney was part of San Jose's best line that scored twice in a win over Dallas.
Fortunately for Sharks fans, the fourth line should be a helluva lot better next season. Even though they still have Brown on the roster, it is difficult to imagine how he would ever get in the lineup.
The Sharks have admitted their mistakes with Burish and Scott, moving on from both this offseason. There is probably a good chance they do the same with Brown. Even if they don't, the projected fourth line below doesn't even have him on it.
Barclay Goodrow—Ben Smith—Melker Karlsson
Each one of these guys should at minimum reach 15 points. While Karlsson scored a good amount of his 24 points on Thornton's wing, he proved he can play on any line. Goodrow looked a tad out of place in third line minutes but 12 points in 60 games is quality fourth line production. Smith "only" picked up 14 points last year, but chipped in 14 goals and 12 assists for 26 points in 2013-14. Given what we have seen from these three young players, it would be shocking if they didn't combine for at least 45 points next season.
That baseline expectation is more points than the combined career best years of Burish, Brown and Desjardins (44 points). And a caveat with that was Burish scored a handful of his 19 points somehow playing with Jamie Benn for a stretch. Remember these are their combined career bests, an average year from these three would be about 25 points.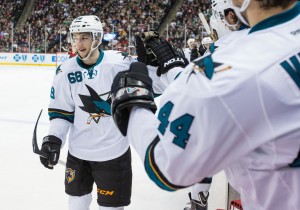 Teams need scoring depth in the playoffs and a fourth line of Goodrow, Smith and Karlsson is going to be an impact line that can consistently out-perform other fourths. Each and every one of them has the ability to play third line minutes, and Karlsson proved he can be a top-six performer in a pinch. This is the type of depth that wins championships in the salary cap days. Sharks fans should be excited because Team Teal finally looks to have a fourth line good enough for a deep playoff run.