A Team Once Lost
One full season has passed since the San Jose Sharks' infamous playoff collapse against the Los Angeles Kings. The campaign that followed was a forgettable one as failure and controversy filled the locker room on a nightly basis, resulting in a disappointed team and fanbase. The San Jose media exposed many of the situations to the public.
Numerous distractions, including the lack of a captain, the ambiguous direction of the team and the strategic differences between Todd McLellan and Doug Wilson, surrounded the Sharks in 2014-15, ultimately contributing to their worst year since 2003.
Fortunately, the Bay Area franchise put together an incredible offseason. Their general manager was unusually active in free agency and acquired both Paul Martin and Joel Ward in the market. Couple this with obtaining Martin Jones via a trade with the Boston Bruins, and the club's roster became significantly better than the one they had the year before.
Many of the issues from last year—even beyond the roster—have been solved, leaving San Jose poised for a distraction-free season.
Back On Track
Clear Identity
The offseason of 2014 sparked confusion among the fans, team and media. Wilson had declared that they were in a rebuild year and that he wanted to create a younger, faster roster.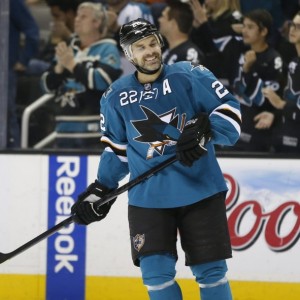 The problem with this is that the team didn't need a rebuild, and they didn't even end up getting younger. The Sharks earned 111 points in 2013-14 prior to the reverse sweep and lost just Dan Boyle and Martin Havlat in the summer. Granted, Boyle is a huge subtraction, but his absence alone wouldn't result in the organization losing out on 22 points the next year. Changing the team would only further hurt it.
But change came, and despite Wilson's desire to get younger, he signed enforcer John Scott to a one-year deal. Scott is a 33-year-old pylon that gets paid to hit people and sit in the penalty box. He's not someone you use to rebuild, he's someone you use to tank.
These unneeded alterations and the poor execution of the rebuild destroyed a team that was once considered elite just one year before.
This unclear direction will not happen again though, as Wilson has built a lineup with solid talent and head coach Peter DeBoer has declared that the club is in a "win-now mode." All roster moves and managerial quotes point to one goal: make the playoffs and make a run for the Cup.
The players and coaches are once again on the same page, thus solving one of the biggest problems with the team in 2014-15.
Oh Captain, My Captain
DeBoer also stated that he will name a team captain before opening night against Los Angeles on Wednesday. The next leader for Team Teal is projected to be first-liner Joe Pavelski, though many other candidates are being considered as well, such as Logan Couture, Marc-Edouard Vlasic and Tommy Wingels.
DeBoer will name next #SJSharks captain at least a day in advance of season opener http://t.co/jdT2wKLCPp

— Kevin Kurz (@KKurzNHL) September 30, 2015
This had to be on top of his "to-do list" as the lack of a true leader caused heated debate in the locker room, including a verbal feud between Wilson and ex-captain Joe Thornton.
While the missing captain may have had minimal consequences on the performance of the team, it must have been insulting to the experienced Thornton. Stripping him of the C and then not naming anyone to replace him is like saying "we'd rather have nobody be captain than for you to lead this team." This only added fuel to the publicized argument between the setup man and his general manager.
With the naming of a captain, the controversy surrounding it will hopefully end and the Sharks will have a well-defined leadership group for the first time in about 17 months.
Fresh Start for Management
When former head coach Todd McLellan elected to leave the organization, it added another question mark to San Jose's long list of concerns. But although he will be missed, his departure may help the team reset from last year.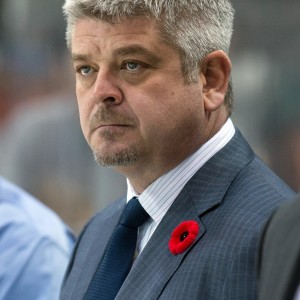 It was widely believed that McLellan and Wilson had vastly different views on how the club should be run. A number of lineup issues, including whether to play Brent Burns as a forward or a defenseman, subtly hinted at their contrasting opinions. The debates were never explicitly stated, but the language used could indicate that the two were at odds with one another.
Fans and media will no longer have to wonder about it though, as a new coaching staff will stand behind the players during games. DeBoer and Wilson have never worked with each other before, meaning that there will be no bad blood between them, thus providing a fresh start for the team in terms of management.
The former New Jersey Devils coach may not have the best resume in the league, but he has proven to be a competent bench boss. With a stellar team to work with, DeBoer could very well thrive in San Jose during his tenure. We will have to wait and see.
 A New Beginning
This team still has a bit of uncertainty associated with it, primarily in regards to their unproven goaltender and their new coaching system, but they are much better off than they were a year ago. Yes, growing pains will happen at the start of the year. However, the team is excellent on paper and has performed respectably in the preseason. There is little doubt that the changes made in the summer will help lead this team back into the playoffs.