The San Jose Sharks currently find themselves in a 0-5-1 skid and are falling in the Pacific Division standings. Despite what looked to be a strong forward group on paper going into the season, the Sharks simply cannot score. Team Teal has lit the lamp just eight times over the past six games for a 1.33 goals per game average. For the season the Sharks' GF/G sits at 2.55, just 18th in the league. Certainly missing Logan Couture for the majority of the season hasn't helped and minor short-term injuries have caused other top players to miss some games as well. However, every team goes through injuries. Good teams find a way to win games nonetheless.
To the Sharks' credit, they were able to recently complete a franchise record 6-0 road trip without Couture. Not every game was pretty and Martin Jones was an absolute rock in net during that streak, but San Jose did average over three goals per game during the trip. Despite lacking defensive depth, the Sharks have shown they can be a decent team with their current lineup. However, as we get deeper and deeper into the season, the mediocre goal scoring is becoming more and more concerning. A few weeks ago, yours truly was preaching patience, but in the games since, the overall play has gotten worse. The eye test suggests the Sharks could use a big shake-up. Good news is a big shake-up can happen even without a major trade. The bad news is that the organization is too stubborn to make it happen.
Sharks Need to Release their Kraken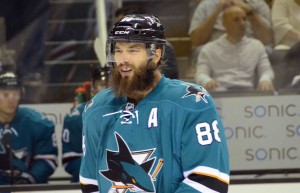 Every time I make the suggestion that the Sharks should move Brent Burns to forward again, the same counter argument gets proposed: the Sharks don't have anybody to replace him on the blue line. The problem with this argument is that even though the Sharks lack defensive depth, Burns would still do more to help this team as a forward. As a defenseman, No. 88 is currently a team-worst minus-15, the next worst defenseman on the roster in terms of plus/minus is Mirco Mueller at minus-4. While plus/minus has major deficiencies as a statistic, Burns being that much deeper into the minus than any of his defensive teammates is quite compelling. His defensive partners all play with the same forwards he does and haven't been nearly as bad. Certainly Burns faces stiffer competition than third pair guys like Mueller and Brenden Dillon, but Burns' opponents aren't as tough as Marc-Edouard Vlasic and Justin Braun's. These two are each plus-5 on the season against the opponents No. 1 lines. Burns being minus-15 in easier minutes goes to show just how less effective he is away from the puck in the defensive zone.
If Burns were to be moved to forward, there is little reason to believe the Sharks would allow more goals against than they already are. As a defenseman at even strength, Burns has been awful at preventing the opponents from scoring. His goals against per 60 minutes is dead last among all six Sharks defenseman who have played over 100 even strength minutes. Even though Dillon and Tennyson are not ideal defenseman to play second pair minutes, chances are they wouldn't be any worse than Burns has been. The forward turned defenseman, turned forward, turned defenseman again leads the defense with a decent Corsi-for percentage of 52.4 but his goals percentage of 37.8 is by far the worst. That is a -14.6 differential from shot percentage to goal percentage. On the flip side, Dillon's 47.4 Corsi-for percentage and 52.9 goals percentage is a +5.5 differential.
Goals Against Likely Wouldn't Get Any Worse
If Burns were to move forward and Dillon took over his spot with Paul Martin, Dillon's numbers would certainly start to decline because he will be facing tougher competition. However, even if Dillon experiences a steep Corsi decline in the advanced role, say from 47.4 to 40, he would still be better at even strength than Burns. Given Dillon's stronger defensive skills, his goals-for percentage is still likely to end up somewhere in the 40s, which is better than Burns' current 37.8 mark.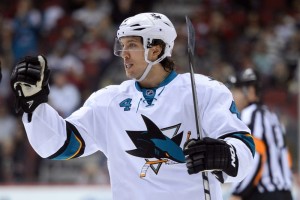 While Dillon moving up would leave the third defense pair weaker, finding a veteran defenseman to play with either Mueller or Tennyson at the trade deadline shouldn't be difficult. Third-pair defensemen and bottom-six forwards are easier to acquire than high-end caliber players. Considering Tennyson is right-handed and Mueller is left-handed, the Sharks could target either a lefty or righty veteran at the deadline. Filling the hole on the third pair with Dillon moving up would not be overly challenging for general manager Doug Wilson.
Now I know many Sharks fans reading this will note the team has struggled thus far whenever Dillon has had to play in the top-four. While that is true, Dillon had to play with Burns when Martin was injured and Burns and Dillon simply have never worked well together. Furthermore, when Braun and Vlasic have missed time recently, Dillon simply isn't good enough to fill those defensive shoes. That is obvious, we all know that. It isn't surprising that the Sharks struggled while missing their two best defensemen. The fact of that matter is that Dillon has yet been given a look to play in the top-four while alongside all of San Jose's best defensive defenseman (Vlasic, Braun, Martin). Both Dillon and Martin have experience playing their offside, so playing them together despite both being left-handed shots could certainly be an effective second pair. Hard to see the two of them allowing more goals against at even strength than the Martin and Burns duo. Plus with Burns moved up front, this new potential second pair will be skating with better forwards than the Burns-Martin pair has been playing with.
But Goals For Would Likely Increase
When you consider the hypothetical Martin-Dillon pair would more than likely not be any worse and possibly better at even strength than Martin-Burns, it is clear that trying Burns at forward makes a lot of sense. The Sharks would lose possession from the back-end but they would gain so much more possession offensively than they would lose defensively. Burns could go right back to the wing of Thornton where the the duo dominated the league for 1.3 seasons. Their possession and goals-for together as forwards were out of this world awesome. In 2013-14, the one full year with Burns at forward, his goals-for percentage was a whopping 63.9. Remember, as noted above, his current goals-for percentage as a defenseman is 38.7. That is an absolutely staggering 25.2 percent decrease. The Sharks' top-line with Thornton and Burns together would see its possession numbers certainly increase, and San Jose's third line possession numbers could potentially increase by a huge margin. Burns with Thornton would then give the Sharks the option to drop Pavelski into the third line center spot where he has historically obliterated the competition.
Potential Lineup (Minus Couture)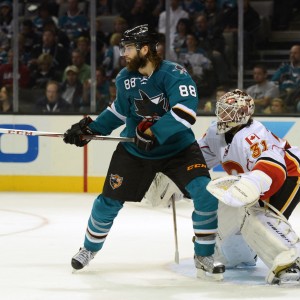 Tomas Hertl—Joe Thornton—Brent Burns
Joonas Donskoi—Patrick Marleau—Joel Ward
Matt Nieto—Joe Pavelski—Melker Karlsson
Dainius Zubrus—Chris Tierney—Tommy Wingels
Marc-Edouard Vlasic—Justin Braun
Paul Martin—Brenden Dillon
Mirco Mueller—Matt Tennyson
Look, there is no denying that this blue line group would be underwhelming behind the top pair. That top shut-down pair though is one of the best in the league and the Martin-Dillon second pair could find themselves skating most of their minutes with Thornton and Burns at forward against opposing team's second lines. Maybe it's partially my bias but I tend to believe Thornton and Burns up front with Martin and Dillon on the back-end would out-perform most of their competition. Plus, even with Couture injured the Sharks would be able to roll four quality lines. The weaker third pair of Mueller and Tennyson would often get to skate with the Pavelski line in this case. Pavelski is a two-way stud who will be able to dominate the competition even with a below average defense pair on the ice. Not to mention Nieto and Karlsson are both terrific on the forecheck. This line should spend a lot of time in the offensive zone, limiting the amount of time Mueller and Tennyson have to spend defending.
Burns is arguably San Jose's most dynamic offensive weapon and yet the Sharks are using him on the blue line where he doesn't excel. If they move him back to his natural position where he is a complete freak of nature for opposing defenseman to handle, it makes the Sharks offense that much deeper and dynamic while barely (if at all) hurting the team's ability to prevent goals at the other end.
Low Risk/High Reward Position Switch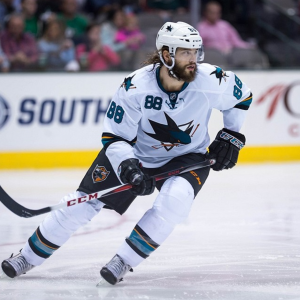 Ever since the Sharks acquired Burns in 2011-12, they have struggled with him as a defenseman. Their goals per game with Burns on the blue has ranged from 2.55 to 2.71. When he plays forward it has ranged from 2.91 to 2.96, a significant increase. Overall performance wise the Sharks are just 1-4 during the postseason in the two years he's played defense. When he's been at forward they are 10-8 over two playoff seasons. An even better way of looking at is the Sharks average just 2.5 playoff games per season in years they have played Burns at defense. When they have played him at forward they average 9.0 playoff games. They play deeper into the playoffs when Burns is a forward.
Obviously plenty of followers disagree with my take on where Burns should play. However, even if I'm wrong, and the Sharks were to perform worse if they make this change, isn't it worth seeing if it can work like it did before? Burns' overall effectiveness on the blue line this season has barely (if at all) improved from last season even while playing with a better partner. His Corsi-for and goals-for percentages are both worse thus far this season. Therefore, it is difficult to imagine Burns would be any worse on the blue line (than he has been thus far) if he were to move to forward for say 15-20 games and then be moved back to defense. The potential reward for this team far outweighs the risk. The Sharks certainly aren't going to plummet to the basement of the weak Pacific division because Burns were moved forward for a few weeks. They could however, find the spark their searching by letting loose their most dynamic offensive weapon from the shackles of defensive responsibilities.
Andrew has been credentialed to cover the Sharks since 2010 and the 49ers since 2012. He graduated with his BA in Broadcast Electronic Communication Arts in 2013 from San Francisco State University.