Last month the San Jose Sharks completed a historic 6-0 road trip. Unfortunately, the immediate homestands before and after the trip haven't been as kind. The Sharks went just 1-3 in a four game home stint going into the road trip and just 1-2 in the recently completed three game homestand. Overall, the Sharks are just 4-7 on home ice. It is understandable that fans are frustrated with the lack of success in the home arena, but there are multiple reasons why they should practice patience when it comes to the home record. It will turn around eventually.
Overall Performance
While the Sharks' possession numbers are currently in the middle of the pack, they have been solid at even strength when it comes to actual production. The top line guys of Joe Thornton, Joe Pavelski and Melker Karlsson simply never get scored on. All three are over 70% in goals-for and Pavelski and Thornton are fourth and fifth in the league in that regard of all 120 forwards (mostly top-six forwards) who have skated over 300 minutes.
Furthermore, the Sharks have gotten strong efforts from the rest of their top-nine forwards like Patrick Marleau, Joel Ward, Joonas Donskoi, and Tomas Hertl. While the latter was recently called out by head coach Pete Deboer for a perceived lack of performance (he had been in a 16-game goal drought), No. 48 has actually been playing quality hockey most of the season. Hertl's Corsi-for is a very solid 53.2 and his goals-for is even better at 58.3.
The young centerman has worked extremely hard in the faceoff circle to become one of the top players in the league in that area. Despite not having terrific production to show for it, Hertl has given the Sharks a strong two-way game at even strength bouncing between the second and third lines.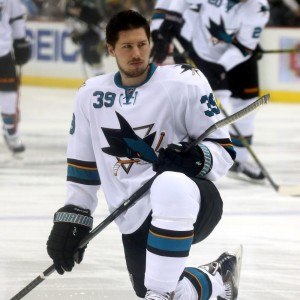 Return of the Couture
The Sharks have been without Logan Couture for 20 of 24 games this season but his return to action is imminent. He has been practicing with the team recently and doing extra skating on his own with development coach Mike Ricci. Couture's presence on that second line and the top power play unit will boost the offense and possession numbers. The forward depth will be back to where the Sharks should be able to roll four quality lines instead of playing a seven-minute per-night player in Mike Brown on a regular basis. Couture taking over his usual spot with Marleau and Ward will then bump Donskoi likely to the third line with Hertl and Tommy Wingels. That then pushes Matt Nieto down to the fourth line with Chris Tierney and Dainius Zubrus. These three should make for a consistent fourth line skating 10 minutes a night at even strength. Plus all three contribute significant minutes on the penalty kill. This should help take the load off Marleau and Thornton, whom my colleague Zeke noted have been taxed with far more minutes than would be ideal at their age.
Bounces at Home Will Come
Not only are the Sharks playing solid hockey at even strength, but the power play is starting to come around and the home record is bound to improve. Teams as talented as San Jose don't just put forth a 10-3 road record and then continue to only win four out of every eleven home games. With some better puck luck, the 4-7 home record could very easily be 6-5. Outside of the recent loss to Chicago, almost all of those losses saw the Sharks play great hockey for long stretches. Losses to Nashville, Anaheim, Columbus and Pittsburgh all could have ended up wins for the Sharks and nobody would have described them as lucky victories. In terms of performance, the Sharks deserved to win two of those games. Add two wins and takeaway two losses and the Sharks are 6-5 at home, 5-5 in 10 games without Couture. The Sharks have 30 home games left, they will probably end up with something similar to a 19-8-3 record the rest of the way.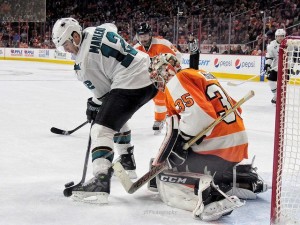 Currently Sitting in a Comfortable Playoff Spot
Despite the home record not being where they would like it to be, San Jose currently sits second in the Pacific Division and none of the teams behind them in Arizona, Vancouver and Anaheim are all that scary. It would be shocking to me if the Sharks don't finish in the top three in the division (which is all they need to do in order to make the playoffs). Anaheim certainly had Stanley Cup aspirations at the start of the year but they have been an absolute mess. They are already five points behind San Jose and have played two more games. A loss against the Sharks tonight in Anaheim would really make it difficult for them to catch and pass San Jose unless Team Teal completely implodes. Again, it is understandable for Sharks fans to be frustrated with the results on home ice right now, but they just have to be patient, this team is going to be in the playoffs and has a good chance to make a deep run.
Andrew has been credentialed to cover the Sharks since 2010 and the 49ers since 2012. He graduated with his BA in Broadcast Electronic Communication Arts in 2013 from San Francisco State University.