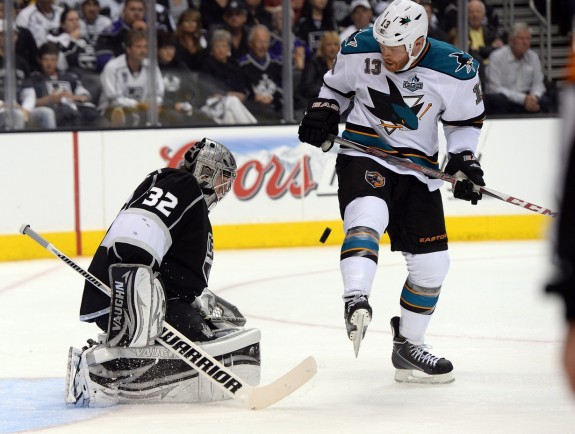 The San Jose Sharks are like a cat that has nine lives: you think their time is near and they will begin to fade, yet, year after year, they find a way to stay competitive.
The 2013-2014 season has been no different.
How many years does it take for Joe Thornton to grow old, stop leading the league in assists, and cease to be the key player on the Sharks? How many more times are we going to watch a 34-year-old Patrick Marleau burst down the wing like he just broke into the league yesterday? How long before the Sharks finally have a season where they aren't right in the mix to contend for a title?
They'd probably like to hold off on answering that question for at least a few more years. The Sharks are an enigma; a team that consistently makes the postseason, yet can't seem to get over the proverbial "bump," and win a championship.
However, their fortunes may change this season in the form of the arrival two "tough guys."
It may be a challenge for the casual fan to recall, but the Sharks are missing two players who will be key factors if they are to make a Stanley Cup run.
Before the wheels even began to spin on the season, the Sharks had already lost two of their top contributors in Raffi Torres (knee) and Adam Burish (back). Both had offseason surgeries, and both are apparently still a ways from returning to the ice.
Now, in this scenario, the phrase "top contributors" does not necessarily mean players with tremendous skill sets who will score 30+ goals in a given season. Neither Torres nor Burish will do that.
But both of them are so much more vital to the Sharks than their stats indicate. There is a reason why the Sharks invested four years and $7.2 million in Burish, and why they traded for and re-signed Torres to a three-year, $6 million deal in the offseason.
Think about that: why would a team give long-term contracts to a couple of guys with bad reputations around the league? Guys who are known for starting inane controversies and stirring up trouble?
Because, like it or not, that is exactly the type of player that the Sharks need. San Jose has plenty of skill: the aforementioned Thornton and Marleau to go along with the likes of Joe Pavelski, Logan Couture, and Tomas Hertl, as well as the skating prowess of Dan Boyle on defense. Those are only a few names — the Sharks' roster is loaded with the same depth and skill that has turned them into perennial contenders.
But look past the "skill" players, and then what do they have? Fairly unproven youngsters, journeymen forwards, and veterans past their prime. No "spark" who can ignite the team with physical play. No "agitator" who is a constant thorn in the side of the opponent.
Hmm…"spark" and "agitator." Doesn't that describe Torres? Doesn't that describe Burish? Isn't that all they do on the ice: act as "instigators" who distract and frustrate the other team?
Burish and Torres are perfect examples of players who fans hate to play against, but love it when they are donning the home team's colors. They are not afraid to act as the "bad guys" by making an absurd comment or taking a cheap shot at an opposing player.
And whether or not the Sharks endorse having that kind of player on their roster, they know that both Burish and Torres will be needed in order for them to take the next step.