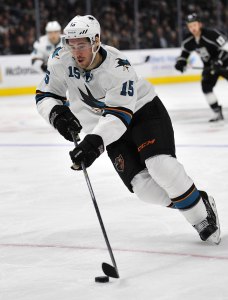 In a move that was far too predictable that I predicted it here last week, the San Jose Sharks shipped out pending unrestricted free agent James Sheppard on Sunday. The veteran forward is just 26-years-old but has struggled in a third line center role that he really wasn't suited for. TSN's Bob McKenzie broke the trade on twitter:
Pending trade call, NYR acquire James Sheppard from SJS. #TradeCentre

— Bob McKenzie (@TSNBobMcKenzie) March 2, 2015
While Sheppard is a nice complementary forward, the Sharks have decided to ice a lineup this year with multiple players not in the right spots. Not only Sheppard, but Brent Burns has been a failure on his return to the blue-line this year and over the past four years, the vast majority of San Jose's win streaks have come with Joe Pavelski at third line center. This year, the Sharks have failed to use Pavelski at third line center even once this season.
Reportedly coming back for Sheppard is a 2016 fourth round selection. The Sharks acquired Sheppard in the summer of 2011 for a third round pick. Therefore they basically get back what they gave up,  just one round lower pick. After all, the probability of success rate between a third and fourth rounder isn't much different.
Confirmed from #SJSharks source that it is a 4th round pick in 2016 for Sheppard

— Kevin Kurz (@KKurzNHL) March 2, 2015
This Sheppard trade clearly indicates that the Sharks front office is throwing in the towel on winning this season and that is smart. They simply haven't been good enough all year long and keeping all their pending free agents just for the small chance of a playoff spot wouldn't be wise. Sheppard will go to the Rangers where he can actually fit in on a team known for strong depth and not have to be asked to do too much. San Jose wanted him to be a difference maker on the third line and he simply isn't that type of player. However, as the second or third best player on a third line or best player on a fourth line, Sheppard can be a vital piece for the Rangers' cup run.
Andrew has been credentialed to cover the Sharks since 2010 and the 49ers since 2012. He graduated with his BA in Broadcast Electronic Communication Arts in 2013 from San Francisco State University.