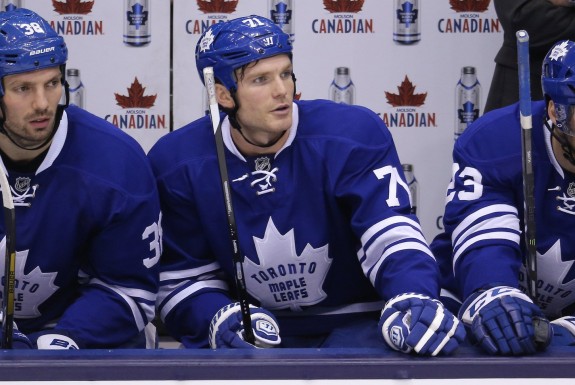 On Thursday night the rebuilding Toronto Maple Leafs pulled off a move that everyone thought would be impossible: trading forward David Clarkson and his mammoth five year contract worth an average of $5.25 million, widely considered to be the worst contract in the entire NHL.
Clarkson was improbably moved to the Columbus Blue Jackets in exchange for injured forward Nathan Horton, in a deal that actually turned out to work very well for both teams. Leafs fans were uncontrollably jubilant, originally thinking that they'd always be stuck with a player that would never live up to his contract.
Clarkson is hardly the only player in the NHL with an albatross contract, though. Let's now take a look around the league and see which contracts are the worst on their respective teams by measuring both term and cap hit (annual average value, or AAV). All salary numbers courtesy of NHLNumbers.com and all possession numbers courtesy of Stats.HockeyAnalysis.com.
Anaheim Ducks: Clayton Stoner – $3.25 million AAV until 2017/2018
Stoner isn't exactly an integral part of Anaheim's blueline. He's 7th in terms of average ice time per game, puts up average possession numbers despite favourable zone starts, and isn't an offensive threat, with only six assists in 54 games.
Arizona Coyotes: Mike Smith – $5.6 million AAV until 2018/2019
Mike Smith has fallen far this year after three strong NHL seasons and an Olympic Gold Medal as the third string goalie for Team Canada in 2014. With a porous .895 save percentage, the Coyotes are desperately hoping that Smith rebounds next year and beyond.
Boston Bruins: Dennis Seidenberg – $4 million AAV until 2017/2018
Once one of the most reliable defenseman on a Stanley Cup-winning team, Seidenberg is starting to look a little older at 33 years-old. He's a -4.9 CorsiRel, last among Bruins defensemen.
Buffalo Sabres: Josh Gorges – $3.9 million AAV until 2017/2018
Cody Hodgson was a close second for this one, but it never looks good to be the second worst CF% player in the entire NHL. Hard to look good on a team this young and bad, though.
Calgary Flames: Ladislav Smid – $3.5 million AAV until 2016/2017
Injuries certainly haven't helped, but there's no denying that Smid hasn't been a particularly good value player on Calgary's third defensive pair. Bad possession numbers in spite of easy minutes don't look good when you're making more than three million per season.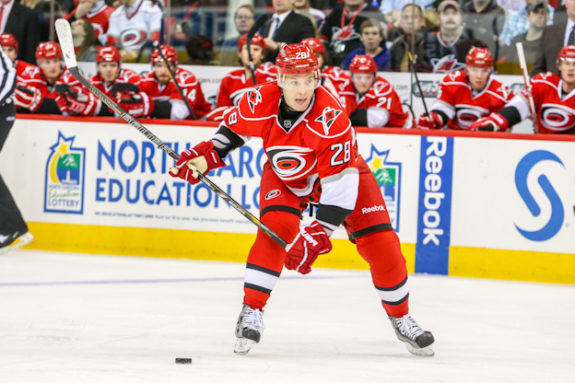 Carolina Hurricanes: Alexander Semin: $7 million AAV until 2017/2018
With only two goals in 37 games and numerous healthy scratches, this one's not even close. If Semin doesn't turn his game around as soon as possible his contract might become an albatross of Clarkson proportions.
Chicago Blackhawks: Marian Hossa – $5.2 million AAV until 2020/2021
Hossa has had an incredible NHL career, but is showing signs of slowing down in 2014, with 46 points in 63 games. His contract is still rather fair value right now, but will that still be the case in three or four years?
Colorado Avalanche: Brad Stuart – $3.6 million AAV until 2016/2017
Stuart brings a lot of experience to the table, but the Avalanche can't be too thrilled with a 35 year-old that's posting possession stats near the very bottom of the league.
Columbus Blue Jackets: David Clarkson – $5.2 million AAV until 2019/2020
The Blue Jackets have a few iffy contracts, but at this point, could it be anyone else?
Dallas Stars: Kari Lehtonen – $5.9 million AAV until 2017/2018
At 31 years old and with his save percentage plummeting from a .919 down to a .905, it's time for the Stars to start worrying about their netminding. What happens if Lehtonen's days as an elite goalie in this league are behind him?
Detroit Red Wings: Johan Franzen – $3.9 million AAV until 2019/2020
None of the Wings' contracts are particularly worthy of derision, but Franzen could end up being a cap liability if his already 35 year-old body continues to face injury problems.
Edmonton Oilers: Andrew Ference – $3.2 million AAV until 2016/2017
Ference's contract might be high, but he's earning every penny by taking hard defensive responsibilities for a struggling, tumultuous organization.  Need to spend a little extra to get veteran players to stay in Edmonton right now.
Florida Panthers: Dave Bolland – $5.5 million AAV until 2018/2019
Much like Ference in Edmonton, sometimes you need to pay a high price to attract veterans to a young, rebuilding team. Bolland shouldn't really be the team's highest-paid forward, but he is still a reliable 3rd line center with a ton of experience to offer.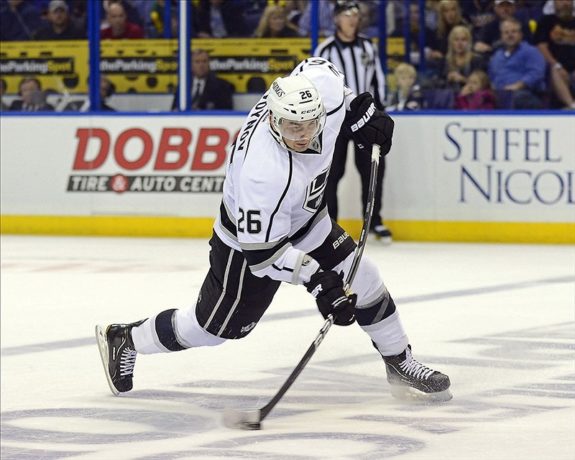 Los Angeles Kings: Slava Voynov – $4.1 million AAV until 2018/2019
There's a good chance that Voynov never steps foot on NHL ice again after his off-ice arrest, so the Kings are exploring every possible avenue to get out from under this long, expensive deal.
Minnesota Wild: Niklas Backstrom – $3.4 million AAV until 2015/2016
He only has one year left to go, but Backstrom is still the biggest cap challenge for the Wild. The Wild want to re-sign Devan Dubnyk and use Darcy Kuemper as the backup, but will any other team take the risk and trade for Backstrom?
Montreal Canadiens: Lars Eller – $3.5 million AAV until 2017/2018
His organization stands behind him, but Eller still needs to be a more impactful 3rd line player to truly justify his big price tag. 17 points and bad possession numbers don't quite cut it.
Nashville Predators: Erik Nystrom – $2.5 million AAV until 2016/2017
The Predators are pretty sensible with their money overall, but could use more out of Nystrom for the next two years. His CF% is an ugly 43.8%, but in his defense, starting 56% of your shifts in the defensive zone is no easy task for anyone.
New Jersey Devils: Ryane Clowe – $4.8 million AAV until 2017/2018
With serious concussion issues limiting his 2014/2015 season to only 13 games, Clowe's career is in serious jeopardy. Three years is enough time to stage a comeback, but will his health permit that chance to even happen?
New York Islanders: Mikhail Grabovski – $5 million AAV until 2017/2018
Nothing particularly egregious for the Islanders right now, but $5 million for your third best center is a lot. Grabovski is still trying to find where he really fits on this roster.
New York Rangers: Daniel Girardi – $5.5 million AAV until 2019/2020
Girardi is making too much money considering he only plays the 3rd most defensive zone starts on his team, but at the same time posts the worst CorsiFor percentage, at 47.2%. Five more years could be a long, long time for the Rangers.
Ottawa Senators: Milan Michalek – $4 million AAV until 2016/2017
Michalek is the second highest paid forward in Ottawa, but ranks 7th in terms of points. His 35-goal season in 2011/2012 seems like ages ago.
Philadelphia Flyers: Andrew MacDonald – $5 million AAV until 2019/2020
This contract was ridiculed the day it was signed, and for good reason. MacDonald himself is fine as a below-average second pair defenseman, but his cap hit and term are absurd.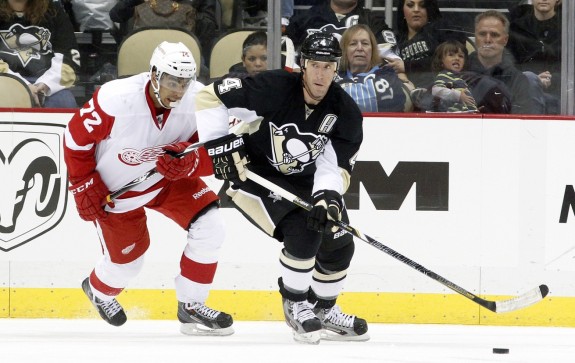 Pittsburgh Penguins: Rob Scuderi – $3.3 million AAV until 2016/2017
With below average possession numbers despite favourable zone starts and quality of competition, the Pens are paying Scuderi a lot to be a veteran mentor for the team's young defensemen. Could be a hard contract to justify over the next two seasons.
San Jose Sharks: Mike Brown – $1.2 million AAV until 2015/2016
The Sharks don't have any huge albatross contracts at the moment, but Brown doesn't really provide much to the team's 4th line. A million in cap space can be a difference-maker better spent elsewhere on the team.
St. Louis Blues: Paul Stastny – $7 million AAV until 2017/2018
The Blues really wanted free agent Stastny last summer and paid a very big price to win the sweepstakes. He's still a good player, but that cap hit could look really bad in three years as younger players on the team start earning more.
Tampa Bay Lightning: Ryan Callahan – $5.8 million AAV until 2019/2020
The Lightning don't really have any bad contracts whatsoever, but Callahan would probably be the closest. He'll need to be a reliable second line forward for five more years to provide good value for Tampa Bay.
Toronto Maple Leafs: Stephane Robidas – $3 million AAV until 2016/2017
There were a lot of bad contract options to pick from in Toronto, but risk pushes Robidas to the top of the list. It's pretty unpredictable to commit for two more years to a 37 year-old that suffered two broken legs last season.
Vancouver Canucks: Alexandre Burrows – $4.5 million AAV until 2016/2017
Burrows has lost a step over the last few years, and at 33 years old you have to wonder how high of a level he can play at over the next two seasons
Washington Capitals: Brooks Orpik – $5.5 million AAV until 2018/2019
Orpik has fit in this season exactly how the Capitals intended him to, but how long can it last? His cap hit right now works well, but Orpik's play is probably going to drop off a lot over the next four years.
Winnipeg Jets: Ondrej Pavelec – $3.9 million AAV until 2016/2017
Pavelec is already the second best goalie in Winnipeg, so the Jets look like they'll have a very expensive backup on their hands over the next two seasons.
Derek Neumeier primarily covers the Dallas Stars, but also other various topics related to the sport of hockey. A Journalism graduate of Mount Royal University, Derek also writes for Defending Big D, and has done previous work with the Edmonton Oilers as a communications intern and Hockey Canada as a freelance writer. You can follow him on Twitter at @Derek_N_NHL