by Michael Pantaleone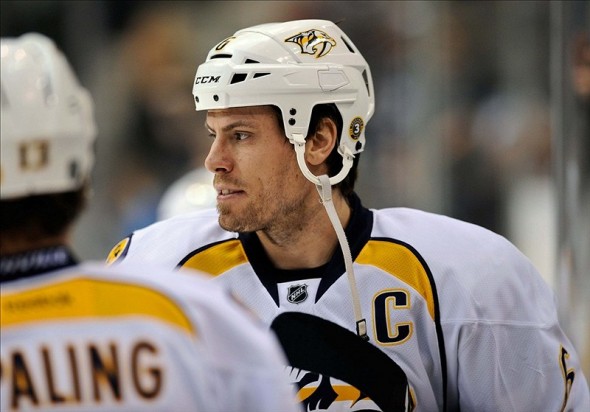 When the Philadelphia Flyers signed Shea Weber to a 14 year, $110 million offer sheet last summer, it sent shock waves throughout the NHL.
The rumors had been circulating for some time, but nobody believed the Flyers would actually send an offer sheet to the Nashville Predators captain. After trade talks between the two teams reportedly went sour, Philadelphia brass crossed their fingers and toes and sent the offer sheet, which was quickly signed by Shea Weber. Philadelphia had finally gotten their new franchise defenseman.
The expectation in Philly was that such an albatross contract could not possibly be matched by Nashville, and they would have no choice but to accept the massive amount of first round draft picks as compensation. But alas, the Predators were not just about to let their franchise defenseman walk, especially after losing Ryan Suter not long before.
In the end, the Predators matched the ludicrous offer, and General Manager Paul Holmgren & Co. ran home with their tails between their legs. Nashville had retained their top defenseman.
For the time being, at least.
Soon after Weber had signed the offer sheet with Philadelphia, his agent, Jarrett Bousquet spoke with TSN Radio. During the interview, Bousquet was asked if Shea would prefer that Nashville would NOT match the offer sheet, making him a Philadelphia Flyer for the next 14 years. His answer was quite interesting:
"I don't think you sign an offer sheet unless you're pointing in that one direction, so, to answer your question, it's really up to them (Nashville). He'd like to play with the Flyers, because we all feel that he's just another piece in the puzzle to take them to the next level and he doesn't want to go through a rebuilding process again."
While we all know by now that Shea Weber has played another full season with Nashville since that comment was made, it is still something that has stuck with me ever since I first read about it. At the very least, those comments had to make things a little more awkward between Weber's agent and Nashville after the fact.
Under the rules of the former CBA, Weber was unable to be traded or on any other team's roster for one full year from the day of the offer sheet. If I'm correct, that date is July 19th, 2012.
Even though the Flyers added Islanders captain and defenseman Mark Streit last month, Philly is still lacking that top defenseman. Kimmo Timonen has one year left on his contract. Most defensive prospects are still at least two seasons away. We can all agree that what we saw last season was atrocious.
The Flyers have made it known that certain players on the roster may be available via trade, such as Braydon Coburn and Matt Read, but so far they remain on the roster. Is that just because Holmgren hasn't found a fair offer for them? Or is he perhaps saving them to make a mega-offer to Nashville for Shea Weber? It sure makes you wonder.
Philadelphia designed the entire Shea Weber deal, which would make such a massive deal easier to swallow since they were already expecting to add it to the books anyway. Trading a player like Coburn in the potential deal would make it even easier for the Flyers to handle, as Coburn's cap hit alone would shave $4.5 million off of Weber's $7.86 million cap hit for Philly.
With the addition of Seth Jones on the blue line, Shea Weber may very well be "expendable". I put the quotations because a player of his magnitude should never be expendable, but if the deal is too good to resist…
So, is Shea Weber still a possibility for Philadelphia?
I'd say yes.
Follow me on Twitter @MikeTHW for more insight, news, rumors, and more!