It's no secret that the Edmonton Oilers defense has needed an upgrade. There are multiple holes to fill and some star power needed.
There are some excellent building blocks in place. Justin Schultz looks like he could become a star, Jeff Petry and Ladislav Smid have proven to be effective top four defensemen and Nick Schultz is a reliable defensive minded bottom pairing guy.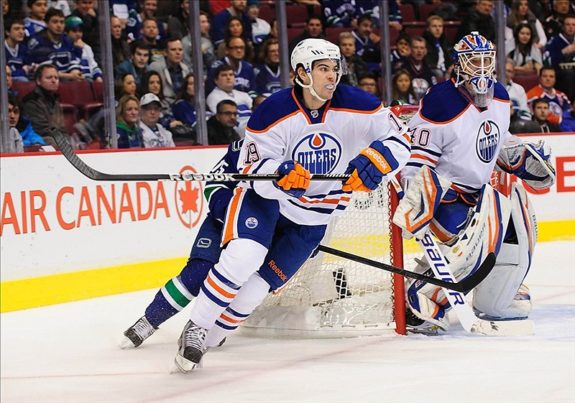 GM Craig MacTavish has been diligently working the phones and trying to upgrade the position.
His biggest addition so far is former Bruin Andrew Ference, who was signed to a 4 year, 13 million dollar contract through free agency.
He acquired a young puck moving defenseman in Philip Larsen in the Shawn Horcoff deal and in a signing that went somewhat unnoticed a couple of months ago, inked 26 year old KHL defenseman Anton Belov to a one year deal.
Belov has been considered one of the KHL's top defensemen over the past few years. He's a good skater with size and excellent offensive upside.
In terms of quantity the Oilers appear to have some significant depth on their blueline, especially if you include prospects Oscar Klefbom, Martin Marincin and Darnell Nurse who will be competing for spots in training camp.
The question still remains around the quality. The biggest need the Oilers have is on their top pairing. They lack a true No.1, someone who can log 25 minutes a night and play in all situations.
It makes you wonder what MacTavish's next move will be. By my count there are at least nine defensemen who have a legitimate shot at playing in the NHL next season. That's assuming Marincin stays in Oklahoma City and Nurse goes back to junior. If either impress, or someone else under the radar, that number goes up even more.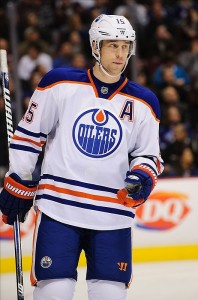 A look at the Oilers current depth chart, subject to change (new additions in red):
| | |
| --- | --- |
| LD | RD |
| Ladislav Smid | Jeff Petry |
| Andrew Ference | Justin Schultz |
| Nick Schultz | Corey Potter |
| Anton Belov | Philip Larsen |
| Oscar Klefbom | Taylor Fedun |
| Marin Marincin |   |
| Darnell Nurse |   |
One has to believe there is more moves coming. Perhaps one or more of the current number will be used in a package to acquire a more significant asset.
Realistically the Oilers don't have a top two defenseman on their roster at this point. They have, for the most part a large group of second and third pairing defensemen.
Justin Schultz could and should become a top two guy, but his game isn't well rounded enough at this point to annoit him.
Petry was arguably the team's top defenseman last season, but both he and Smid are both better suited to a second pairing role. Especially in the case of Smid, who while one of the league's better defensive defensemen, is one-dimensional.
Andrew Ference will likely play in the top four of the Oilers barring another move, and on a good team he is in the 3-5 range on the depth chart, but certainly not a top two. He will, however bring a much needed element of grit and toughness to the Oilers group.
The free agent market is thin to say the least in terms of what's available for top flight defensemen, so if there is an addition to be made it will have to come via the trade route.
MacTavish certainly has been exploring all options and has been linked to every big name defenseman rumoured to be available. Names like Keith Yandle, Dion Phaneuf, Jake Gardiner, Braydon Cobourn and Jay Bouwmeester among others have all found themselves linked to the Oilers through one rumour or another.
If the Oilers go into next season with the players they have their defense is still improved from last season. Even just the addition of Ference and another year of maturity from Schultz will do that. The issue, however is that they aren't improved enough. Their depth is much better, but their top end talent has not changed.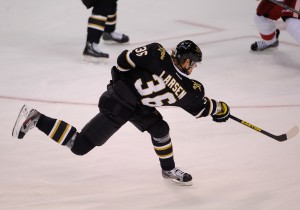 Something has to give, with the top six the way it is, that means Klefbom, Belov and Larsen are all on the outside looking in. All three are young defensemen and could no doubt use some more seasoning, however all three are also players that the Oilers have stated they believe will make an NHL impact in 2013-14 and will be given an opportunity to make the club out of training camp.
Time will tell and MacTavish will no doubt be doing everything in his power and it wouldn't be a surprise if a Petry, Smid or prospect defenseman were involved in a deal to acquire a No.1 blueliner.
Justin Schultz is not going anywhere and neither is Ference who they just gave a four year deal to and a no movement clause. Nick Schultz at 3.5 million likely won't bring anything significant enough back and that leaves Petry and Smid.
Petry is an attractive commodity for his varied skill set and his contract. He's currently making $1.75 million season and is a 2014 RFA. He's young at 25, has good size, can skate, shoot and move the puck.
Smid is making a reasonable $3.5 million and at 27 is one of the better defensive defensemen around. He would be a valuable piece to keep though as he's exactly the type of player the team would be looking for in a year or two if they are a playoff contender.
Both are valuable pieces, but you have to give to get, and if it means getting a No.1, neither would be untouchable.
Even with all of the talk of lack of talent on the blueline, the Oilers actually have more defense prospect pieces than at any other position. In addition to Klefbom, Marincin and Nurse they have prospects David Musil, Martin Gernat and Dillon Simpson that could be used. Klefbom and Nurse are likely non starters but the other four could be of interest to teams.
All speculation at this point, and the season could very well start with the roster as is. One thing is certain though, if there are nine healthy, NHL calibre defensemen in training camp with the Oilers, there will have to be decisions made either way and some will be on the outside looking in.
______________________________________________
Follow Carl on twitter @maloney3383 and Google+ for more articles.  
Carl covers the Edmonton Oilers for THW as well as providing additional prospect coverage. Follow him on twitter @carlTHW, connect on Facebook or contact at carl.maloney@hotmail.com for questions, comments or if you're interested in him writing for you.