The shootout.  Once lauded by fans of the bygone International Hockey League and embraced by the modern NHL fan, is now waning in support.  One need look no further than the New Jersey Devils.
Just two seasons ago the Devils were beneficiaries of the glorified skills competition.  In 2011-12, New Jersey sported a mark of 12-4 in shootouts.  Those 12 extra points brought their total to 102 or 10 points clear of the eighth and final playoff spot.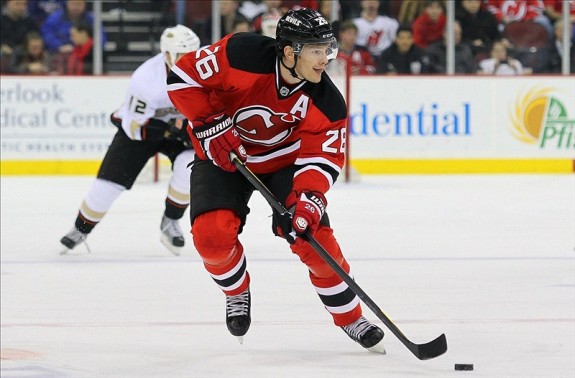 While it is no excuse for netting only a single goal against a New York Islanders lineup laden with Bridgeport Sound Tigers, their futility on shootouts this season is downright abysmal.  Presently the Devils are a league worst 0-for-10 in contests decided by a shootout.  Only the Nashville Predators, 1-for-8, come close and the Carolina Hurricanes have just one win as well but in only four such conclusions.
Devils now 1 for 30 this season on shootout attempts.

— NJDevilsPR (@NJDevilsPR) March 30, 2014
Oh but wait, it gets worse.  New Jersey is just 1-for-30 on shootout attempts this season (1-for-18 at home and 0-for-12 on the road).  More specifically, the Devils are Reid Boucher-for-30 on the shootout, as he potted one against the Montreal Canadiens, earlier this season.  Boucher by the way isn't even on the roster, back playing with the AHL Albany Devils.  Speaking of which, last season, the A-Devils dropped an AHL record worst 12 shootouts, going 3-12 overall.  If the A-Devils, who missed the playoffs by six points, had split those dozen shootout losses, they would've qualified for the postseason.  This year the A-Devils are 4-8 in such situations, having just dropped one such decision at home against the Worcester Sharks.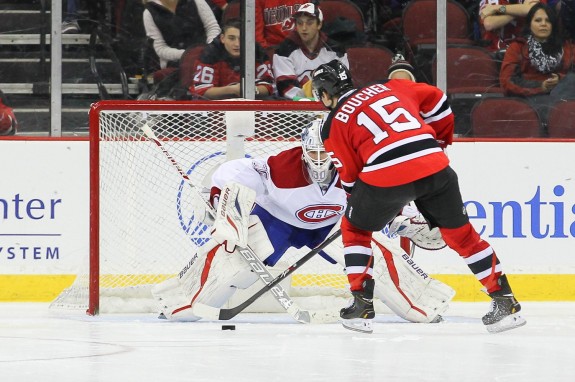 As New Jersey fans will remember, it hasn't always been this way.  Not with a world class goaltender in Martin Brodeur.  In fact, save for an infamous flub by Ilya Kovalchuk, during the 2010-11 campaign, against the Buffalo Sabres, the Devils shootout track record was a glimmering source of satisfaction.
In 102 all-time shootouts, New Jersey is tied for third, with 56 victories.  They sport an overall shootout record of 56-46.  At home, between Continental Airlines Arena and the Prudential Center, where wins are concerned, the Devils are an NHL all-time best, 32-23.  On the road, New Jersey has registered an all-time mark of 24-23.
Back to the goaltending equation of this shootout squandering.  On his career, Brodeur has 42 shootout wins and holds a .701 save percentage.  This season, Brodeur has dropped all four shootouts, registering a save percentage of .615.  Although to be fair and for sake of comparison, Brodeur has allowed five goals on 13 shots and is 0-4, similarly, Sergei Bobrovsky of the Columbus Blue Jackets, has allowed four goals on 15 attempts and sports a ledger of 4-1 in shootouts.  Cory Schneider, who fell to the Isles, is 0-6 on the year and his save percentage is just .563, yielding nine tallies on 16 attempts.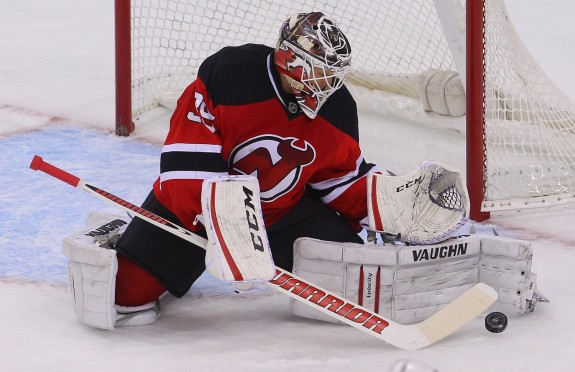 So what do the Devils need to do in order to remedy this conundrum?  Do they truly need to remedy this quandary?  Should they sign a "Viktor Kozlov" type and attempt to cure all that ails them?  The answer to all of those is, probably not.  Given that the Devils are currently five points out of the eighth playoff spot in the Eastern Conference and seeing as how splitting half of those ten shootouts, would likely have them tied, it really isn't that big of a factor in the big picture.
Just slightly over 13 percent of NHL contests are decided via the shootout.  While the San Jose Sharks lead the NHL with ten shootout victories, the Florida Panthers are also up there with eight.  Conversely, the Chicago Blackhawks, Detroit Red Wings, Philadelphia Flyers, Boston Bruins and Anaheim Ducks all have losing records in the shootout.  Meaning it is more a game of luck and chance and in some cases having a player like a virtual automatic in T.J. Oshie.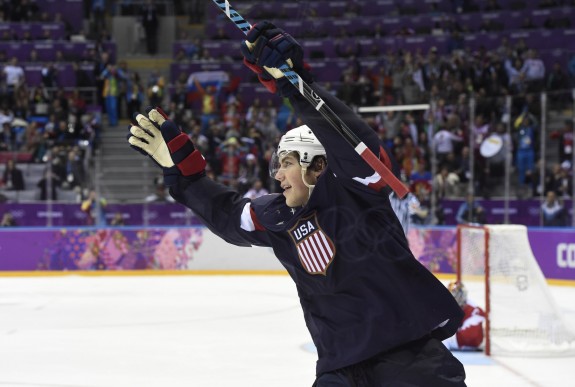 In layman's terms, it's all about getting the job done in 60 minutes and if necessary, in the extra frame.  Better to control your own destiny than to leave it up to chance.
Michael Gwizdala covers the New York Islanders for The Hockey Writers. Michael is also an Associate Producer at WNYT NewsChannel 13. Additionally, Michael was once a Media Relations intern for the AHL Albany River Rats. Michael is a graduate of The College of Saint Rose in Albany, NY.