This offseason, Arizona Coyotes general manager John Chayka has taken drastic steps toward improving the on-ice performance of his franchise; he's brought in established NHLers such as Alex Goligoski, Jamie McGinn, and Luke Schenn, and has drafted outstanding young prospects such as defenseman Jakob Chychrun and forward Clayton Keller. However, Chayka has so far been unable to re-sign multiple key pieces of last year's squad; standing out among the team's unsigned players is forward Tobias Rieder, who is fresh off of a breakout sophomore campaign.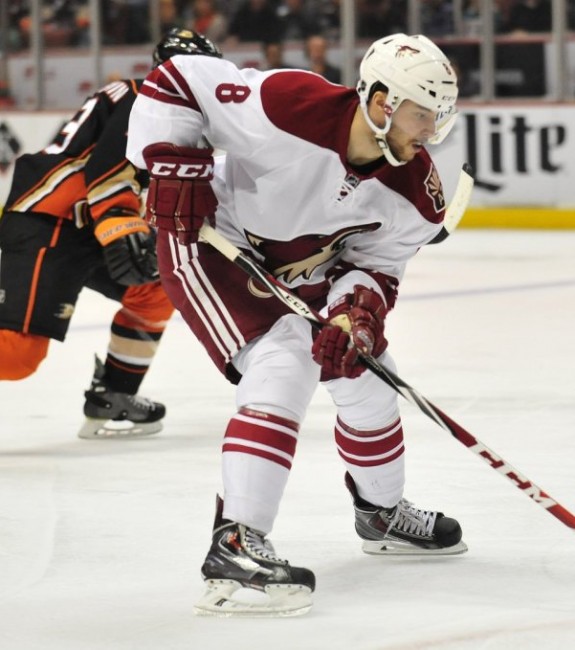 After being acquired from the Edmonton Oilers in exchange for forward Kale Kessy in 2013, Rieder has steadily improved in each of his three seasons as a pro. As a rookie, he scored 28 goals with the Portland Pirates of the AHL during the 2013-14 campaign and was one of Portland's best forwards throughout the season. In 2014, Rieder was one of the last players cut from Arizona's training camp but earned an early-season call-up to the show in November, where he registered 13 goals and eight assists in 72 games and also made a major impact on both the power play and penalty kill throughout the season. The youngster was even better in 2015-16; he increased his point total from 21 to 37 and was a key contributor on a much-improved Coyotes squad.
The Underlying Numbers
In addition to traditional statistics such as goals, assists, points, and the like, the advanced metrics support Rieder as well; the young German finished the season with a Corsi For percentage (CF%) of 49.5%, which placed him third on the Coyotes among players who participated in more than just a handful of games with the team. Rieder's own CF% is higher than Arizona's team CF% of 46.8%, meaning that the Coyotes possessed the puck more when Rieder was on the ice as opposed to when he was on the bench. In addition to his strong possession-driving abilities, Rieder was also an immense source of offense in Arizona; he fired 189 shots on goal last season, the most of any Coyotes forward, and second most on the team:
Top four shot generators for the Arizona Coyotes last year:
1. Oliver Ekman-Larsson
2. Tobias Rieder
3. Shane Doan
4. Michael Stone

— Catherine Silverman (@CataCarryOn) July 12, 2016
As good as Rieder has been, there have been some areas of his game which have been weaknesses. Rieder did score 14 goals in 2015-16, but his shooting percentage was a minuscule 7.4%. The NHL average shooting percentage last season was 10.58% for forwards, so it appears as if Rieder was on the receiving end of some bad puck luck.
In addition, Rieder led all Coyotes forwards in missed shots with 79; he missed wide of the net 65 times, went over the net nine times, and hit the post or crossbar five times. If Rieder can work on getting pucks on net more often while also having a few more bounces go his way, he could be a lethal goalscorer for many years to come.
However, despite his positive impact on the ice in Arizona, Rieder remains unsigned, and it doesn't appear as if the two sides are close to a deal:
After breakout year, Tobias Rieder reportedly not close on new contract with @ArizonaCoyotes https://t.co/iorgSZJsYq pic.twitter.com/LZu8CAvyqr

— NBC Sports (@NBCSports) July 19, 2016
Although there's still plenty of time to get players under contract before the season starts, it's still a bit concerning that the Coyotes and Rieder are so far apart in their negotiations. Rieder so far has been a solid two-way forward during his brief time in the NHL, and appears to have a bright future in the league, so it would behoove Chayka to get him under contract for the foreseeable future.
Past History in Play?
Although this is Chayka's first offseason as a general manager, the Coyotes as an organization have a history of balking at the idea of signing young players to long-term contracts. One such player that comes to mind is forward Mikkel Boedker. Following a solid 2012-13 campaign in which he put up 26 points in the lockout-shortened 48 game season, Boedker was looking to sign a long-term, team-friendly contract with the Coyotes. However, former general manager Don Maloney opted instead to sign Boedker, who was just 23 years old at the time, to a two-year bridge contract. Upon the expiration of that contract following the 2014-15 season, Boedker, then a restricted free agent, opted for a one-year deal and made it clear that he would be testing free agency following the 2015-16 campaign.
It's believed Arizona has backed off a previously tabled offer to extend Boedker, which further supports the likelihood he will be traded.

— Darren Dreger (@DarrenDreger) February 23, 2016
As a result, Maloney, who was unwilling to lose Boedker for nothing, was forced to trade the former first-round pick to the Colorado Avalanche at the trade deadline in exchange for Conner Bleackley, Kyle Wood, and Alex Tanguay. Tanguay is currently an unrestricted free agent, and Bleackley was selected by the St. Louis Blues after re-entering the draft, so Wood is essentially the only asset the Coyotes got back in exchange for the highly skilled Boedker.
While it's true that the Coyotes are a team with an internal budget, they simply cannot afford to lose a young talent such as Rieder. Losing Boedker for essentially nothing was a tough pill for Coyotes management to swallow, so it seems unlikely that they'd risk similarly damaging their relationship with Rieder, who, at just 23 years of age, has shown a blend of speed, skill, defensive responsibility, and maturity rarely seen in players of his age group.
What's He Worth?
Rieder made just $925 thousand last season on the final year of his entry-level contract and understandably is looking for a significant raise on that amount. He'll definitely be getting a raise; it's just a question of how much of an increase it'll be. The Coyotes recently signed forward Jamie McGinn to a three-year, $10 million contract, and Rieder's agent has stated that McGinn is a fair comparable to his client. He's not too far off; McGinn registered 39 points in 2015-16, while Rieder put up 37.
Taking a look at Arizona's finances shows that there's no shortage of cap space available; however, the team must spend it wisely, as they have a multitude of talented young players, such as Max Domi and Anthony Duclair, among others, to re-sign within the next few seasons. Based on Rieder's past performances, as well as his future potential, it appears as if a three to four-year contract worth between $3 million and $3.5 million would be a fair, team-friendly deal that would work for both sides.
However, it's all up to Chayka at the moment; he could opt for a shorter, lower-risk contract, or could invest in his young star and reward him with a long-term deal. This is Chayka's first big test as GM, and Coyotes fans everywhere are hoping he passes with flying colors.