Three months ago, Marc-Andre Fleury was at the top of his game in Pittsburgh, and was one of the main reasons the Penguins were even in playoff contention. Throughout 58 regular games, Fleury had the lowest GAA of his career, and had tied his lowest save percentage. Skip ahead and for the first time since being drafted first overall in 2003, Marc-Andre Fleury's future in Pittsburgh is uncertain.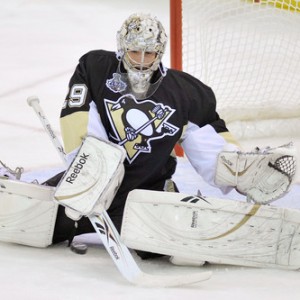 For the better part of the year, Matt Murray was just an after-thought for Fleury, a bit of friendly competition at best. But one concussion later, and through no fault of his own, Fleury may now be on the move, after Murray's stellar play in the playoffs.
With Pittsburgh struggling to keep their head above water in the salary cap pool, and Fleury's $5.75 million hit only weighing them down further, it seems inevitable that Fleury gets shipped off before the start of the 2016-17 season.
Several teams around the league would love to add a goalie like Fleury, most notably the Calgary Flames. Recent reports have indicated that Calgary has been showing interest in Fleury, and with the disaster that was this year's goaltending situation in Calgary, a veteran starter may be what the Flames need to crawl back into the playoff picture. But is Fleury the right goalie to take on the role? Here are the pros and cons of the Flames going after Fleury.
Pro: He's Already Established Himself
http://gty.im/88460320
To be crystal clear, this isn't meant in a "Jonas Hiller established" way. Fleury is now a two-time Stanley Cup champion, a two-time NHL All Star, and was dressed for Canada when they captured Gold in the 2010 Winter Olympics. Now with over 650 NHL games under his belt, it's a given that he would have an immediate impact on the young Flames team. Calgary's defence isn't half bad with Giordano, Wideman, Hamilton, and Brodie, and a veteran like Fleury could help to alleviate some of the pressure off the Flames' blueline.
Con: He Only Has Three Years Left on His Contract
Even though there's no doubt Fleury is an elite starter in the NHL, he would really only be a temporary solution to the Flames' problems between the pipes. Considering how young the Flames are, it's unlikely that they'll be making a serious Cup run in the next three seasons, and having Fleury in net would be eating up major cap space from other players. By the time Calgary is ready to make a playoff push Fleury's contact will be up, and if re-signed he'll be in his mid-thirties and on the decline of his career.
Pro: He Only Has Three Years Left in His Contract
No, that wasn't a typo. Although Fleury's short contract has it's downside, there is some reasoning behind keeping Fleury in Calgary for a shortened stint. Fleury could act as a mentor to whoever Calgary decides to bring up between Mason McDonald and Jon Gillies (please let it be Gillies), and could help to ease them into the league. Then by the time his contract runs out, his play will be slowing down anyways and Gillies will be able to take over the starting role.
Con: His Cap Hit
For most teams, Fleury's cap hit is actually very reasonable. At only $5.75 million per year, Fleury is an excellent goaltender for what he's paid. That being said, if Calgary is preparing to shell out millions to re-sign Monahan, Gaudreau, and even Colborne, $5.75 million may be too much. If adding Fleury means Brad Treliving will toss away key assets just to clear cap room, it's not worth it.
Pro: He's An Immediate Fix to Calgary's Goaltending Problem
http://gty.im/533586910
To be blunt, Calgary's goaltending problems were nothing short of disastrous this season, and there's no question they need a quick solution. Whether it's a long-term franchise goalie, or someone between the pipes who can help the Flames get back on their feet sooner rather than later, anything beats whatever we saw in Calgary's crease this year. There's definitely arguments to be made for both sides in terms of whether or not Fleury is a good fit in Calgary, but whether it's Fleury or someone else, the bottom line is Calgary needs to find a solution quickly.