Although it's only the middle of November, when you're firmly planted in the basement (yet again) and one of the few teams labeled as an early season seller, trade speculation begins to swirl. Much to the surprise of no one, that's where the Buffalo Sabres find themselves. While a few different names have been tossed around the trade mill, Tyler Myers is the biggest one garnering attention. Given the lanky defenseman's tumultuous time in Buffalo, should the Sabres trade Myers?
Coming of Age
The simple answer to this question is no. To say Myers has gone through growing pains since his Calder Memorial winning rookie season is a gross understatement. With the Lindy Ruff and Ron Rolston regimes behind him, the Houston-born defenseman is regaining his early career form under the tutelage of Ted Nolan. He's been if not the best, one of the team's best defenseman, averaging a career high 24:48 TOI, which leads the team by more than three minutes. His play and growth has been recognized by Nolan who's rewarded Myers by slapping an "A" on his sweater. Until this point, there's been no signs of leadership shown from his game.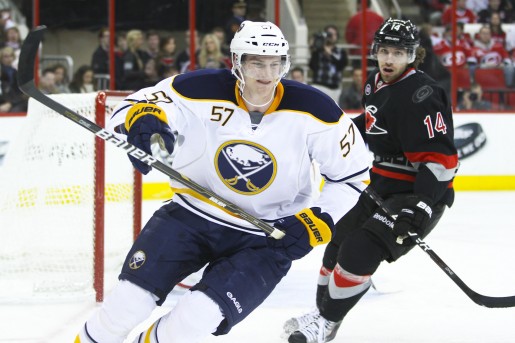 What shouldn't be forgotten when analyzing Myers' game is the fact that he's still just 24 years old, although this is already his sixth season in the league. The 6'8″ Kelowna Rockets product still is far from reaching his ceiling and has finally gotten his career back on track. Given his age and potential, he fits in well with the rebuild and long-term plans of the franchise. In a couple years, imagine a fully developed blue line including Myers, Nikita Zadorov, Rasmus Ristolainen, Mark Pysyk and Jake McCabe.
A King's Ransom
Now, with that being said, there are/will be a lot of desperate teams looking for help from a very small pool of available defenseman. As we all know, with desperation comes poor decision making. If, and only if, the Sabres are able to get a king's ransom for Myers, should they pull the trigger. Sabres GM Tim Murray has already proved his shrewdness with his propensity to reel in top value for his assets. We can all be assured of one thing, Murray won't get fleeced in any potential deal involving Myers or any other player.
Besides commanding a maximum return, another caveat for a Myers trade is that the return on the incoming assets must been seen sooner rather than later. This may seem like a backwards way of thinking given the current state of the franchise, but lets take a deeper look. Myers is on the cusp of hitting his prime, so trading him for future draft pricks from 2016 or beyond and any players that are 2-3 years away from being NHL ready would be taking a big step back.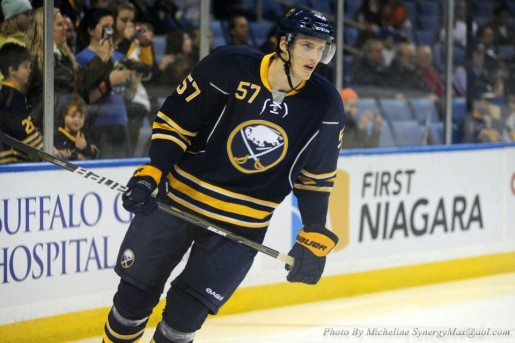 Any potential deal must include at least one 2015 first-round pick to increase the Sabres chances of landing Connor McDavid and/or Jack Eichel (even if these aren't top picks they could possibly be packaged to move up the board) as well as an organization's top prospect who's just a little seasoning away from making the leap to the Show.
All signs point to Murray attaching a very high price to Myers so any potential acts of desperation won't likely come to fruition until the trade deadline. For the time being, Myers must ignore the speculation and keep his nose out of the tabloids. Trade or no trade, the best way he can help himself and his team is by continuing to focus on his game and improving.