The signing of Kris Versteeg was one of Brad Treliving's better moves as the GM of the Calgary Flames. Versteeg was much more valuable to the team than most Flames fans first thought he would be.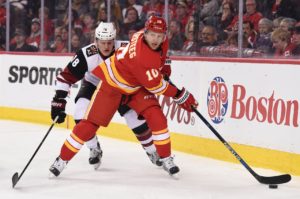 How He Got Here
The story of how Versteeg came to the Flames is an odd one. Three weeks before the season started Versteeg wasn't even in America, he was in Switzerland. He left Switzerland to join the Edmonton Oilers on a PTO, and then one day before opening day he signed a one-year deal worth $950,00 with the Flames who were in Edmonton to play the Oilers the next night.
2016-17 Season Success
Versteeg fit in really nicely, scoring 15 goals and picking up 22 assists in 69 games. But people really started talking about Versteeg coming back after his performance in the Flames' first-round playoff series with the Ducks. He was arguably the most consistent player on the team during the playoffs along with linemate Sam Bennett, who also had terrific playoffs. Versteeg had 1 goal, 3 assists in the 4 playoff games played. He didn't just get points on the board, he was the most consistent in almost every aspect of the game. Versteeg found a home on the powerplay, which was Calgary's brightest spot in the playoffs and throughout a lengthy time during regular season.
Versteeg had one goal, three assists in four playoff games. He didn't just get points on the board, he was the most consistent in almost every aspect of the game. Versteeg found a home on the power play, which was Calgary's brightest spot in the playoffs and throughout a lengthy time during regular season.
Why Bring Him Back?
While the Flames core is very young, every team needs a few vets that can be leaders on and off the ice but still produce, Versteeg is all of that. He can help mentor the young forwards the Flames have coming up like Sam Bennett, Curtis Lazar and possibly Mark Jankowski.  Even if he comes back next year but doesn't have the same point production, he is still a leader, which is one of the most valuable characteristics in a player.
He scored 12 more points than Troy Brouwer, who is currently making $4.5 million until 2021. Versteeg will not be looking for much money and not a lengthy term because he is getting older. So that makes this a great situation for the Flames to spend some money on a very productive player for a reasonable price. It is a perfect situation of low-risk-high-reward. With the Brouwer signing not working as well as planned, that should encourage the Flames to bring back Versteeg.
Versteeg is a Stanley Cup Champion with the Chicago Blackhawks and has played on multiple playoff teams. Which is very useful considering the Flames are a playoff team but without much playoff experience. He could really help take the Flames from being just a playoff team to a contender.
Calgary Is His Home
"Being at home has been amazing," Versteeg said on garbage-bag Friday. "The other places I've been through my career have all been great experiences. But you only have one home, right? So from a personal standpoint, I could not have asked for more."
"Oh, I'd love to be back," he acknowledged. "You don't want to sell yourself short but, as I said before, you also want to be happy."
"You always look at points and the other guys around the league, what they do relative to you. As you get older, though, your situation, your state of mind, becomes more and more important. So there's a fine line between being happy and selling yourself short. I guess you've got to try and find the middle of that line.
That's what I'm hoping to do. Our biggest goal is to try and remain a Calgary Flame."
This was all said on locker room clean out day/garbage-bag day, two days after the Flames had been eliminated from the playoffs.
Bringing back Versteeg will help provide some forward depth, specifically to the bottom six, which was juggled constantly throughout the season. You are almost guaranteed the same results, as he has played at a high level throughout his career. He keeps the mood in the locker room light but also knows when to get serious. He offers so much to a team and likely a very reasonable price.
Versteeg was 4/5 in the shootout this season, winning it for the Flames three times.
https://www.youtube.com/watch?v=IVc-mI6U49E
Reasons Not to Bring Him Back
The main argument for not bringing him back is that they could save money by not re-signing him, then bringing in someone from free agency. Well, we saw how that turned out with Brouwer. It is unlikely that there will be someone with as much skill at as reasonable a price as Versteeg in the free agent market.
Clearly, the pros outnumber the cons, it would be a mistake not bringing him back to Calgary. If I'm Treliving (if he remains GM of the Flames) I would not pass up the opportunity to bring him back.
If you were GM of the Flames, would you bring him back?