I've heard and seen a lot of argumentation about whether the Stanley Cup Playoffs or the NBA Playoffs are better as a whole. For hockey fans, it's pretty obvious what the answer is.
Now, I don't want to put down the playoffs in the NBA and all other sports by any means. The playoffs in all sports are the most exciting part of the season for the players and fans. But I'm here to tell you that the NHL postseason is the best postseason in all of professional sports. I could probably list an infinite amount of reasons but I'll give you six good ones.
1) Players Fighting Through Injuries
Of course this happens in all sports. No player wants to miss the big game for any reason. Players do all they can to give themselves a chance to play when it matters most. But have you seen the kinds of injuries that hockey players play through during a playoff run? It's unbelievable. In 2013, Bruins center Patrice Bergeron played in the Stanley Cup Final with a broken rib, torn cartilage and muscle tissue, and a separated shoulder.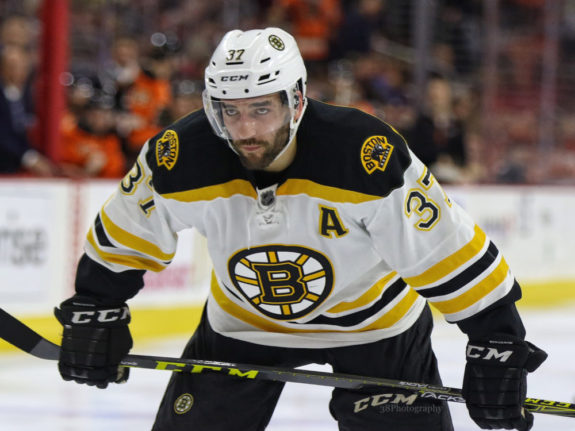 These playoffs have seen some heroic performances from players battling injuries. Sharks forward Joe Thornton somehow played in Round 1 with a torn ACL and MCL. I still need clarification on how that is humanly possible. Fellow teammate Logan Couture had trouble breathing after taking a puck to the mouth late in the season. He played all six games in the first round.
Blue Jackets defenseman Zach Werenski took a puck to the face during the first round and bled all the way off the ice. After receiving a number of stitches, he returned to the game and played as if nothing happened. Unfortunately he was unable to finish because his eye swelled up to the point that it impaired his vision. Folks, he literally played until he couldn't see.
Hockey players carry with them a warrior mentality, and it is put on display especially during playoffs. In the Stanley Cup Playoffs, they will give anything to compete. They put their bodies on the line in effort to win it all which could sometimes mean blocking shots with their face. Ouch.
2) Playoff Beards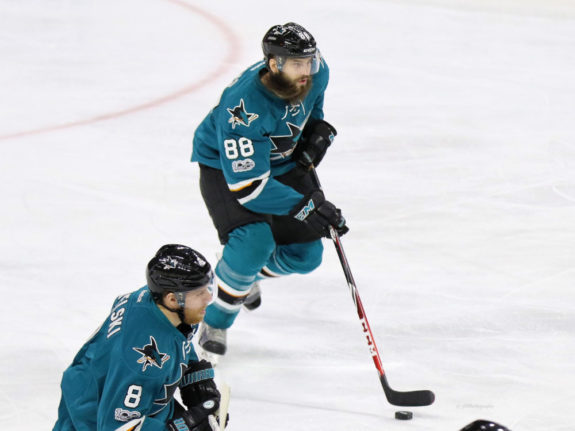 It's a fun and unique tradition. When playoffs come around, put away the razors. Players grow out the beard in hopes they'll look like a caveman by the time the playoffs are over. The veteran guys are able to grow some doozies (see Brent Burns, Joe Thronton, Patrick Eaves and Ryan Ellis). Meanwhile, the youngsters reveal some whiskers at most.
It's pretty funny how facial hair adds an element of excitement for the playoffs. It seems that more and more sports are adopting this great tradition, and why wouldn't they? It's a fun part of the playoffs and now a fixture in the second season.
3) Playoffs Last Two Months
Playoff hockey takes place from mid-April to mid-June. Two full months of postseason play. Think about the MLB postseason for a second. They play 162 regular season games to play a maximum of 20 in the postseason. The Stanley Cup Playoffs consist of four rounds of best-of-seven series after a regular season of 82 games.
For fans and hockey viewers everywhere, they love that playoff hockey lasts as long as it does. In the first couple of rounds, hockey is on TV every night. One game leads right into another. It's somewhat similar to the NCAA Basketball Tournament in that regard.
Maybe for the players, the length of the playoffs is grueling but that's why they play. For spectators, it doesn't get much better than watching playoff hockey on almost a nightly basis for a span of two months.
4) Excitement Level Is Unmatched
Every playoff hockey game is 60 minutes worth of high intensity, high speed, and lots of physicality, and it's all done on a sheet of ice. You don't even have to be an avid hockey fan to get chills watching a player celebrate and getting mobbed by his teammates after scoring a goal. The noise level of the crowd alone is enough to give you goosebumps.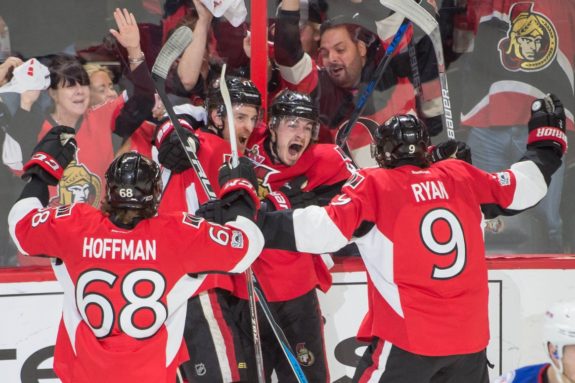 Oh, and quite often it seems that 60 minutes just isn't enough. When it isn't, it's sudden death overtime for as long as it takes for one team to score a goal. If that means more than one overtime, so be it. There were a record amount of overtimes (18) played in the first round of these playoffs. Almost half of the first-round games needed extra time to decide a winner. How intense is that? Of course, there are extra innings in baseball and overtime in football and basketball. But in the Stanley Cup Playoffs, overtime occurs much more frequently than in the NBA, NFL and MLB postseasons.
5) Unpredictability
This year, most people were picking Chicago and Washington to meet in the Stanley Cup Final. Chicago was swept in the first round by Nashville, the second wild-card team. Washington struggled against the young Toronto Maple Leafs in the opening round and are currently down 2-0 to Pittsburgh in Round 2 after dropping the first two games at home.
Nobody saw any of these things coming. This is another thing that makes the Stanley Cup Playoffs so thrilling: parity. There are upsets that occur all the way through the playoffs. The Western Conference Final looks like it could be Edmonton vs. Nashville/St. Louis. Who picked that? I sure didn't.
6) Best Trophy in All of Sports
The Stanley Cup is the coolest championship trophy there is. At 34.5 pounds, it is the heaviest award in pro sports. Every winning team and its players' names are etched into it. Also, you can drink out of it. You can't beat that.
It can be argued that it is the toughest trophy to win. You have to battle, sometimes literally fight, members of four different opponents, winning 16 of a possible 28 games for the right to hoist Lord Stanley's Cup. Once a team earns that right, every player has his chance to deadlift the 34.5-pound trophy and skate around with it over his head, incrementally lowering it to his lips to kiss it a few times before handing it off to a teammate.
The Stanley Cup holds traditions of its own. It's truly unlike any other. Lord Stanley's gift is the ultimate reason why the NHL playoffs are the best postseason in all of pro sports.