"Why do you guys want to talk to me? I'm nothing special," joked Patrik Laine of the Winnipeg Jets after a late-March game in New Jersey. Quite modest for a kid who just turned 19-years-old after completing his first full NHL season with the Winnipeg Jets. The Jets, who jumped from 6th to 2nd in the 2016 NHL Draft Lottery, got a special player in Laine. His rookie season may not win him the Calder Trophy (Auston Matthews is pretty special too), but his 36 goals/64 points over 73 games as an 18-year-old was pretty damn impressive.
His goal-scoring prowess wowed NHL fans all season and reminded longer-tenured fans of another great player to call Finland home: Teemu Selanne. Laine racked up three hat tricks and his 36 goals made him the all-time franchise record (Jets/Atlanta Thrashers) for goals as a rookie.
Cold as Ice
In the game in New Jersey, the Jets ended up winning in a shootout and it was Mr. Nothing Special who had the only goal in the tiebreaker. He spoke of it so nonchalantly and came across as someone who is very confident in his own abilities and doesn't worry too much about things that he can't control. Laine even admitted he doesn't watch much video in hopes of getting some insight into opposing goaltender's tendencies. "Not really. I just do my move and it goes in or it doesn't, so that's it," he said with a shrug.
"Ummm, yeah. I was kind of thinking about it on the way to the goal but, then I decided when I saw him coming out so much. So I thought I should just make that move and it went in, so it was good," he went on to explain. "I saw the goalie come out from the net, and I wanted to try that move again. I'm happy it went in."
A reporter asked him if he would turn his focus to the Calder Trophy with his team unable to qualify for the NHL playoffs. "No, it doesn't matter," Laine quickly replied "Where we are as a team (matters), I just want to focus on the team. It doesn't matter if we're leading the whole league or not making the playoffs, I'm still focusing on how my team is doing and how we can improve our game. I just want to play well over these five last games and hopefully, I can still learn something new."
https://twitter.com/WorldofSports77/status/789230088583643136
This Jet Will Soar
It was an unsuccessful season overall for Winnipeg but with the Finnish Flash 2.0 around for many, many years to come it seems that there may not be a lot more of these season for Jets fans as he is eager to get better. Imagine where his career could progress in three, four, five years from now? Five years from today he will have just turned 24-years-old….
"It's been a nice experience for sure, first year; everything is kind of new and like I said before, I'm still learning every day how to be better," Laine said. "It's been a good season for me as an 18-year-old, but next year I hope that I can help my team to win…more. There have been some difficult times for me, of course just like everyone else has experienced the same. It's been a good experience to be here every day, being with all of these guys and just being an NHL player every day."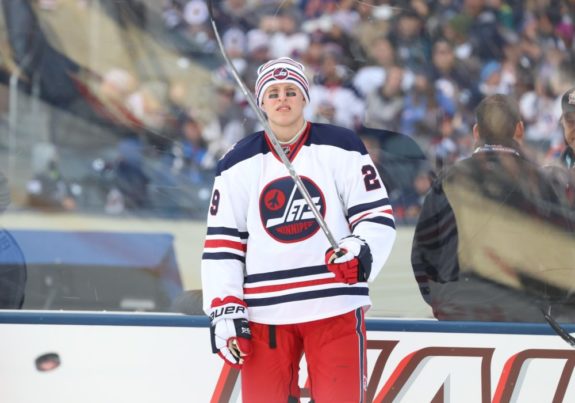 One of the biggest adjustments for any player that joins the NHL is the rigors of the 82-game schedule — back-to-back games in different cities, fourteen games in twenty-eight days, etc. Laine admitted this was one of the things he is glad to have gone through for a full season now and will know what to expect going forward as he gets stronger/older. "Maybe how quickly you have to be able to forget those losses because the next game is always coming so quickly," he replied when asked what caught him off guard about being a pro. "So you have to be able to recover from the battle and focus on the next game. I think that's been a surprise for me."
The Sky's the Limit
In the Jets' win over the Devils, they had to rally from being down 1-3 to send the game into overtime and the subsequent shootout that Laine was the hero of. Again, Winnipeg was already eliminated from making the playoffs before this game and it was a make-up game from an earlier postponement that forced them to make the long trip to New Jersey in between two home games. They could have easily laid down.
Friendship goals. pic.twitter.com/l51rJiW3d6

— Winnipeg Jets (@NHLJets) March 29, 2017
"I think it says a lot about our team," a proud Laine would say. "We've been in a similar situation so many times this season and we've been able to still come and battle for those points, so I think we have a strong team. But we couldn't make it to the playoffs this year, there's always going to be another year so hopefully next year."
"We have a lot of experience on this team, but we're also a pretty young team. I think it's kind of we're still building this team and getting all of the pieces together. I think this year wasn't our year, I think we're going to be one of the top teams in the league in a few years."
Dan Rice is in his 9th year of reporting for THW & has covered NJ Devils home games for 15+ years at various websites. He began his journey working for legendary broadcaster/writer Stan Fischler from 2002-04 & completed an internship at the ECHL; he also has been writing features for the NWHL (nwhl.zone) website since 2016.