On Friday, May 22, the Minnesota Wild re-signed Finnish prospect Michael Keranen to a one-year, two-way contract. His signing is a great first step in an important offseason for the Wild's system.
#mnwild has agreed to terms with @michaelkeranen on a one-year contract: http://t.co/djC7kpaVCe pic.twitter.com/8yTa7LXkGK

— Minnesota Wild (@mnwild) May 22, 2015
With their young core hitting an age where they're going to start costing more serious money and the Iowa Wild coming off another last place season full of problems at every position, the Wild's roster is at an interesting crossroads. The signing of Keranen is a nice first step toward having an Iowa team that can pull itself out of the AHL's cellar.
The 25-year-old winger came to the Wild as an undrafted free agent signing out of Tampere in SM-Liiga, where he lead the league in scoring (17-35=52) in the 2013-14 season. He also won the Lasse Oksanen Award that season, given to the league's best player during the regular season.
In the 2014-15 season he put up 37 points (10-27–37) for Iowa through 70 games, leading the team in assists and ranking second in points. Keranen was recalled to the NHL once during the season, but never found his way into the lineup to make his NHL debut.
Michael Keranen's Chance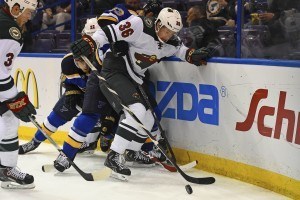 Keranen was undrafted and not thought to have much of a chance of succeeding in the NHL, with one major knock being his size. He entered North American hockey last season listed at 6-foot-1 and 176 pounds at 24-years old. The Wild's site now lists him as being up to 191 pounds (even though the contract announcement still lists him as 176).
Nonetheless, the Wild have been an organization divided on player size, with Mike Yeo often favoring players' size and showing skepticism toward smaller players, while management is willing to give smaller players a shot. The team has taken risks in acquiring players like Jared Spurgeon, Justin Fontaine (who wasn't drafted), Mikael Granlund (whose skill was clear), and Jordan Schroeder. All were thought to have size as a detriment to their game, but have been major contributors to the Wild's success. The Wild were also one of the teams who had brought Tyler Johnson to camp before he signed with Tampa Bay.
But with many "under-sized" players succeeding in a high-profile fashion the last couple of seasons, including the much-talked about offensive explosion of Johnson this postseason, maybe the Wild will want to give a player with Keranen's pedigree and track-record of success at every level a chance at cracking the lineup.
It seems like there must be more interest in bringing Keranen up to the NHL level in the 2015-16 season simply because he signed again. Keranen was a MVP in SM-Liiga and had just signed a one-year deal to come to North America last year. It was almost expected that if he didn't get a taste of the NHL he'd return to Tampere. We saw that exact situation play out in Iowa last season when the Wild convinced Cody Almond to return to the organization from Genève-Servette in the NLA. But once it was clear he wasn't going to be a part of the NHL roster, he opted to return to Switzerland.
Happy to be part of @mnwild organization at least one more year!

— Michael Keränen (@michaelkeranen) May 22, 2015
If Keranen is returning to North American hockey, there must be a feeling that he's got a shot at getting some ice time with the Wild in the coming year. Maybe neither side is willing to commit until there's NHL experience to show something, but the one-year term feels like more of a hedge on Keranen's side, so he's not trapped playing in the AHL for a team whose roster he can't crack if there's a shot at playing for another NHL club or returning to Finland.
A Nice First Step
Like the Paul Blart movies, the Iowa Wild were objectively terrible. There weren't many bright spots, but the signing of Keranen felt like found money for that roster. It was a roll of the dice and it panned out. That team would have been in much worse shape without him, even if it's hard to imagine how the season could have been more difficult for those palyers.
It's a big offseason for that roster, with lots of veterans on expiring contracts and the team bringing in lots of new players on entry level contracts, like Grayson Downing (undrafted free agent), Pavel Jenys, Dylan Labbe, Cristoph Bertschy, Gustav Olofsson, Zach Palmquist (undrafted free agent), and Brody Hoffman (undrafted free agent), all of whom are preparing to play their first full professional season. (Though Jenys could return to the OHL.)
Bringing back one of the team's top scorers, something that was not a guarantee, is a big first step for a team that has tough negotiations ahead. They need to re-sign Devan Dubnyk and then Granlund, Erik Haula, and Christian Folin are all restricted free agents, as well as, at the minor league level, RFAs Jared Knight, Brett Bulmer, Jonathon Blum, Curt Gogol, and Colton Jobke. (Though it's not immediately clear which of those minor league prospects they will bring back this year. The team may opt to let a couple of them walk.)
So, while it might look like a small thing, the signing of Keranen is a key to any potential success the Iowa Wild will have this season and it's a great opportunity for the NHL squad to see what they have in Keranen before he decides to return to Finland.
With his track record of success, it's worth giving him some NHL games just to see if his skills translate as well as they have at every other level. The Wild may have found money in him at the NHL level and at a minimum, they're providing a playmaker to help their top prospects — particularly guys playing with him regularly like Tyler Graovac — develop at the AHL level.