Jaccob Slavin is a rookie that plays defense for the Carolina Hurricanes. He plays the position exceptionally well, and not just for someone his age. Even when compared with veterans that have much longer experience, he stands out as having had a solid season.
Background
Slavin was born on May 1, 1994. A native of Erie, Colorado, he played for Colorado College in the National Collegiate Hockey Conference.
A peak at Colorado College's website reveals these impressive results from the 2013-14 season:
"Winner of the annual M.B. Hopper Award as Colorado College's leading scorer, with 25 points, Slavin emerged as NCHC Rookie of the Year, in addition to earning second-team all-conference honors and a spot on the league's All-Rookie Team.  Slavin was named NCHC Defenseman of the Week on two occasions and Rookie of the Week on another during the course of the regular season."
After his sophomore season, Slavin left Colorado College and signed a two-way deal with the Hurricanes. The Colorado Springs Gazette reported 'Canes GM Ron Francis as saying:
"Improving our prospect depth at defense is a priority for our organization, and we felt that it was important for Jaccob to begin his professional career. He really improved his game during the second half of last season and we look forward to monitoring his development."
The Colorado native was leaving the Rocky Mountains to travel eastward and improve his game in hopes of someday playing in the NHL.
That was Fast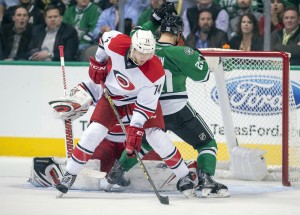 Little did Slavin know that the monitoring of his game would come on NHL ice. Starting the season with Hurricanes AHL affiliate Charlotte Checkers, Slavin was called up on November 18th and then again on December 4th.
The 'Canes had played their worst game of the season on December 3rd against the New Jersey Devils, and it was clear that some things needed jostling on a team that had showed zero effort in that game. Also called up on December 4th were forwards Brock McGinn and Phil Di Giuseppe, who would be making his NHL debut against the Canadiens.
Along with Brett Pesce and a host of other "young guns" on the team – including the sensational rookie Noah Hanifin – Slavin helped the 'Canes make a legitimate run at the playoffs all the way into April. He ended up with 63 games with the Hurricanes, the beginning of what looks to be a very promising career as an NHL defenseman.
Slavin Takeaways
Taking the puck from the opposing team is an important part of a hockey game. Slavin managed 54 takeaways this season, putting him first among rookie defensemen in this category, and third among all NHL defensemen.
The #Canes led the league in takeaways this season.

This is the #Redvolution: https://t.co/FFgYcdTo7x pic.twitter.com/OPR4KgIndY

— Carolina Hurricanes (@Canes) April 17, 2016
It's not a flashy stat like having 50 goals. But, it plays right into the philosophy of 'Canes head coach Bill Peters, who preaches puck possession and pace. Slavin has learned Peters' system, and flourished in it as a rookie. He and the other "young guns" could make this team a legit playoff contender, if Francis keeps them together as the core upon which to add to his rebuilding efforts.
Slavin really did have a solid season as a rookie:
How impressive was @Jslavin7's season? Averaged 21 minutes a game for 63 games as a rookie D & only took four penalties. Scored 20 points.

— Mike Sundheim (@MikeSundheim) April 14, 2016
Oh and…
Slavin is a young man who has faith.  At the Hurricanes' end of season interviews in the locker room Slavin said,
"God's given me the abilities to play this game obviously, so I give all the credit to Him."
He also has a good outlook and sensibility for a young player, recognizing that his coaches and the older players have brought him along. Slavin also said:
"Every day is a new day and you have to compete every single day. In that aspect, I definitely learned a lot. On the ice, just continuing to grow each and every game."
Slavin has a genuinely positive attitude and the potential for many more solid seasons to come. Fans of the Hurricanes are pleased with that idea:
@kyslavin @Jslavin7 I am overjoyed that ya'll (Simba also)are part of our caniac family.Have a great summer, and see you in the fall! ❤️❤️❤️

— Nancy Staten (@Raleighcaniac) April 12, 2016