NHL Commissioner Gary Bettman has scheduled an emergency hearing for the entity known as Smashville. The list of violations committed over Games 3 and 4 hosted by the Predators includes Excessive Cheering, Unsportsmanlike Volume and Gathering with Intent to Party. Bettman has vowed to personally show the rowdy Volunteer bunch that there are consequences to their actions.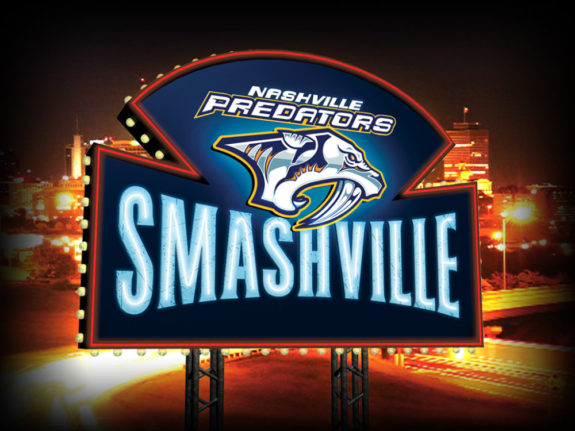 Incidences have been occurring all season at the epicenter of Smashville, Bridgestone Arena, but were exceptionally offensive last Saturday and Monday. The Predators took advantage of the stratospheric levels of fandemonium to even the Stanley Cup Final best-of-seven series at two games.
"The fans cheered loudly and were clearly having the times of their lives," said a disgruntled Napoleon-like Bettman. "It will not be tolerated. Not on my watch."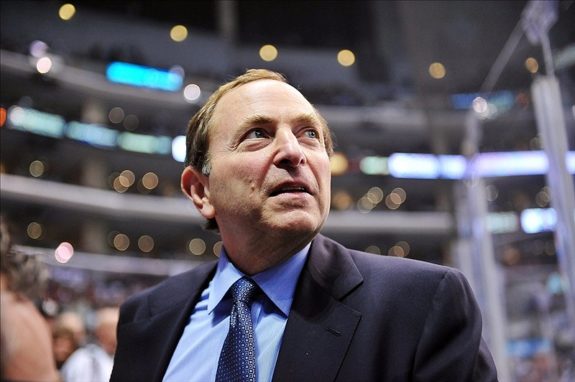 Though no penalties were originally called — everyone knows penalties are rarely called in the playoffs — disciplinary action is expected.
Smashville
Befuddling the little man is who to charge and how to apprehend the guilty party. Smashville is as much a feeling as it is a person or physical place on a map. It's also an emotion, which is even more disturbing and disorienting for the robotic Bettman. It embodies the spirit of teamwork and is a shining example of a community where the whole is greater than the sum of its parts.
Starville
"Smashvillians are off-the-charts with happiness," said very veteran broadcaster Sam Rosen. "Not only are they entertaining to watch, they draw entertainers."
Billy Ray Cyrus, Carrie Underwood, Keith Urban, Nicole Kidman, Vince Gill, Taylor Swift, Dierks Bentley Josh Turner, Vince Young, and many other stars have been caught up in the hoopla in the Music City.
"Achy breaky, schmaky! I don't care if they're first-time offenders," said Bettman while banging his tiny fist on a desk. "I don't like it, I don't love it, I don't want any more of it; throw them in jail!"
Brashville
According to Bettman, with their creative chants and unwavering support, section 303 is particularly deplorable and will be dinged for conduct unbecoming of a fan. They lead an abusive act where tens of thousands, if not hundreds of thousands, of people deliberately slapped their hands together and produced sounds. They yelled. Some left their feet in exuberance.
"And when their feet come off the ground, that's proof of intent," said the curmudgeonly Bettman. "We need to clamp down on this before it gets out of hand."
"Yeah, we clap. A lot. We're fans" said a seemingly innocent, face-painted fan, now in handcuffs.
Crassville
For Smashville fans, it's not enough to taunt opposing goalies with their name, just like it's done in every arena in the NHL. They dial it up a notch, putting their own spin on it. As the world heard during their recent wins against the Penguins, fans unleash a serenade that goes like this:
MUR-RAY
MUR-RAY
MUR-RAY
YOU SUCK!
IT'S ALL YOUR FAULT!
IT'S ALL YOUR FAULT!
IT'S ALL YOUR FAULT!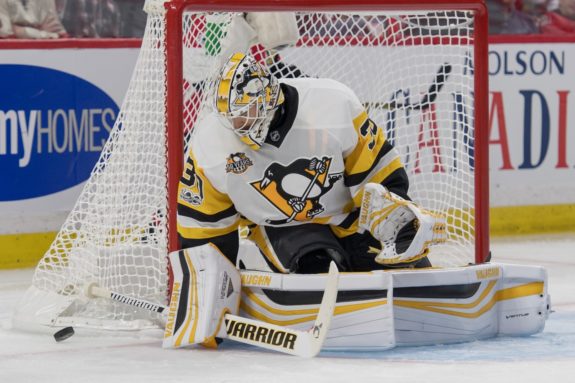 "But… but… but… most of those goals weren't my fault," whined Murray with a quivering bottom lip after Game 4.
Again, Bettman took aim at the fans, "That's just vulgar and crass," he said. "They're gonna hurt Murray's feelings."
Partyville
Hardly first-time offenders, Smashville has been whooping it up for years, reaching a crescendo this postseason. The sustained roars heard, even during TV timeouts, are louder than most arenas after playoff goals. It's a giant party.
"It makes no sense and it's fabulous," noted a delighted P.K. Subban.
"It makes no sense and it's grotesque," countered a grumpy Bettman.
The unfair advantage is also seen at downtown watch parties on Broadway. Complete with giant screen TVs and concert stages, they've drawn upwards of 50,000 people to cheer the team on together.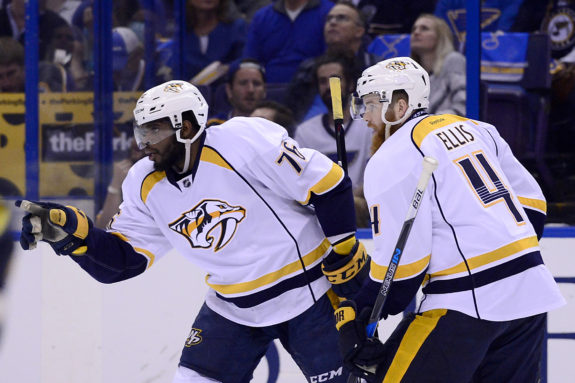 "There's not a city in the league that has anything on Nashville," said P.K. Subban, a Toronto native who played his first seven NHL seasons for the iconic Montreal Canadiens. "It's the best atmosphere I've ever played in."
Mayor Megan Barry penned a note that suggests letting people off the hook for being late to work because they were performing their civic duty.
"She should be ashamed of herself," said Bettman, who's considering legal action against her. "These fan experiences will create memories that will be cherished for a lifetime. Dammit; this is totally out of control! It's a goddamn conspiracy and everyone's in on it, even the Mayor!"
Trashville
When the NHL expanded into the south, it was an attempt to grow the sport by bringing hockey to another non-traditional market.
"This experiment in Nashville has gone south. Literally," said Bettman. "Washed up country singers. Catfish being thrown around. It's like watching an episode of Hee Haw."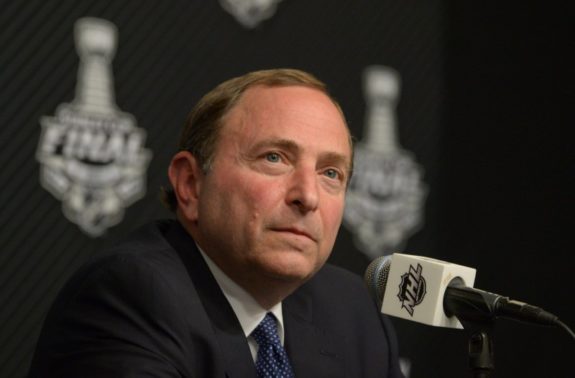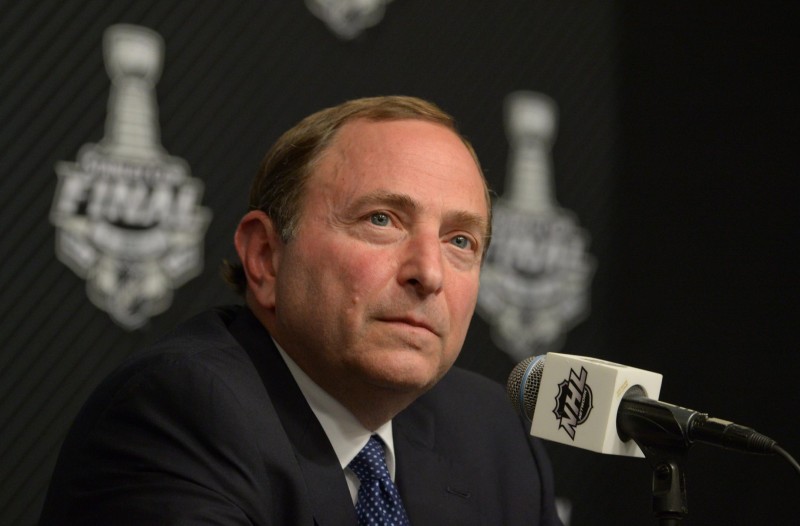 The NHL wanted sophisticated business people to come out and fall in love with the game. Instead, the league got sweet tea-drinkin', banjo-playin', fish-tossin' hollerin' rednecks.
"He's just jealous," defended singer songwriter Carrie Underwood.
Sledgehammerville
The Smash Car is another part of Smashville that's bringing the diminutive Bettman (we think) to his knees.
To raise money for the 365 Pediatric Cancer Fund, fans can swing a heavy sledgehammer to destroy a car painted and decaled with the opponent's logo. Each round has its own car.
Though more than $20,000 was collected from the smash car during the series against the Blues, along with a special silent auction, and donated to the St. Louis flood relief effort, Bettman has assessed a ten minute match penalty for extreme slashing to every participant.
He's also mildly concerned that the cars that have been demolished look awfully similar to his own.
Winville
For fans, Smashville is one of the greatest environments in hockey. For that matter, in all of sports.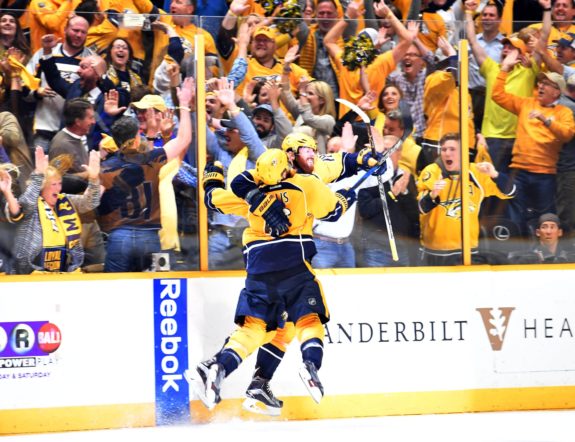 It's been a crazy ride. No matter who wins the series, the Predators have already made an indelible mark on Nashville's sports history. If it's up to Bettman, he'll make them pay for it.
Relax. It's satire.
Jeff has been covering the NHL for over a decade for various sites. He's been with The Hockey Writers as a lead Sabres writer three years, while also writing a satire column called "Off the Crossbar."