How many times has a starting goaltender been pulled twice in a Stanley Cup Final? Pekka Renne must be cursed in Pittsburgh as he gave up three goals on nine shots and only played one period in Game 5. A lot of players scored for Pittsburgh, but it was Evgeni Malkin's goal in the waning seconds of the first period that put the Predators away. There will be plenty of story lines going into Game 6 in Nashville, but it all comes down to this: the Stanley Cup is Pittsburgh's to lose.
Secondary Scoring
[miptheme_quote author="Penguins Head Coach Mike Sullivan" style="text-center"]Our players had a will to win. When they play inspired hockey like they did tonight, we are a competitive and dangerous team.[/miptheme_quote]
Bryan Rust has made a name for himself as a Penguin by performing well in elimination games. However, he hadn't scored in 14 of his last 16 playoff games and needed a breakthrough. He didn't just breakthrough — he backhanded through with a stunning goal in the first period of Game 5.
But it wasn't just Rust who stepped up in Game 5, which felt like an elimination game going in given how well Nashville plays at home.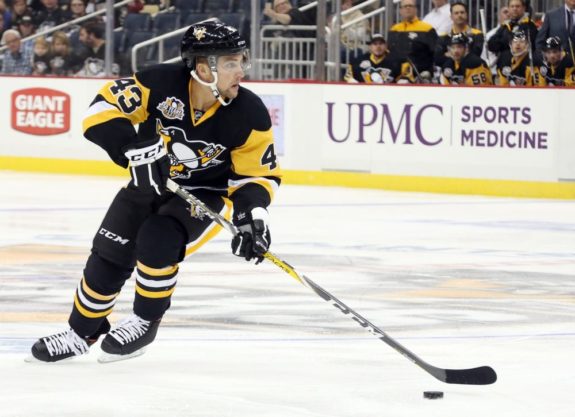 Conor Sheary may have big game performer written in his bio from now on. He struggled in these playoffs and was scratched several times before returning late in the Eastern Conference Final. He scored his first goal of the 2017 playoffs in Game 1 and scored again in Game 5, bringing his career Stanley Cup goal tally to four. He's taken full advantage of being put back on the first line and in Game 5, he was rewarded.
How About Hainsey?
Rust and Sheary played very well and certainly propelled their team to a win, but not one of the Penguins reserve scorers came up bigger than Ron Hainsey. It took 907 career games before Hainsey would reach the playoffs and at times, including Game's 3 and 4 in Nashville, has looked slow and more of a liability for Pittsburgh than an asset. Hainsey silenced critics with an outstanding night killing penalties and forechecking. He may even end up on the Sportscenter Top 10 plays with this pretty piece of offense.
'We Want the Cup'
The Penguins did everything right in Game 5. They started quick, capitalized on their power play, moved the puck through the neutral zone with perfection, and didn't give the Predators any room to breathe. Sidney Crosby played his best game of the playoffs and set his teammates up with beautiful chances.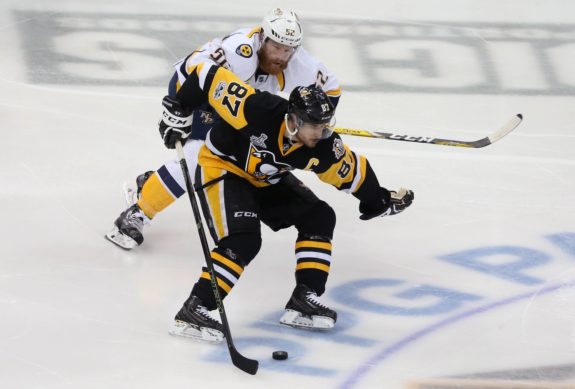 Through five games of the Stanley Cup Final, the Penguins have three wins. Pittsburgh has gotten better, though, as the series has gone along. Although the Penguins won the first two games, Nashville controlled the play and Pittsburgh relied on Matt Murray to deliver them wins. Game 4 was Pittsburgh's best game through the first four contests and carried that momentum into Game 5.
…for Pittsburgh, the win snapped a two-game losing streak which had appeared to tip the momentum in the series in favour of the underdog Predators. – Eric Duhatschek
The Penguins finally put a full game together and showed the Predators how good they can be. Nashville hasn't been tested under pressure in these playoffs and haven't played an elimination game. They also hadn't been shutout since Feb. 4. It would be erroneous to assume the Predators can take this as a regular loss and move on. They may be going home, but they are all in an unfamiliar position with very little positives to pull from Game 5.
The One Stat That Matters
There are more statistics floating around now than in any point in the history of the NHL. Game 5 winners win the series more times than not and team's who take a 2-0 series lead win 95% of the time. At this point, though, that means nothing. Pittsburgh is one win away from a Stanley Cup and Nashville can't lose again. Period.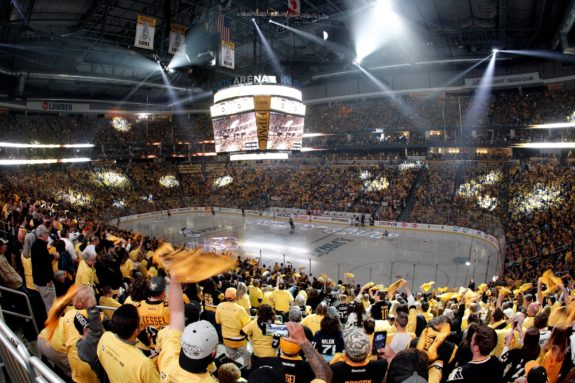 There is one statistic that made a difference in Game 5 and will make a difference in Game 6 — the Penguins have 20 players who have hoisted the cup, and several have done it a few times. The Predators have zero players who have hoisted the cup and only one player who's ever played for a Cup. Pittsburgh won't be intimidated by the Nashville atmosphere in Game 6 and they'll be ready. Besides, of the four Stanley Cup's Pittsburgh has won, all four have been clinched on the road… but stats don't matter.