They've played over 200 hockey games in the past two seasons, they're missing one of the world's best defenseman and they got embarrassed in Game's 3 & 4 of the Stanley Cup Final against the 16th seeded team in the playoffs. Hockey analysts will try to pinpoint reasons why the Penguins are losing but at the end of the day, maybe Pittsburgh is simply out of gas.
Speed Versus Skill
On paper, Pittsburgh has more talent. Sidney Crosby, Evgeni Malkin and Phil Kessel are likely future Hall of Famer's — I don't know if the Predators have any forwards headed that way. Why can't Pittsburgh score lately? The speed of the Predators keeps the puck in front of Matt Murray and the skill becomes less of a factor.
What's better than speedy forwards? Speedy, skilled defensemen. P.K. Subban, Roman Josi and Mattias Ekholm are among the best defensemen in the NHL and are far more skilled than their Pittsburgh counterparts. When the Predators are successfully scoring goals, their defense plays a big role in making that happen. Through the first four games, the Predators top four defensemen in Josi, Subban, Ryan Ellis and Ekholm have equal the points (11) that the Penguins top four skaters in Crosby, Malkin, Kessel and Jake Guentzel have.
Nashville throws a catfish on the ice. Maybe during game 5 the penguins can throw a defense out there

— Dad Chad (@madchad412) June 6, 2017
There is only so much the Penguins can do to mask their obvious disadvantage on defense. Letang's absence is very apparent and Murray needs help. He can be better, but the easiest way to stop a breakaway shot is for the defense not to let the skater breakaway. It should be noted that Chad Ruhwedel and Mark Streit are healthy and their fresh legs may be a solid replacement for Ron Hainsey who's been less than mediocre lately.
Scoring Feast or Famine
Nine goals for, four goals against: two wins. Two goals for, nine goals against: two losses. The goals have either flowed like a river that led to wins or plugged at the source leading to losses.
Pekka Rinne was awful through the first two games and was certainly a big reason that Pittsburgh took an early series lead. But Rinne doesn't lose at home and once again looked like the Conn Smythe candidate he's been all playoffs long.
Matt Murray played exceptionally well in Pittsburgh and gave his team a chance to win, whereas in Games 3 and 4, he looked a step slow. He wasn't terrible, but it's a wonder that he wasn't pulled after surrendering five goals in Game 3 and an ugly three goals in Game 4.
Matt Murray remained lackluster compared to Rinne in Music City. The Predators quickly learned the glove side was Murray's weak spot, and their sweet spot. – Johanna Albertsson
The truth is, though, Pittsburgh has yet to play a great game. They're beat up and they are being outplayed in every facet of the game. Nashville looks like a team that can win the Stanley Cup… Pittsburgh, as of right now, does not. Sure, the talent is there and the chances are there, but how much longer can the Penguins rely on good bounces and a shaky Rinne? After Game 4, I think it's clear — something has to change or Pittsburgh won't repeat as Champions.
Passing, Pressure & Power Plays
The Penguins haven't looked like the team that won a Stanley Cup for most of these playoffs. They've been outplayed for large stretches, but they've found ways to win. They have to win two of three games to do it again, and I believe that's possible. But Coach Sullivan has got to make a few changes. Murray is not one of them. No further comment needed.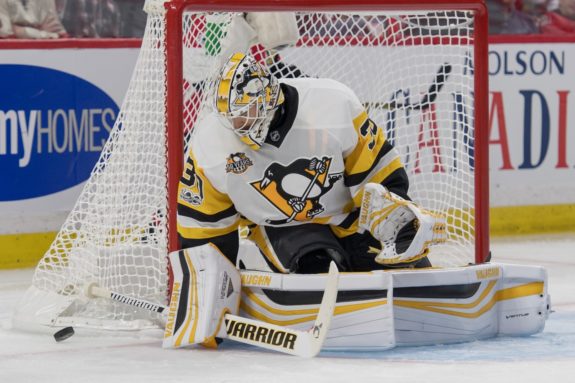 At times, the Penguins have figured out the Predators. Pass the puck through the neutral zone and keep it away from Rinne behind the goal. The pressure has to be sustained for longer stretches to wear down the Predators, especially while they are playing away from home. Nashville is the less experienced team and without the energy that the Bridgestone Arena offers, they are crackable.
The power play needs to start producing goals. Game 4 only gave Pittsburgh one chance with a man advantage and it looked infinitely better than Game 3, but it's now been three games since the Penguins notched a power play goal and they need to break through. This is where Kessel has made his living during these playoffs and for a forward who could've won the Conn Smythe a year ago, he needs to find a way to contribute.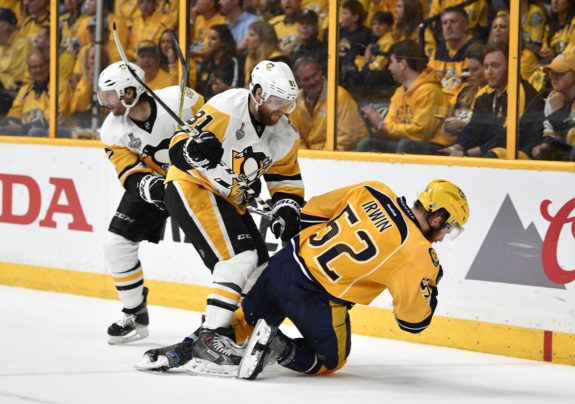 There's a Reason They Play the Game
The Penguins have played nearly every type of game in the last month — they've been embarrassed, they've done the embarrassing and ran teams out of the building, they've won 1-0 games and they've won games in overtime. They've bounced back and been resilient and also fallen into slumps where it seemed as if all hope was lost.
At the end of the day, they have to win two more games. They can certainly do it, and you have to believe they'll find a way. They've given the hockey world every reason to believe in their knack to win.
But Smashville is special and it's taking the NHL by storm. Each team has put themselves in a position to win the Stanley Cup, and no matter what we write or say, a team will win it on their own accord.
Smith works full time with Rise Against Hunger, a non-profit set on ending world hunger by 2030. He's a hockey enthusiast living in Pittsburgh, PA and formerly covered the Pittsburgh Penguins for THW.
Follow him on twitter @BSmithWV